Just two generations ago, the United States was little more than a footnote in the world of wine. Then, seemingly overnight, everything changed, and American varietals began outscoring the best French wines in international competitions. How did a country with virtually no premium winemaking tradition of its own suddenly become a world leader in the industry?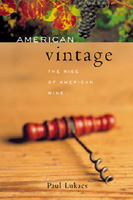 In AMERICAN VINTAGE, Paul Lukacs traces the rise of American wine and the quirky heroes and visionaries who altered the course of wine history: Nicholas Longworth, the founding father of American wine, a diminutive real estate tycoon who transformed Ohio into the "American Rhineland"; Dr. Charles Welch, a Methodist preacher who created nonalcoholic grape juice in the name of temperance; Gustave Niebaum, a Finnish sea captain who made a fortune in the fur trade before establishing one of California's first great vineyards, Inglenook; and the secretive Gallo brothers and Robert Mondavi, who held opposing views about the direction American wine should take. As Lukacs tells his colorful story, he reveals as much about our culture as he does about the wine industry itself.
About the Author
Paul Lukacs is the wine columnist for the Washington Times and the chair of the English Department at Loyola College in Maryland. He teaches wine appreciation classes and is a consultant for restaurants in the Washington D.C., area.