Variously regarded as a sacred, religious drink, inebriant, and even the work of the Devil, wine has always been much more than a commodity. From its origins in ancient Mesopotamia to its present incarnation as a vast, multinational business, wine has consistently generated passions that verge on mania.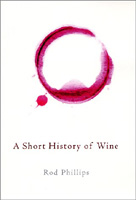 In A Short History of Wine, Rod Phillips sets out to tell the story of wine in the Western world with all its grandeurs and miseries. Packed with fascinating stories, unexpected insights, and the myriad tricks of the trade, A Short History of Wine is an essential book for anyone who treats wine with the zeal it deserves. Phillips re-creates each of the great eras of wine production, from the prehistoric fruits of the Fertile Crescent to this decade's explosion of the consumer wine culture with its varied values and palates, and vividly conveys the sheer magnitude of wine consumption and enjoyment.
Among the many engaging themes that Phillips explores is the endless struggle between nature and nurture -- is wine the pure product of the grape, or should it be enhanced by the addition of other substances? He revisits times when wine was a favorite among the American Founding Fathers (Ben Franklin praised it, as a God-given boon), and he sheds light on wine's enemies, both natural and human, recalling dark times when disease struck vineyards, counterfeiting and fraud ran rampant, and anti-alcohol movements peaked.
.Spanning the globe from Hunter Valley to the Rhine, from Napa Valley to Burgundy (not overlooking Peru and Ohio), A Short History of Wine
is an astonishingly enjoyable guide to the social, cultural, and economic worlds inside a bottle.
About the Author
Rod Phillips has studied in Canada, New Zealand, and England. He is professor of history at Carleton University, Ottawa, where he teaches courses on the history of alcohol, the family, and French society. He has held fellowships in several countries, and his books have been widely translated.