The history of wine -while certainly encompassing the evolution of viniculture- touches upon many aspects of society. Wine is, in simple terms, a beverage but it is also an industry, a culture, a valuable natural resource, a symbol of status (to some), and an inspiration for both art and architecture. The books noted below each examine a different but unique angle of wine history and are worth checking out.
For anthropology buffs, Ancient Wine: The Search for the Origins of Viniculture by Patrick McGovern examines the earliest stages of vinicultural history and how wine is interwoven with human culture through centuries of change.
The events of perhaps the most important date in U.S. wine history -the 1976 Paris Tasting- are told by Time Magazine reporter George Taber in his book Judgment of Paris: California vs. France and the Historic 1976 Paris Tasting That Revolutionized Wine. Taber was the only reporter present that day in Paris and his story details this historic event that transformed the wine industry.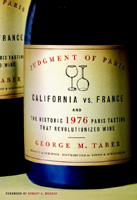 War has its obvious and brutal casualties. Far secondary to the human loss is the impact war has on an embattled country as industry is crippled, and national cultural treasures pillaged or destroyed. Don and Petie Kladstrup explore the impact of the German occupation of France in World War II as it relates to France's treasured vineyard in their book Wine and War: The French, The Nazis and the Battle for France's Greatest Treasure.
Never before in history have consumers had more access to information regarding the products and services they choose to consume. Lewis Perdue, in his book The Wrath of Grapes: The Coming Wine Industry Shakeout and How to Take Advantage of It, takes readers behind the scenes of the wine industry and explains how the wine industry is changing and, more importantly, how the consumer can benefit from it.
America as a wine power is a relatively new concept as it was but in the last few generations that American wine has emerged as a major wine player. In American Vintage: From Isolation to International Renown - The Rise of American Wine, author Paul Lukacs explores the people and events that shaped the evolution of American wine.