When Gourmet magazine debuted in the 1940s, America's wineries were still reeling from the lingering effects of Prohibition and the loss of wines from war-torn Europe. But for every closed door, there was an open bottle: The bleak postwar years were actually a prelude to today's unprecedented and widespread appreciation for the grape. New York Times bestselling author Ruth Reichl reread sixty-five years of wine articles in Gourmet to select the best for History in a Glass. The result is a rollicking tale of great meals, great walks, and wonderful drinks as Americans discover the pleasures of wine.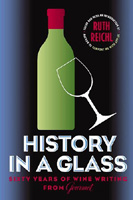 These marvelous essays were written by men and women who were not only on hand to witness wine's boom but, in many cases, helped to foster the environment that made it thrive. The early days after World War II provided a great opportunity for James Beard and Frank Schoonmaker to reacquaint oenophiles with the joys of European wines. Through tireless dispatches from the Continent, they inspired American vintners to produce world-class wines on their own rich soil.
In subsequent pieces, an impressive, surprisingly diverse roster of writers revel in the sensual and emotional pleasures of wine: the legendary Gerald Asher reflects on the many faces of Chianti; Hillaire Belloc dispenses bits of wisdom by the glass to his niece on her wedding day; the science fiction titan Ray Bradbury rhapsodizes about the earthy pleasures of dandelion wine; Kate Colman explores the moral quandary surrounding a friend's unintentionally generous gift of a rare Bordeaux; Hugh Johnson reports on Hungarian varieties during the height of Cold War tensions in the early 1970s; even Gourmet's current spirits editor, James Rodewald, reminisces on the first time he fell in love with a bottle of Pinot Noir.
With an Introduction by Ruth Reichl, and covering more than six decades of epicurean delights, History in a Glass is an astonishing celebration of all things good and grape.
About the Author
Ruth Reichl is the editor in chief of Gourmet magazine. She is the bestselling author of Tender at the Bone: Growing Up at the Table; Comfort Me with Apples: More Adventures at the Table; and Garlic and Sapphires: The Secret Life of a Critic in Disguise. She has been the chief restaurant critic of the Los Angeles Times and The New York Times. She lives in New York City.