In the wine capital of the world, a battle royal of tradition against innovation in the quest for ratings and market share.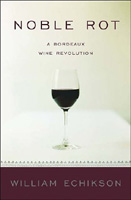 For wine lovers the world over, Bordeaux is the center of the universe. But in the past two decades, revolutionaries have stormed its traditional bastions, making their mark -and their fortunes- modernizing the production and marketing of wine.
Noble Rot introduces us to the figures who epitomize the changes sweeping Bordeaux: the noble family behind Chateau d'Yquem engaged in a soap-opera feud; a stonemason turned winemaker whose wine, made in a garage, sells for $100 a bottle; the Maryland-based critic Robert Parker, whose opinion routinely makes or breaks a wine; and the New World operations that have used branding to undercut Bordeaux's supremacy. It also delves into the mysteries of the legendary classification of 1855: how it became the bible of Bordeaux, and how it was at last successfully challenged.
William Echikson takes readers inside the center of the French wine business to examine the schism between defenders of the old order and architects of the new.
About the Author
William Echikson, author of Burgundy Stars, lives in Brussels, where he is bureau chief for Dow Jones Newswires and a wine columnist for Wall Street Journal Europe.