Best Books on the Bordeaux Wine Region of France
by Brad Prescott
The Bordeaux region of France produces some of the most expensive and prestigious wines in the world. It is the second largest wine-growing region in the world and produces over 700 million bottles annually.

There are three great books that delve into the rich history of the Bordeaux region:

Noble Rot: A Bordeaux Wine Revolution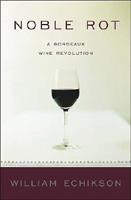 (pictured) by William Echikson, a wine columnist for the Wall Street Journal Europe, takes readers into the center of the French wine business. Published in 2004, it discusses the evolution of Bordeaux as the battle rages between old world and new world wine classifications.

Bordeaux Chateaux: A History of the Grands Crus Classes 1855-2005 by Franck Ferrand with a forward by Hugh Johnson, is a must have for Bordeaux enthusiasts. Published in 2004, Ferrand takes readers on a historical tour of the prestigious Bordeaux chateaux.

Bordeaux: A Consumer's Guide to the World's Finest Wines, by Robert Parker, was first published in 1985. This is core reading for wine enthusiasts and is often referred to as "the Bible".
For more than 25 years, The California Wine Club founders Bruce and Pam Boring have explored all corners of California's wine country to find award-winning, handcrafted wine to share with the world. Each month, the club features a different small family winery and hand selects two of their best wines for members.
Tags: