This is Michel's very personal view of pairing food and wine, experience honed over the last 25 years by an appreciation of the classic combinations and experimenting with new and different ones. The right combinations, he explains, will make both taste better.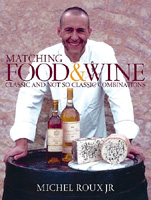 Michel advises on how to store wine at home, at which temperatures it should be served, when to decant, which glasses to use, and how to pick a corked wine. Matching Food & Wine covers pre-dinner drinks, starters, the main course, cheese and dessert. With each recipe Michel recommends three or four accompanying wines or drinks and explains why he has chosen them.
His recipes will appeal to the modern cook - simple, elegant and delicious. He mentions the foods which react badly to wine, and the drinks which do no favours to food. The wines chosen come from around the world with the emphasis on styles of wine and predominant grape varieties. Occasionally he selects a grand chateau or vintage.
Michel also selects 15 great wines and creates the ideal meal around them.
Matching Food & Wine will introduce you to a whole new dimension of enjoying yourself at the table.
About the Author
Michel Roux Jr. is one of London's most respected chefs. Le Gavroche, which he has run since 1991, continues to receive recommendations for excellence in every food guide. Michel's early training in France instilled in him a belief in simplicity and quality of raw ingredients which has he put to use in developing the recipes he uses both at Le Gavroche and in his books: LE GAVROCHE COOKBOOK, MARATHON CHEF and MATCHING FOOD AND WINE.