There are numerous books available that cover the half art/half science skill of food and wine pairing. The are two books however that are worth noting for the unique angle the authors bring to wine and food pairing.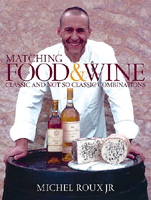 The first, by Michel Roux Jr. -one of London's most respected chefs- is titled Matching Food & Wine. In the book Michel explores pre-dinner drinks, starters, the main course, cheese and dessert and recommends 3-4 accompanying wines for each course along with commentary on why he chose them. In addition Michel selects 15 great wines and creates the ideal meal around them. What oenephile wouldn't be intrigued by the wine pairings of one of London's leading French chefs?
The second book explores wine pairing from a completely different angle. Author and television personality Karen MacNeil, in her book Wine, Food & Friends, tackles wine pairing with a nod to healthy eating. Understanding the demand for enjoyable AND healthy dining, MacNeil has taken food and wine pairing principles and applied them to the health conscious wine enthusiast.