In this episode of IntoWineTV, host Lisa Kolenda and wine experts Bartholomew Broadbent, Cezar Kusik, and Rob Renteria convene at one of San Francisco's finest restaurants, Incanto, to taste and discuss Super Tuscan wines.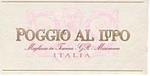 Wine: Sette Ponti Poggio al Lupo 2007 ($50)

Find Sette Ponti Poggio al Lupo 2007
Region: I.G.T. Maremma, Tuscany
Alcohol: Alcohol: 14%
Varietals: 73% Cabernet Sauvignon, 20% Alicante and 7% Petit Verdot.
- Upcoming IntoWineTV Video Themes
- Wine producers and distributors: Find out how to get your wines included in our next session. More info...

Background: In 2000, Dr. Antonio Moretti released the first vintage of his first wine, 1998 Crognolo, an I.G.T. super-Tuscan blend from a corner of Tuscany near Arezzo. The Moretti family estate, Tenuta Sette Ponti, had for some time produced grapes but the harvests were for many years sold to other Tuscan producers who commercialized their own wines. Among them were Piero Antinori, who encouraged Moretti in his thoughts of producing his own wines.
Crognolo became only the first of Dr. Moretti's entrants in the elite club of super Tuscan wines in collaboration with respected oenologist Carlo Ferrini and his assistant, Gioia Cresti. In 1999, already clearly determined to make his mark in the wine world, Moretti purchased a second estate. With Ferrini's and Cresti's help, he acquired the Azienda Agricola Le Fornace in the Maremma on Tuscany's southern coast, an area that would soon draw intense interest from several highly regarded producers.
The property, in the D.O.C. zone of Morellino di Scansano near Magliano di Toscana, was renamed Azienda Agricola Poggio al Lupo, or 'Hill of the Wolf.' It covers 115 acres, but at the time of purchase supported only 12 acres of vines, the yield of which was sold in bulk. From the estate's original Cabernet Sauvignon, Alicante and Sangiovese plantings, established in 1989, total area under vine has been increased to 37 acres. Of this, 40% is in Sangiovese, 35% in Cabernet Sauvignon, 15% in Alicante and the remainder in Petit Verdot.
Experts:
Bartholomew Broadbent, CEO of Broadbent Selections. Bartholomew was named as one of the "fifty most influential people in the wine world" by Decanter Magazine. He is also widely considered to be one of the world's foremost authorities on Port and Madeira. Learn more about Bartholomew Broadbent.
Cezar Kusik, Fine Wine Specialist, Fourcade & Hecht Wine Selections.
Rob Renteria, Wine Director at Napa Valley's Martini House.
Location: Incanto Italian Restaurant & Wine Bar.  Situated in the heart of one of San Francisco's most charming residential neighborhoods, Incanto's rustic Italian setting, with its handcrafted stone, antique brick and woodwork, 16th century Latin parchments, and private dining room dedicated to poet Dante Alighieri, provides a uniquely warm and inviting dining environment.
Incanto's daily-changing menu honors old-world traditions including house-cured meats, unusual regional pastas, fresh local seafood and a commitment to sustainably grown and harvested produce. Incanto's award-winning wine program features one of the most diverse Italian wine lists in the United States and an ever-changing lineup of more than twenty wines by the glass, half-glass, half-liter, and flight.