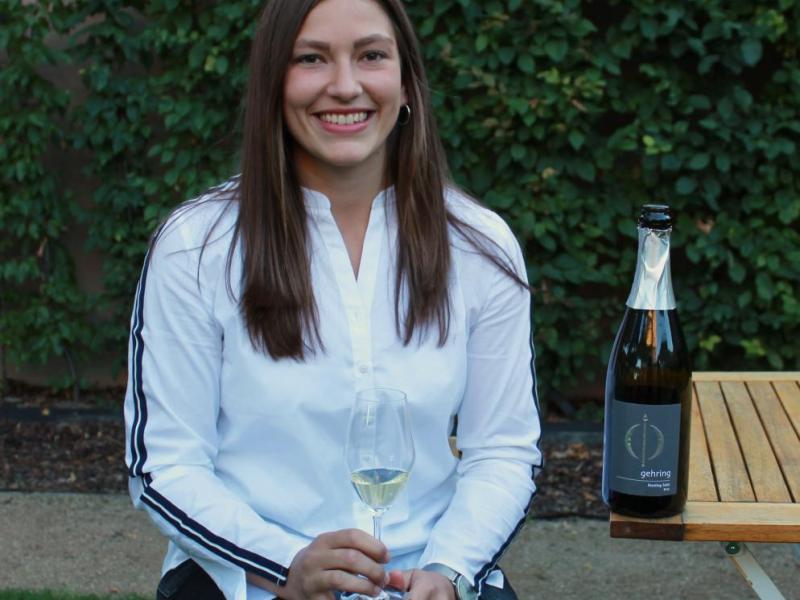 In the realm of Riesling a new generation of female winemakers is taking control making everything from traditional Riesling ("It's our DNA") to non-traditional Chardonnay, even obscure indigenous varieties like Schreube, and Gelber Orleans. These women reflect a new paradigm of German grape growing, a desire to enter the US market, and a passion for breaking molds to produce compelling wines.
Gina Gehring - Weingut Gehring
"I never wanted to be a winemaker," Gina Gehring, fourth generation winemaker in the village of Nierstein tells SOMM Journal. At the tender age of 21 she has assumed control of her family's winery and her father began to let go of the reigns. "It's difficult to tell your parents you want to make changes. We have new, innovative ideas but we don't have their experience," she admits. Her Sekt is a great example of the renaissance of sparkling wine coming out of Germany, even though sparkling has been produced there since 1826. Her Gelber Orleans is an indigenous grape that offers chamomile and fennel root notes. "You can taste Nierstein in this wine," she says." She also makes Chardonnay and Gelber Muskateller. Though she's not been to the US, the market entices her. "For me as a young winemaker it's exciting there's a market for your wines half a world away."
Klara Muller-Oswald - Weingut Burghof Oswald
In the village of Wahlheim in the Rheinhessen, husband and wife winemaking team Klara and Simon Muller-Oswald produce wines for a younger generation. Klara is 28 and her 83-year-old grandfather still works in the vineyard with her. Yet people assume Simon is the winemaker and that Klara works in the office. The truth? He makes the reds, she makes the whites. They are a team. Her Scheurebe (the grape was bred in 1916, a cross between Riesling and Bukett) is floral, aromatic with tropical fruits and great acidity. Their 2016 St. Laurent is all cracked pepper, herbal, fruit, alpine wildflowers; this is an unusual wine with cranberry, bing cherry. The grape mirrors Cabernet but with elements of mocha and cocoa powder. They make a beautiful Chardonnay as well. Klara's energy reflects her different way of marketing wine. "It's not about selling more or less wine it's about connecting with our customers."
Rebecca Crusius - Weingut Dr. Crusius
Located in the Nahe region, the Crusius family traces 13 generations, back to 1565, when the family was named as winegrowers in local parish records. Rebecca, 25 years old, is the 13th generation. They farm 55 acres of estate fruit and she shares winemaking duties with her father, Peter. "We're coworkers," she tells SOMM Journal. She started making wine in 2015 and introduced immediate changes, something her father had to come to terms with. "I'm interested in less oak, more acidity, and a lighter style," she admits. She also wants to reduce their vast portfolio of wines and focus on the wines that work including more dry styles of Riesling and more Chardonnay. They are one of the few in the region who still grow Auxerrois, which showcases beautifully in Rebecca's hands. "My generation is building the new wines of Germany," she says.
Franziska Schatzle – Weingut Schatzle
Further south in the Kaiserstuhl (which means "the seat of the emperor) Schatzle Winery ("little treasure") quietly goes about their business making impressive wines just as they have done since the 30 Years War back in 1630. "My wines should not be loud," says winemaker Franziska Schatzle. "I am only the transformer in the cellar." She might view herself as nothing more than a guide, but she knows exactly how to guide these grapes. Schatzle, an 8,000 case winery, uses both French and German clones and rootstock. They make a lovely sparkling wine from Pinot Noir and Chardonnay, but the focus is on Pinot Noir and Pinot Gris. The Pinot Noirs are very impressive coming from volcanic soil and you noticed lots of herbal qualities to these wines, loganberry, blackberry, wildflowers – these are deep and rich wines that are surprisingly good. She pulled out a 1997, by this time a 22-year-old Pinot, which was still beautifully structured. Similarly she poured a 2010 Pinot Gris, which showed great longevity and was aging beautifully for a nine-year-old white wine. In keeping everything in the family she routinely does blind tastings with her father to ensure the quality that they are looking for and to compare their wines with surrounding producers. And, she admits, her grandfather is her best client. These women should serve as an example that in Germany, and many wine regions, family is king and multi generations work together to produce compelling wines.