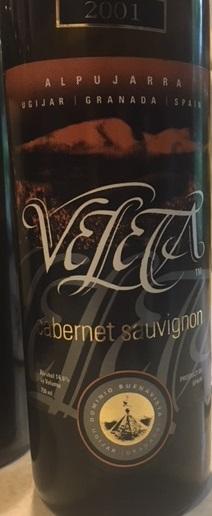 Back in November of 2007 I was putting together a wine tasting of wines from Andalusia.  It was the final region of Spain from a series of Spain; the Food and the Wines - Region by region.  It was almost impossible to find any table wines from this region (famous for Sherry and fortified wines).  I posted on the old Robert Parker web site's Mark Squire discussion Board looking for help.  In response, Nola Palomar said that she would be delighted to come and serve their wines.  I explained that first, we lived in Cleveland, Ohio and second, it was only ten or twelve of us.  Nola responded that she and her husband Juan lived in Spain part time and Dayton, Ohio part time, and that they made wine in Spain but sold it in the US. Juan was a surgeon and Nola a nurse and they also made wines.   I accepted her generous offer and on December 1, 2007, I first met Nola and Juan Paloma as they drove up from Dayton to pour for our little group. 
They made and make a variety of low priced wines in Juan's ancestral homeland.  The village of Ugíjar is located on the south bank of Sierra Nevada, in the province of Granada and is home to Dominio Buena Visata & Veleta Winery.  Over the years, we hosted, organized and just attended about half a dozen tastings here in northeast Ohio.  We loved the wines, the values, but mostly Juan and Nola.  Juan was one of those people you just liked.  He had a passion about his wines (and his other work and of course, his family).  His eyes twinkled as his baritone voice described the wines.  He knew his wines would sell for three or four times the price if they came from Napa or Bordeaux instead of Granada.  That was just a fact, he accepted and continued to persuade whomever happened to be in front of him.  
The truth is I never bought a lot of their wine, because after every tasting, as I helped Juan clean up, he gave me bottles to try on a later occasion.  More than once I found a case in my car that he stashed their without my knowledge.  Of course, at $12 or so a bottle, I bought some and drank those too.  Especially, the Viji.  I can't really remember where this 2001 wine came from, but I believe, it was from the first vintage either right before or after Juan took over the winery.  My goal was to hold on to it and hopefully share this bottle with Juan and Nola when it was 25 years old although I had my doubts if it would be any good by then.  
Sadly, Juan passed away last week from an aggressive brain tumor.  So, we stood the bottle up and opened it with friends this last weekend; many of whom had met Juan up here in northeast Ohio at some point.  We toasted Juan, said a silent prayer and damn if this bottle didn't show just fine.  
Ruby in color, slight bricking at the rim.  The nose is dusty with tobacco, dried tobacco, cassis, dried currants and a bit of dried earth.  On the palate, this is mature but there is still some cassis fruit left.  Cigar tobacco and slight spice.  Blind, Bordeaux would have been the easy guess.  Past prime no doubt (as am I), but still complex with a long finish.  Drunk along side some younger California Zins, it has a class and refinement that we all appreciated.  If I had to score it today, it is probably 89 points but that doesn't seem worthy so, no score for this one.   This probably retailed for $12 back in the day if you could find it.  Well done Juan!
While Juan is gone, there is still Veleta wine on the market. The price has since "sky rocketed" to the other side of $15 which is still a tremendous value.  Go out and buy a bottle and you won't be sorry.