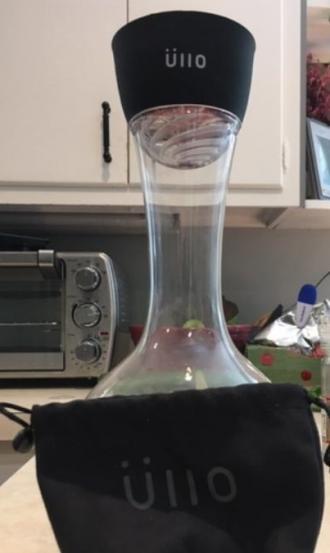 This is a device that is offered to help those who have issues with sulfites in wine.  Full disclosure, it was sent to me, without cost, to try.  While I am naturally skeptical, I am also curious so at one of our www.Intowine.com tastings we decided to give it a try.  ÜLLO is similar looking to many of the aerators that one sees on the market.  It is not, however, that.  The first and most major difference is that it comes with replaceable filters.  They look sort of like those round tea bags and are filled (yes, we opened one) with something that looks like diatomaceous earth powder.  To be clear, I am not a scientist and it LOOKS like that.  I have no idea what is really in the filter.  Their web site says something about that the filter is made from a food-grade, macroporous acrylic polymer.  The other difference in the device is that the user gets a choice whether or not to aerate or just run straight thru the filter.  That didn't seem as much fun, so we aerated as well.  We used a traditional decanter that holds about a bottle of wine.  Each filter is good for one bottle.  
The pouring process went very slowly.  It takes some time for the device to clear enough room to pour more.  This was a young bottle so sediment was not an issue.  If this had been say, an older Bordeaux, it would have been cumbersome to hold the bottle horizontally while waiting.  All in all, it took about three minutes to decant about 500ml of the wine.  On the other hand, one of the uses for this would be just to use the Üllo with a glass.  The device will fit nicely into a larger glass and will work on smaller glasses although the user may need to hold it in place.  
We started with a magum bottle of 2015 Domaine du Grand Montmirail Gigondas Cuvée Vieilles Vignes.  The thought was its young and a medium bodied red from a good vintage.  Initially, we poured one thru the Üllo and tried the other out of the bottle.  One of our more "sciency" guests pointed out we needed a third taste; decanted but without the Üllo .  As you can see, we were really taking the seriously.  
The results:  Of course, the results are always subjective but there seemed to be some unanimity.  All three tastes were different.  The wine still left in the bottle was indeed more tannic.  It seemed to have sharper flavors.  See https://www.intowine.com/reviews/2016-domaine-du-grand-montmirail-gigondas-cuv%C3%A9e-vieilles-vignes-france-rhone-wine-review.  The decanted wine without the Üllo had shut down.  It was tight as a drum and really took a couple of hours to recover.  The wine poured thru the Üllo was softer, more open although it didn't seem as vibrant.  it wasn't really better or worse, just different.  A lot probably depends on one's tastes.  
Then my neighbor David stopped by.  A stroke of luck.  David has issues with sulfites.  Now, to be again clear, nowhere that I see on the web site do they claim that this device will help people who believe they get headaches from sulfites.  In fact, the FAQ section does state that there is no clinical evidence for this.  And yes, many people who make this claim have an issue with histamines or alcohol and it is not the sulfites.  But, in my neighbor's case (and he is an MD), he believes that some red wines give him headaches and it may be sulfite related.  He did try the wine from the Üllo and did not report any issues.  Of course, this is a sample size of one.
In review, this device certainly is as good at aerating a wine as the other devices on the market.  At $80, this is a bit expensive just for that.  The real question is the effect that the filters have.  That will take a bit more research.  Their web site says that white wines have more sulfites than reds, so that is up next.  Please check back to this review as it will be updated with future testing results.