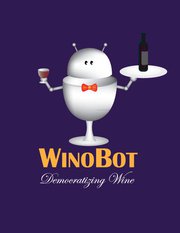 WinoBot is a free app download from iphone that helps you pick out the best wine for you from the restaurant's wine list.  WinoBot does three things for the consumer: 
1. Recommends wine from the restaurant that she is at according to her preferences. 
2. Allows the user to see what her friends liked or disliked during previous visits at the restaurant 
3. Keeps track of all the wines she has rated for future reference and follow-on purchases from retail partners.
For the consumer WinoBot is their personal sommelier. For restaurants it is their mobile app. For wineries it is a direct channel to reach the consumers.
IntoWine recently caught up with Min Zhang from WinoBot to get his take on this inventive wine app that has taken the California restaurant world by storm.
What inspired the idea for WinoBot?
WinoBot is inspired by the belief that everyone should be empowered to drink the best wine for his or her taste. Think "Pandora of Wine".  Since wine is a physical good, the best wine that fits your taste in the entire universe may not be accessible at the moment.  What really matters is which bottle on the full shelf of wine or the 30-page wine list in front of you is the best for you. 
Sometimes this process can be intimidating and confusing, which makes the tasting experience suboptimal.  Over and over again we see customers being upsold wine at restaurants without considerations of their taste.  Other customers opt for the second cheapest bottle, or decide solely based on how the label looks.  WinoBot aims to instantly equip you with the confidence to pick the best wine.
How does WinoBot work?
The moment you sit down at a restaurant, WinoBot shows you what you would like the most from the restaurant's menu, based on your taste and/or the dish you are ordering.  This is our goal. 
As we are perfecting the learning machine, the current version shows you 1-2 top value white, red and sparkling wines from the restaurant, respectively, as "WinoBot Top Picks".  This way you instantly have an idea of which wine may be worth your while.
You can also specify your price range, the kind of food you fancy, and the type of grape you like – as if asking, "What is the best pinot noir under $40 here?" or "If I am going to have fish or spicy food, which wine is best for me given my budget?"  Of course you can also browse the entire wine list as usual.
Then WinoBot shows you additional visual and taste information for each wine. You can see the label, critics' scores, other user's ratings, food pairings, and a taste description – all for you to make an informed decision.
You also never have to scribble the name of the wine you enjoyed on a napkin or forget it the next day. For all the wines that you rate, WinoBot saves it for you under "My History".  You can read about them again, or buy them from retail or the winery through WinoBot.
In future versions, WinoBot will also show you what your friends liked or disliked at a restaurant, and they can also send you the wines on your wish list as a gift.
How many restaurants and from what areas participate?
About 300 in San Francisco Bay Area, Los Angeles and Orange County.  We are also expanding to Las Vegas and the Wine Country now, and then to other major cities in the US later this year. 
How does a restaurant get on your list?
Participation in WinoBot is entirely voluntary.  We ask the restaurants for their wine lists.  We respect the restaurants' decision if they do not wish to participate. 
How does the price of wine on the menu influence the recommendations?
WinoBot takes price into consideration when making the "WinoBot Top Picks" and personalized recommendations.  WinoBot cares about both taste profile and value of the wine. 
Who is your target market for this app?
Our target market is wine lovers who also like using their mobile apps. Those who would like a little more information on their wine, and those that wish to remember the great wine they had the other day.  WinoBot makes it easy for them. 
Share with us some of you initial success stories.
WinoBot is expanding and deepening its geographical reach rapidly, and so is our user base.
The Wine Crush radio featured WinoBot as the most innovative wine app.
We are also releasing a new version of our website: www.WinoBot.com
What is next for WinoBot?
Many exciting things for WinoBot in the new year.  We are working on releasing personalized recommendations, visualizing each user's "WinoBot TasteMap", resuming pairing wine with items on a restaurants' food menu, helping users at wine stores and supermarkets, and allowing friends to gift you the wine you loved.  An iPad optimized version and an Android version are also in the works.
Most importantly we will continue to listen to users' feedback and incorporate them in future versions.