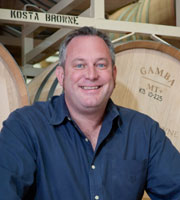 Kosta Browne began as a dream shared by Dan Kosta and Michael Browne. In the summer of 1997, Dan and Michael decided to venture into winemaking. They saved their tip money obtained from working in local restaurants for two months and eventually had enough to buy a half ton of Pinot Noir, a used barrel and a hand-crank stemmer-crusher. Since that vintage, they have nurtured relationships with the best growers and honed their winemaking skills, making sure to focus on the vision and values with which they began.  
Their Pinot Noirs have received numerous awards including being awarded as' Wine of the Year' by Wine Spectator in 2011.
What goes through your mind after receiving an accolade like the Wine of the Year in 2011 given to you by Wine Spectator?
Simply ...Wow! It was such a surprise to all of us; disbelief at first, and gratefulness second. To be recognized with such an accolade, by the one of the most influential wine magazines in our industry, is truly an honor. It is great validation for all the hard work put in by our small team here at Kosta Browne. When I first started making wine, one of my goals was to make a wine that scored 90 points or higher in Wine Spectator. To make it into the Top 100 at some point was more of a dream than a goal. To make it in the top 20 five times and then to get 'Wine of the Year' was something that never crossed my mind as a possibility.
Having received so many high scores, is there any pressure, self induced or otherwise, to make certain each wine now achieves that same level of success?
There is plenty of pressure to produce high scoring wines every year from myself and from those around me, although those around me do not pressure me. Nobody has ever pressured me about quality, however I have put plenty of pressure on myself, which is usually expected. We cannot slip on quality, as that is what our customers have come to expect from us, as well as the trade, our partners and our investors.
You don't own vineyards, you operate out of a rented warehouse facility, and you have no tasting room. How has this approached helped or hurt you?
It has helped us quite a bit in terms of cash flow. We have a low overhead business which has enabled us to put our resources into the quality of our wines and our outreach program with consumers. I am not sure it has hurt us at all. The only thing that is at risk is losing fruit sources since we do not ultimately control the vineyards. That is where good relationships fit in. We are a relationship business and we have some excellent relationships with our growers.
Since you purchase fruit, how might your winemaking change should you no longer be able to source fruit from the vineyards you already do?
My winemaking would not change as we make all of our pinot noirs the same way. We do use some different barrels on certain wines and will add whole cluster to some lots based on what the vineyard gives. I would just need to make wine from new sites and learn what the best approach would be for any given site, just as we do now. The wines would change because the grapes would come from different places. Pinot Noir is very transparent to its source.
As a recipient of high scores, is the 100 point scale system of value to consumers any more, or does it still offer insight into wine? What are your thoughts on the 100 rating system?
I think it resonates with most consumers because it is easy to understand. Everybody knows the grading system in school which helps them understand this rating system in wines. I am not sure if there is a better system out there in a macro sense for consumers.  Wine can be a very confusing space for consumers and this is something that most people can understand. The only issue that I have is that quite a few reviewers use the same system and an 88 point score on a given wine from one person might be a 95 point score from another and this may confuse some people. The challenge for the consumer is to align their tastes with a reviewer that has similar tastes and go with that.
Though Pinot Noir is your focus, what other wine varieties would you like to see the public embrace more fully?
The world of wine is a fascinating place with so many different regions and varietals. I would like people to just explore and take some chances on wines that they may not otherwise try. I am obviously a big supporter of domestic wines but I always encourage people to explore the whole world. Many great wines out there!
Rising wine alcohol levels in U.S. and foreign wines are a hot topic these days in wine circles. What are your thoughts on the subject?
I think the topic is a bit of old news but I live in the inner circle. To me it is more about balance. A low alcohol wine can be out of balance just like a high alcohol wine can be.  There are many other factors that contribute to balance in wine, alcohol being just one of them. I do think a main factor in alcohol rising is a response to consumers liking wines that come from grapes that are more ripe; not over-ripe, but ripe. With that said, not all consumers like ripe wines. Another great thing about the world of wine is the many choices that are available to us. I tend to like red wines that are made from ripe grapes.  Again, not over-ripe, just ripe. Everybody loves a piece of fresh ripe fruit. Take a peach for example. Under-ripe peaches are not that interesting. Over-ripe peaches are kind of nasty, but a ripe peach is great, especially a ripe peach grown in the perfect place farmed by a knowledgeable grower. The same thing goes for grapes. I want to make wine from fully flavored ripe grapes. On the other hand, I tend to like white wines that are lower in alcohol made from grapes that do not get fully ripe. There tends to be a better balance there in my opinion.
You make single vineyard expressions from the Russian River, the Sonoma Coast and the Santa Lucia Highlands in Monterey. What are the fundamental differences between these areas and how do they affect your wines?
The main differences are soil types and the cooling influence each region is provided with.  The wines are affected by the place in which they are grown. In our three Sonoma Coast vineyards we get wines that are a bit darker and focused on the palate, and they reveal a bit more tannins and I believe this is due to the colder sites we have. Our Russian River Valley (RRV) wines are richer and more round with softer red fruits like raspberry and ripe cherry, and there is a distinct velvety texture in these wines.  Russian River Valley is a bit warmer than where we get our Sonoma Coast grapes from; not a lot warmer, but just a bit. I believe this is why the wines are a bit plusher. RRV still gets cool nights but the days tend to be warmer for a longer period during the day. The wines from Santa Lucia Highlands have a similar mouth feel to our RRV wines and with a bit more grip (soft tannins). The flavor profile is quite different, as well and the Santa Lucia wines show more strawberry, rhubarb and red plum. There is quite a bit of wind down in the Monterey area which seems to have some effect on the wines. The temperatures are similar for the most part to the RRV region, however.
Your label took off around the same time the movie Sideways praised the virtue of Pinot Noir. Did the success of the film (many published reports show Pinot Noir sales surge approximately 15 percent) have any effect of you?
We actually started the brand about 4-5 years before the movie came out. We were starting to get some good momentum with our brand and then the movie hit and things really took off. Right place right time. The movie certainly had a positive impact on our brand since we are focused on pinot noir. We got our first big Wine Spectator scores around the same time.
It appears that the wine industry is going the way of the economy in that wine prices increasingly show a financial disparity; the wealthy can afford a $100 Pinot, while most consumers are dolling out $20 for another Pinot. With so many wines on the market from every corner of the globe, can the wine industry as a whole sustain itself in the long run?
Absolutely! I am very optimistic about the wine industry and wine consumption. There are many indicators that point to a strong industry. Although there was quite a bit of pressure on pricing in 2008-2010, things seem to have stabilized and are moving forward at a good rate. More people are into wine and are drinking wine domestically than ever before. Wine is just beginning to become a real part of our culture and I do not have any reason to believe that it will slow down or go backwards. It has become fashionable and people have also realized that wine enhances their lives whether it is a $10 bottle of wine or a $100 bottle of wine. The luxury wine market is very strong and I believe it will continue to be strong. There are a limited number of regions in the world that can produce fine wines and that land is not expanding. These wines will continue to become more sought after and increasingly hard to find due to the limited amounts of their availability. The global market is also starting to take notice of American wines, especially Napa Valley Cabernet Sauvignon, and Russian River Valley Pinot Noir.