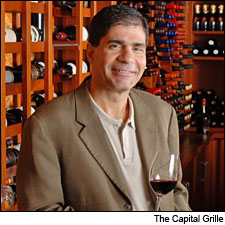 Master Sommelier George Miliotes grew up around food. His family owned a restaurant in Orlando and it was while on a trip to Germany with his father as a teenager he first sample wines that changed his life. Miliotes began creating award-winning wine lists in the late 1980s and eventually created one, the first of its kind, for The California Grill at Disney World. He is currently Director of Beverage and Hospitality for the Capital Grille, a Darden restaurant concept, where he oversees the wine list for all 40 locations of the national steak house chain, with wine lists ranging from 300 to 1,000 selections. Miliotes is also the food and beverage director for the nationally recognized, Seasons 52, with locations in Florida and Georgia.
With so many wines relatively high in alcohol these days, how difficult is it for a restaurants' wine-by-the-glass program to pair with delicate foods?
I do not see this as an issue. There are appropriate wines for appropriate foods and a well set up wine-by-the-glass program makes sure these bases are covered. The reason that varietals like Riesling are on fire is that they are lower alcohol and can pair well with lighter foods. While red wines may be lagging a little behind in the balanced alcohol arena, I think there is an active movement for more balanced wines even with reds. 
The 100 point rating system can be good or bad depending on whom you ask. What are your thoughts? Does it help or hinder consumers; does it accomplish a worthwhile goal?
The 100 point rating system is certainly useful for comparing wines and giving our guests a frame of reference. At Seasons 52, we always balance this out with the fact that the most important rating is how you personally feel about the wine.
With the breadth of information on wine available to the public, does it at all threaten the role of the sommelier?
While there is a great amount of information out there and the public becomes more well informed every day, it is the passion of a Master Sommelier to be an expert on wine. We are constantly learning. So, I never see the need for the sommelier to go away. Also, a large part of the joy of wine is the interaction with people who want to interact and learn from the sommelier. Finally, as the Master Sommelier for Seasons 52, I love to train our teams. There will always be a need to teach and spread the passion for wine. 
What grape varieties would you like to see the public embrace more fully and why?
For whites I would like to see Riesling and Verdejo. I think both are spectacular food wines and are made in a style that goes so well with today's vibrant food flavors. At Season 52 we have great success with these two wines when we recommend them.
Reds I would look to see the public embrace Gamay and Tempranillo. Gamay, because it can be vinified in a lower alcohol style and still be delicious; and Tempranillo, because it can give power, a smooth body and unique flavors.
There has been much debate about how much restaurants up-charge for a bottle of wine, in some cases as much as 300%. What is truly a fair and reasonable guideline for people to pay for a bottle of wine at dinner?
I think that it is the responsibility of the restaurant to provide wines that taste great at a variety of price ranges. We work especially hard to find delicious wines that are affordable. Chardonnay out of South Africa is excellent wine at a very fair price and that is why Seasons 52 travels to South Africa every year to help craft the wine. We also work hard to find emerging wines for our "Drink Them Before They are Famous" list, which often shows awesome values at fair prices. 
With so many regions in the U.S. and other countries hitting the market with wine, is the global wine market oversaturated?
Good wine will always sell and I think plenty of competition helps to motivate everyone.  I see the upside of the U.S. drinking more plus the addition of demand in Asia helping everyone. That being said every country needs to work hard at keeping their quality and prices in line. I look at what New Zealand and Argentina have done compared to Australia and know that winemakers within a country must work together to present their wine business properly in addition to just making good wine. 
Who would you most like to sit down with for a discussion over a bottle of wine, and what wine would you choose to share?
I would choose Thomas Jefferson. We could compare Chateau Lafite Rothschild and Chateau d'Yquem from 1700's and from the 1900/2000s, talk smack about today's political issues and find out just how good a time he had when in France.
Had you not entered the wine business, where do you think you'd be working right now?
Coaching football or soccer, hopefully on a high level.
People all across the globe invite friends over for dinner. What is the single best advice you have for them to make their wine and food choices harmonious?
Choose wines that you are passionate about. Prepare as high quality, fresh and simple food as possible. Good wines naturally go with good food. Sometimes we get way too complicated with food and wine pairing.
What has been the toughest food for you to pair with wine, and what was the final outcome of that?
Looping back to the question before, I like good food and good wine paired together. So, I don't really recall a time when I considered a food tough to pair wine with. My expectations may change when having to pair a wine with artichokes but there are still wines out there (Sylvaner from Alsace or Germany, if you must know J).