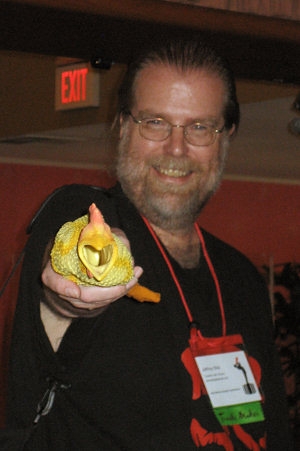 Launched in 2003, Twisted Oak Winery located in Calavaras County, part of the broader Sierra Foothills wine region, has become one of the more popular and better known wineries in the area. Taking its philosophical cues more from Monty Python than UC Davis, founder Jeff Stai originally planted just 11 acres of grapes in what was a quiet out of the way region. Now Calavaras and the Foothills wines are gaining national exposure as the public and the wine writers are discovering the potential of this region.
What prompted you to pursue winemaking as a career? If not winemaking, what path would you have chosen?
At a certain point you can either keep doing what you have always done or decide you're not going to spend your life doing the same thing (in my case, design of integrated circuits - chips - related to data storage). I had always had a few things in my brain that I would change to if I had the chance, and when the pieces came together to do something amazing in wine in Calaveras County, we jumped on it. What else? Photography (as a business) and radio design both were in the running. In hindsight both of those seem quieter and simpler!
Describe the winemaking philosophy (without the PR speak) at Twisted Oak.
Without the PR speak? I might sprain something! It's pretty simple - be very serious about getting a high quality yummy wine in the bottle. I'm not a big fan of overripe generic fruit bombs - I like wines that taste like what they are and don't wrestle your tongue to the ground. After it's in the bottle, we bust out the rubber chickens.
You take an irreverent approach to your wines. Explain the rubber chicken mentality and what it creates for tasting room visitors.
I've always felt that reverence was the problem with wine. Most folks just want to have a good time. Stopping to genuflect at the wine altar just because it's wine just isn't fun (unless you are singing old Tom Lehrer songs...) So, if I was going to have a winery, it needed to be fun. I could talk your ear off about this; so many wineries we visited were not fun - in fact some are even the enemies of fun. I remember one place in Santa Ynez where we were told NO seven times before reached the front door. In that moment I determined we were going to be the YES winery. YES please walk on the grass! YES your dog can poop here. YES, we are going to have a good time! The rubber chicken is just the symbol and mascot for this attitude. Our first tasting note ended "Enjoy this wine with a bunch of friends and a rubber chicken." It was actually our fans that took that throw-away line and ran with it. Put another way - we're very serious about getting the best juice in the bottle and when that's done, having the best time we can with it! Arrrrr!
You have a focus on Spanish and Rhone varieties which might surprise people as it relates to the Foothills region. Why these grapes over the standard offerings?
Who needs another Sierra Foothills Zinfandel? Our climate here is actually quite Mediterranean. Here in Calaveras we pretty much have a straight shot to the Sacramento Delta breezes, and that keeps our days and nights just a little cooler than the rest of the foothills. I think our results speak for themselves.
Located in California's Sierra Foothills, why did you think this would be a viable wine growing region, being so far off the radar?
Well, first, Calaveras County especially was well established as a wine growing region in the 1800's. The Mother Lode was full of miners from all over the world that brought their culture with them. And that included wine grapes. In the late 1800s there was more acreage in Calaveras County than there is now. The sad thing is that so many of those old vines died off or were plowed under. In our case, Calaveras picked us. We already knew the county from family vacations, and we liked the wines being made here, so it made sense for us. And Calaveras is very much a rural county - nearly all of the land here is zoned Rural in some form. If you want to plant a vineyard in Calaveras County, here's what you have to do: go get some vines and plant them. No permits necessary. Really streamlines the whole startup process. And, it's the coolest county name ever - Calaveras is Spanish for "Skulls".
What wine varieties would you like to see the public embrace more fully and why these grape varieties?
We're big fans of the Tempranillo grape especially. We seized on that as our signature variety in The Spaniard blend. It is very suitable to the foothills: the altitude, our red clay, the cool nights. And it's got a great combination of flavors that go well with a wide variety of foods, including of course spicy tapas dishes and Mexican food. Another variety we're big on is Mourvedre, which is featured in our "River of Skulls". Mourvedre is a lighter red - but with a lot going on - that you can enjoy with things like grilled chicken and salmon. Again, a very versatile grape that does well in the foothills.
Whether it's the 100 point rating scale, a 20 point scale, stars, alphabetical scores or anything else, do wine ratings actually help and empower consumers, or do they distort wine prices and confuse the market?
It kind of depends for me. I actually like some of the 20 point systems I've seen. They break out the judge-able aspects in an organized way to arrive at a score - but I think the value is in the process, not the result. The 100-point is what it is, some people do look at that but for the most part they are not my customers. I think some of our 90+ wines have benefitted from the score (The Spaniard especially) but it hasn't been dramatic.
I don't care for stars. If you look at our web site there is a place to write a review but no place to rate the wine, and that's on purpose. I know it's anecdotal but it really seems to me that most systems where the consumer can rate by stars, that you end up with a LOT of 3.5 star ratings, and that's not helping anyone.
Alcohol levels in U.S. and foreign wines are all over the map. What are your thoughts on high alcohol wines?
I personally like lower alcohol in general, but the real answer is balance.
It appears that the wine industry is going the way of the economy in that wine prices increasingly show a financial disparity; the wealthy can afford a $100 Cabernet, for example, while most consumers are dolling out $20 for another Cab. With so many wines on the market from every corner of the globe, can the wine industry as a whole sustain itself in the long run?
I don't know from the $100 Cab market, but I can tell you we are selling well a Tempranillo blend from an obscure part of California for $49 a pop. You could draw your own conclusions. In 2001 when we started this, all indications were that there was a lot of opportunity in the wine biz. The problem is that several thousand people had the same bright idea. So yeah, competition is fierce. We'll see.
You're producing a lot of obscure varieties like Picpoul and Graciano, among others. Are these more the leanings of a renegade winemaker or is there a serious outlet for these types of wines?
Trying new stuff is fun, but if you aren't going to be serious about making it well then what's the point? I had never heard of Picpoul a couple years ago, but if Viognier works here why not Picpoul? Same story with Tempranillo and Graciano. And I wouldn't make these wines unless there were people who would like to buy them - there are plenty of people that want to branch out from the usual stuff. So I think the answer to your question is "yes".