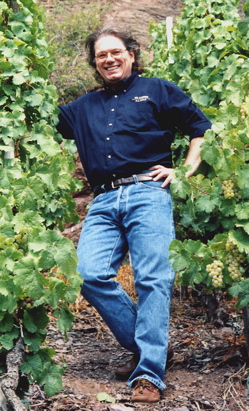 If there is one international name associated with Riesling it is Loosen. Ernst Loosen is the owner of Weingut Dr. Loosen, located in the Mosel wine region in Germany, a family winery dating back over 200 years. He has won accolades such as "Riesling of the Year" and "German Winemaker of the Year", by the German wine press, and he was selected as "Man of the Year" by Decanter Magazine, and Wine & Spirits called him one of the "World's 50 Most Influential Winemakers. In 1999 he launched a joint Riesling project with Chateau St. Michelle in Washington State, Eroica, which has helped ignite Riesling sales in the U.S.

You actually were heading into the archeology field. What prompted you to pursue winemaking as a career?
Well, I was studying archaeology at the University of Mainz, but I'm not so sure that I would ever have gone into it as a profession. At least, that's what my brothers and sisters said when our father fell seriously ill and someone needed to take over the family wine estate. I was quite interested in Roman archaeology, especially since there is so much Roman history right here in the Mosel, but someone had to take on the winery or my mother was going to sell off the vineyards. My older siblings were already in careers, and the younger ones too young. So it was me or nobody. I certainly have no regrets, though. They were quite right that I really had no prospects in archaeology as a profession, and it was agreed that I would have full control of how the wine estate was managed. It had always been more of a hobby for my father and I wanted to do a better job with the great vineyards we had.
Describe your current winemaking philosophy.
My motto is, "A great wine begins in your head." That is to say, you can't make a great wine if you don't already have a concept of what that means. And you can't really know until you've experienced the classic wines of the world and talked to the people who produce them. Then you see the dedication, the passion and the attention to small details that go into a memorable wine that gives you an authentic taste of the land where it was grown. 
Riesling barely registers for the American wine buying public, sadly. What seems to keep them from incorporating Riesling into their wine drinking routines?
I've been running around for over 20 years preaching about Riesling – and it's starting to come back to the high reputation it had at the beginning of the 20th century. Riesling sales have been growing well in the U.S. for the past few years. It's still a small part of the wine market, however, and probably always will be. But we'll keep on preaching about the amazing diversity and versatility of Riesling – it truly is a remarkable grape and people usually love it if you can just get them to try it.
Much has been written and debated concerning the 100 point rating scale. Some say it has empowered consumers, others claim it has distorted wine prices, while still others say it has actually changed the quality of wines being produced. What do you see as being the long term impact of the 100 point rating system?
I say, "Thank god there is a life beyond Parker!" Seriously, I don't really care about rating scales. Whether it's 100 points or 20 or five stars, there's always some sort of relative scale that journalists will use, and I can understand their need for it. But as a winemaker you have to rely on your own vision, your own philosophy, and build your own reputation by making compelling wines.
Rising wine alcohol levels in U.S. and foreign wines are a hot topic these days in wine circles. What are your thoughts on the subject?
I definitely have a European palate and prefer the more moderate alcohol levels of classic European wines. Frankly, I think it's much more challenging to produce an impressive, well-balanced dry wine with moderate alcohol than it is to make big, fat fruit bombs. Even with the warming climate, there are many ways, in both the vineyards and the cellar, to keep alcohol under control. It makes wines that are more enjoyable to actually drink, and will age better. 
Though you focus on Rieslings, what other wine varieties would you like to try your hand at?
In 1996 I took over an old wine estate, J.L. Wolf, in the Pfalz region where we are growing all the Pinot varieties – blanc, gris and noir. I think Pinot Noir is the great challenge for any winemaker. I'm a huge Burgundy fan, and I really love the Pinots from Oregon. So now I've become partners with an Oregon winemaker (Jay Somers of J. Christopher Wines), and we're building a winery and planting Pinot on a very interesting piece of land in the Willamette Valley, located in the Chehalem Mountains AVA.
What are the fundamental differences between German Rieslings and their American counterparts?
One of the great things about Riesling is that no matter where it's grown, it will have a unique taste, but if it's made well you can always tell that it's Riesling. The differences have to do with soil and climate, which affect the hang time, as well as winemaking style. With the Eroica Riesling that I do together with Chateau Ste Michelle, we've found that Washington Riesling can have a similar structure and fruit to the Pfalz. They both have relatively warm climates, with very cool nights, and both places have lighter, sandy, well-drained soils. But a region like the Mosel is very unique because of the very cool northern climate combined with the pure slate soil that is not found in other Riesling regions.
The global wine industry keeps adding new wineries. Is there a viable place for so many wines in today's market?
Naturally, we'd love it if there were less competition. But endless diversity is what makes wine so fascinating. It's kind of like asking, "Aren't there enough songs already? Does anyone need to write more?" 
What makes your winery in the Mosel in Germany such an ideal place for growing Riesling?
The Mosel has a unique combination of climate, steep vineyards, slate soil and a long winegrowing tradition – going back to the Romans, in fact! The river and the steep, south-facing vineyards give us just enough heat to get the grapes ripe after very long hang time, usually into November. The longer the fruit can hang without losing acidity or getting overripe, the more intense the aromas and flavors will be. The Mosel can produce wines that are full of flavor and well balanced, but are the lightest and most delicate wines on the planet.
Many wine drinkers feel that Riesling is a one-trick pony with limited characteristics. What can Riesling offer a wine drinker that other wines cannot?
The real difficulty with Riesling is that it can be so diverse, which I think can be confusing for a lot of people. Sadly, the image of Riesling as a boring, sweet, blah wine is something that the big German brands did to us a few decades ago. Now we're slowly getting people back as they discover that Riesling can be made in a huge range of styles, from light weight to full-bodied, and from bone dry to extremely sweet. That means there is a Riesling for every occasion, and every dish. And with Riesling, there is no oak or high alcohol, so you really get to taste the pure fruit and structure that comes from where it was grown. For me, Riesling is like Mozart – it's easy to just sit back and enjoy it, but the more you pay attention, the more you can discover about its origins and its creator.