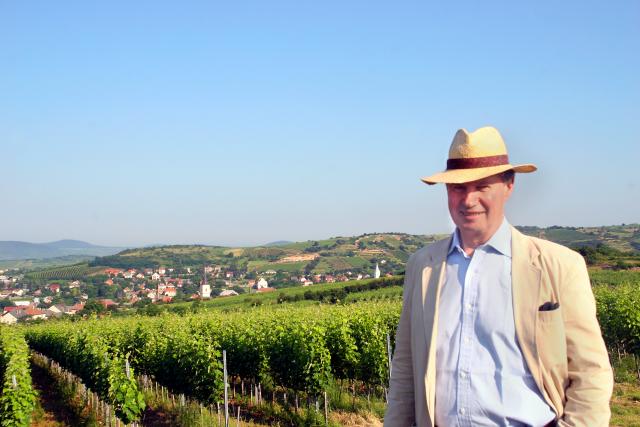 In 1993, as communism in Hungary was stamped out, Ben Howkins joined acclaimed wine writer Hugh Johnson and winemaker Peter Vinding-Diers to co-found the Royal Tokaji Wine Co., the first foreign firm to invest in the Hungarian wine region of Tokaj. Tokaji Aszu wines are Europe's original sweet white wines, immortalized by Pope Pius IV, King Louis XIV, Catherine the Great, Voltaire, President Thomas Jefferson, Eugenie Napoleon and Queen Victoria. Tokaji is the wine region and Tokaj is the town. Aszu refers to the unique style of wine produced in this classified wine region. Royal Tokaji is the leading independent producer of these wines.
Royal Tokaji makes wines from five first-growth vineyards, plus more affordable Blue and Red Label wines from lesser plots. What then is your dominate market?
Effectively three first growth vineyards (St. Tamas, Nyulaszo, and Betsek) plus
one great first growth vineyard (Mezes Maly), and one second growth vineyard (Birsalmas  are our flagship estates. We are fortunate that as a result of staring with a joint venture with 60 Tokaji producers who owned family vineyards in 1990, we are able to offer this variety. All other foreign investors from 1990 - 1993 had to buy single estates. From the beginning the vineyard that gave us our house style was Nyulaszo; it combined weight, balance and structure that we thought best represented the qualities that Tokaji wines had been so famed for. Our other Aszu wines, the Blue and Red labels are blends produced from these and other vineyards and purchased grapes.
Is there a preferred food you suggest or recommend with Tokjai wine?
Classically the historical food pairings are foie gras - as Hungary is still the second largest foie gras producer after France - or other pates, or spicy Asian cuisine; hard cheeses (my favorite) such as aged gouda, cheddar, and fruit or chocolate desserts reflecting the apricot and peach aromas. But the best pairing is with a friend and enjoy the Tokaji wines by themselves.
What is the allure of this historic wine growing region?
Its amazing history and romantic setting. It is also the oldest demarcated wine region in the world and great wine started in the Tokaji region. Had the region been geographically in Western Europe, then none of this fame would have come as a surprise in the last 20 years; it would have had 400 years of continuous quality and exposure. We can trace ownership of the Mezes Maly vineyard back to 1570. The region suffered from appalling quality under the Soviet regime, and Tokaji was the last classic wine region to be restored - from 1990.
How would you convince the average wine consumer to take a chance on a wine they are not familiar with?
Taste, taste, taste; and word of mouth. One taste and the consumer is convinced. They do not have to be sweet wine fanatics to enjoy Tokaji wines; they simply have to enjoy good food and good wines.
How does the Aszu style differ from other styles made in Tokaji?

Aszu wines are what makes the Tokaji region so classic and unique. The production process is unique. The centuries old underground cellars are intrinsic to the ageing process and the legal minimum 3-year aging policy underlines the longevity that these wines achieve. Other wines from the region are basically split into two for export.
Firstly, dry white wines mostly from the indigenous variety Furmint but also from Harslevelu and Muscat. Secondly, semi-sweet wines mainly under the late harvest banner. These are lighter refreshing wines that are not so complex or demanding.
How many vineyards do you source fruit from and what the primary differences of these vineyards?
Many. We continually search for top quality from all our suppliers and so we will buy as little as a few kilos from a neighbor who owns just a few rows of vines. We buy almost exclusively from the MAD commune where we are based, so there is a natural kind of unanimity of terroir, just as there is from the individual Pauillac or St. Julien communes in Bordeaux.
Just because the region is one of the oldest, does that, of necessity, make it somehow better?
It is a classic region and so it is different from other regions. "Better" is in the eye of the beholder.
What should consumers know about the Hungarian grapes used in the wines?
The interesting aspect about Aszu wines is that, were it not for the acidity characteristic of the Furmint grape variety there would be no excitement about this category. The wines would be loose and not of world class quality. Now we are having fun and success with the Furmint grape as a dry white wine standing alone from the Aszu category. This would not have been possible when we started 20 years ago, but the inquisitive consumer is now fully interested in tasting other lesser known grape varieties such as Furmint. The second most important varietal is Harslevelu and we might see this exported one day as a single varietal, but not yet. The Muscat gives the wines the necessary richness.
You joined acclaimed wine writer Hugh Johnson, and winemaker Peter Vinding-Diers to co-found the Royal Tokaji in the early 1990s, the first foreign group to invest in the Hungarian wine industry. Why take the chance on an unknown wine region?
I was originally sent out to the Tokaji wine region by Lord Rothschild who had a Hungarian grandmother and wanted to invest in this extraordinary, but forgotten wine region. His cousins at Chateau Lafite had just purchased Chateau Rieussec and so they declined to join in this possible new venture. My first visit and tasting of wines in barrel clearly showed me that this was an incredible wine opportunity and challenge. Teaming up with Hugh Johnson was a defining moment in the renaissance of Tokaji. The region was historically famous, the wines appealed to all wine drinkers and we could write our own pricing strategy and business plan internationally. My previous experience with port producers steered the way ahead in helping this region adapt to Western practices.
There have been suggestions that Tokaji sweet wines rival Château d'Yquem.
True? And if so, what sets your wines apart?
Undoubtedly they rival Sauternes. They were there before Sauternes. Being in Western Europe, Sauternes have had a marvelous run over the past 50 years, and they took ownership of the classic European sweet wine category. But Tokaji Aszu wines have double the acidity and 3 to 4 less degrees of alcohol than Sauternes. This makes them very attractive for all the right reasons. We are now happily challenging their supremacy and happy to run alongside the best of them. They also offer value for money, an exciting old/new taste sensation and a chance to really enjoy drinking history. The production of Tokaji wines has always been about 10 percent of Sauternes, so it never really had the market opportunities or volumes to expand out of their natural East Europe markets.
Mezes Maly was classified as a great first growth around 1700 so this substantially predates Yquem. Both Yquem and Mezes Maly are the best in their categories. Popes, emperors, kings, and czars could not all be wrong!