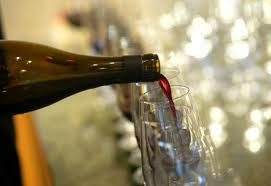 The Northern Rhône region in France—the classic spot for Syrah wines. This is where the variety originated and where it became popular in the 1970s after decades of decline. In recent years, Syrah has become famous as a varietal wine and as a blending partner (with Cabernet Sauvignon and Grenache, to name two) all over the world, from Spain to the US and Australia. But when I think of Syrah, it's France that comes to mind—medium to full-bodied wines with intoxicating aromas of exotic flowers, game and roasted meats, a stony minerality and an utterly seductive herbaceous quality. There are five appellations for Syrah in the Northern Rhône: the Côte-Rôtie, St.-Joseph, Cornas, Crozes-Hermitage and Hermitage, the most famous region in the world for Syrah. In Hermitage, well-known producers like Guigal and Jaboulet produce wines meant to age for decades, with prices that could take a regular person about that long to save up enough to afford, for example, Guigal's internationally traded, high-end "La La" wines, which are some of the most expensive in the world. Northern Rhône Syrah is so rich and powerful that merchants in Bordeaux in the eighteenth and nineteenth centuries blended it with their own wines to strengthen them.
Not all Northern Rhône Syrah costs hundreds of dollars a bottle, but in general these wines are pricey, so it's a good thing that the food that calls for Northern Rhône Syrah is simple, easy to make and comforting. This is food for pampering yourself, staying at home and relaxing and is perfect with a wine that's a bit of a splurge. A wine as massive as Syrah needs red meats like beef and lamb and recipes that require putting a pot on the stove and letting it simmer. Rich hearty stews, roasts and grilled meats work best since a higher-alcohol wine like Syrah needs full-flavored dishes to prevent the food from being overpowered. Recipes that incorporate marinades or braises with plenty of herbs and spices will mirror the spicy, peppery characteristics of a Northern Rhône Syrah. When treating yourself to a night of rich fare and indulgently priced wine, pungency is a plus: a wine this fantastic needs a dish with lots of flavor to stand up to it. Below are five recipes that will maximize the hedonistic pleasure to be had from a Northern Rhône Syrah.
1.)   Cassoulet. This rich, slow-cooked casserole originated in the south of France and is a brilliant pairing with Syrah. Pork is usually used but duck, goose and mutton can also be included. All of these meats are great with a wine that's high in tannin, which cuts through the fattiness of the meat and creates a nice balance between food and wine. The white beans in Cassoulet give the dish an earthy flavor which is reflected in the wine as well as adding a textural component that can stand up to a full-bodied wine like Syrah. M. Chapoutier Crozes-Hermitage La Petite Ruche has a heady, earthy quality that will be irresistible with this dish (and won't break the bank).
2.)   Beef short ribs braised in red wine and herbs. This recipe is relatively easy to make but full of flavor. The red wine, beef broth and herbs in the braise (tarragon, rosemary, fennel seed, dried sage, thyme and basil) will pick up the herbaceous quality of the wine and result in layers of aromatic complexity as well as producing very tender meat. The tannin in the wine will cut through the fattiness of the short ribs. J.L. Chave St.-Joseph Offerus is an attractive pairing and is generally reasonably priced for a Northern Rhône Syrah.
3.)   Moroccan lamb barbecue. Foods from North Africa pair beautifully with Syrah. Lamb, which has more flavor than other red meats, will truly stand up against the powerful mineral, earth and spice characteristics of a Northern Rhône Syrah. This recipe includes spices such as cumin, paprika, cinnamon, ginger and cilantro that will play with the secondary aromas in the wine. The grilled flavors of the meat will pick up the smoke and tar flavors that Syrah is known for, especially if the wine has been aged in oak. Auguste Clape's Cornas bottling has loads of gamey, meaty flavors and a full, opulent body that will be intoxicating with this dish.
4.)   Beef stew. A simple beef stew, when paired with Northern Rhône Syrah, should never be underestimated. Beef, onions, tomatoes, carrots, red wine and beef broth, herbes de Provence, anise seeds and pepper are really all you could ever ask for from a comfort food, especially a dish that loves to be paired with Syrah! A simple recipe but full of flavor and one that will harmonize with the flavors and full body of a Northern Rhône Syrah. Try a bottle of Guigal Côte-Rôtie Brune et Blonde with a few years of age.
5.)   French onion soup. If you're meat-free, this classic recipe will still stand up to a Northern Rhône Syrah. Add some herbs like thyme and basil to pick up the herbal qualities of the wine. The rich onion broth will mirror the earthy characteristics of the wine and the croutons on top will create a texture to rub against the fullness of the wine. The cheese on top (Gruyère is great) is a classic pairing with Syrah, which loves a hard, sharp, aged cheese with lots of flavor. A more elegant, perfumed wine will be lovely with French onion soup, like Paul Jaboulet Aîné St.-Joseph Domaine de la Croix des Vignes.
To get the most from your night of splurging on great food and fantastic wine, remember to consider vintages. Much Syrah from the Northern Rhône is meant to age and can be too tannic and unapproachable if it hasn't had enough time in the bottle. Try to find wines with a bit of age or buy some bottles now to save for later—some of the most rewarding things in life come from a long wait! Cheers!