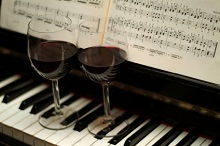 Lately I have been enjoying my wine listening to "Live" music albums.  As it often happens, it became a thing for me to rank the best "Live" albums.  Of course, this is just as controversial as ranking wines, but for me anyway, this is my list.  I am sure I forgot some and haven't listened to others.  Suggestions and comments are always welcome.  These days I tend to have a glass of wine when listening to music.  In the past, it might have been something else but for now, I reach for a bottle of something good.  That got me to thinking; does the wine "pairing" affect my appreciation of the music?  Vice-versa?  I came to the conclusion that all things in life are intertwined and these are no different.  So, without further ado, here are my Top Ten Favorite Live albums and the wine pairing to drink them with.  

10.  Peter Frampton - Frampton Comes Alive
It does seem like I just couldn't go into this list with a heavy, or thought provoking choice or wine.  This album is just fun.  It has always been amazing how much better Frampton was on this night than either prior studio versions or subsequent live concerts.  It is not clear if this was a matter of recording, or just being on.  This is an album that brings out a smile.  It has energy.  One can't help tapping their foot and signing along.  
What better wine to drink with it than Champagne.  "Show me the way."  And that means Egly-Ouriet Brut Tradition Grand Cru Champagne.  While this is a bit pricey at $65, the quality in Champagne terms far exceeds the price.  Year after year, at wine store tastings of Champagne, this finishes at the top and can hold its foam high with wine costing two or three times the price.  This is mostly Pinot Noir with about 30% Chardonnay varying from release to release.  It is made from a blend of three of the top vineyards in Champagne and from a variety of vintages.  Very consistent from release to release.  Great wine to drink anytime including listening to this album.  "Do you feel like we do?"  
9.  Jeff Beck with the Jan Hammer Group Live
This starts out with "Freeway Jam" and as the music takes one from a crazy amount of car horns it picks up pace and freedom into one of the great guitar licks out there.  Jeff Beck can play with the best of them.  His problem seems to be finding people who like him enough to tour with him.  At least for this concert, they all were firing on all cylinders.  As the album takes one from instrumentals to boogies with vocals, it is a fun ride.  
Alto Moncayo Veraton is a wine that works well with this.  Veraton is a Spanish wine made from the Grenache grape in the region of Spain.  Why such a nice match for the music.  First, this wine is delicious and affordable.  It should cost around $20.  Second it is a powerful wine that will take over.  One just can't help liking it.  Does it have depth and complexity?  At times and then at other times it is just satisfying.  Not everyone knows about this wine but once served, most people find something to like about it.  It's just a "Full Moon Boogie" of a wine.  

8.  Average White Band - Person to Person
Who doesn't like a little funk.  This live album recorded in such R&B hot spots as Pittsburgh and Cleveland in the 1970's has some great rhythm on it.  "Cut the Cake" is a classic of 70's R&B.  This live version is invigorating.  If you haven't listened to this, give it a chance.  The album even closes with a cool version of "I heard it through the grapevine".  
And to pair with that, the wine must also bring the funk, right?  Nothing says funk in a wine more than the Rhone Valley.  Domaine Charvin Chateauneuf du Pape is the one I am recommending.  Actually, this wine is a bit prettier and more feminine than a lot of Chateauneuf's due to its high amount of Grenache.  Yet, it also has a nice earthiness to it.  What better wine to help you "Love Your Life" 

7.  Emerson Lake, and Palmer - Welcome Back my Friends to the Show that Never Ends – Ladies and Gentlemen
Were so glad you could attend, step inside step inside.  With songs going from "Hoedown" to "Karn Evil Nine", this album demands listening and contemplation.  This is not light, easy listening stuff.  The magic of Keith Emerson's keyboards, the intricacies of Carl Palmer on percussion and Greg Lake's vocals combine to take what were already wonderful pieces and elevate them to a new level with energy and verve.  The album holds up well today as the songs go from haunting to complex.  
Picking a wine to match this album is difficult.  But, when I list the adjectives above; haunting, complex, energy and verve, one wine stands out for me.  Joh. Jos. Prüm Wehlener Sonnenuhr Riesling Spätlese.   This German Riesling is one of the very best Germany has to offer.  In its youth it has all sorts of energy and verve.  Wonderful acidity that works so well with food.  As it gets old, it develops complexity and a finish that last for a long time.  It is a wine that haunts you long after the glass is emptied.  It is a wine that demand contemplation.  Even when just sipping, it is too good to allow that.  It makes the drinker stop and pay attention.  

6.  Neil Young - Live Rust
This was the concert/tour in which I learned to appreciate Neil Young.  Such a wide ranging album from Rock and Roll, to simple folk, to a bit of country twang.  There "Comes a Time" when one has to give this album a "Lotta Love".  "Hey Hey, My My" Neil's simplicity can be dismissed until one really listens and sees how deep the lyrics and how seamless the music is.  "From Out of the Blue" to "Into the Black" this album starts strong and finishes long.  
"Tonight's the Night" to open a really good Petite Sirah.  Talk about out black and blue.  "The Loner" grape of the Rhone varietals.  Does it belong or not?  You can decide but there are some great ones coming from all over but especially California.  The Robert Foley Petite Sirah is the wine to choose here.  Not only does owner/winemaker Robert Foley make an intense and deep Petite Sirah, he plays in his own Rock &Roll band.  The Foley petite is a wine that can be drunk young, but can age effortlessly for a decade or more and still be just as intense.  Forget Cortez, this wine is killer.  

5.  Allman Brothers - Live at the Fillmore East
It's getting harder and harder to decide on my top five favorite live albums.  This one could have easily been higher.  This was early release was my first introduction to the Allman Brothers.  While I know they had a couple of studio albums before, this is still my favorite although I still don't know how to classify it.  Is it Southern Rock (Hot 'Lanta), is it country (In Memory of Elizabeth Reed), is it Blues (Statesboro Blues) or is it just transcendent (23 minutes and one side long version of Whipping Post)?  I will opt for the later.  Duane Allman's guitar work is prolific and often underappreciated.  Gregg Allman's soulful and rough vocals belie how young he was at the time.  Just an amazing album.  
So what wine is so universal, so soulful and so underappreciated?  If you know me and my tastes, that means the grape is Syrah.  I have recommended a lot of Syrah in my time from all over the world.  To match with this wine, however, I also wanted a wine with little track record but that I had confidence would be great down the road.  Let me recommend Andremily Syrah.  If you ever considered signing up for a winery mailing list, sign up for this one.  So far, they have only had three vintages released and all have been stellar.  One of my favorite two Syrahs from anywhere in the world (along with Saxum).  Just an amazing Syrah.  

4.  Johnny Cash - At Folsom Prison
This album was released well into Johnny Cash's career.  In fact his hit, Folsom Prison Blues" which is on the album came out 13 years before in 1955.  The album was indeed recorded live at the Prison.  It was intense, deep and gritty.  "25 minutes to go" was written by Shel Silverstein about a man about to be executed.  The "Green, Green grass of Home" is classic country.  The album reeks of introspection and angst long before that was a term people associated with music.  The workmanship is great especially featuring Carl Perkins on guitar.  And of course, no one walked out. 
I am going to go a bit lighter in pairing this album to a wine.  The album is dark enough.  Let's look to a wine that has some comforting qualities.  Something that brings back great memories.  A wine that does not need to be "Flushed from the Bathroom of your Heart".  "Give my love to Rose" or in this case Domaine Tempier Bandol Rose.  A friend served this recently and I was reminded what a great wine this is.  Sure, for a rosé it is pricey.  But not for one of the great wine in the world, which it is.  This wine is refreshing.  Works with all kinds of food and times.  And it can age for a while if you have a bottle waiting for someone to return.   

3.  The Who Live at Leeds
There are many people who will argue this is the greatest Live album ever released.  And they may be right, but for this list, right now, it lands at #3.  Released near the height of their career in 1970, this album contains live version of Who songs and remakes as well.  It may have been released slightly ahead of "My Generation" but I can still recall this in the record stores on release.  And for the last almost 50 years, it seems I hear its version of "Summertime Blues" a few times every summer.  The raw energy and rock and roll fun are all over this album.  The long version of "Magic Bus" just seems to be perfect.  
Of course, the might be a lot of wines that one can "Substitute".  Nevertheless, I am going with Carlisle Zinfandel Papera Ranch.  This is a rowdy but not over the top Zinfandel that gets better with a few years of age.  It is silky and packs a punch (like Townshend usually did).  It might not leave you "Shaking All Over" but it might.  It just might.  And in the world of California top wines, this one is under $50.  

2.  Lou Reed - Rock and Roll Animal
This was a close second.  In the end, there is just one album worth of material (along with Live at Leeds) and that was the difference for me.  Still from the Intro with Steve Hunter on guitar to a soulful version of Sweet Jane this album is amazing.  Lou Reed's vocals in Heroin talking about when the spike goes in his vein are riveting.  The finish of Rock and Roll is just perfect. 
"White Light/White Heat" is one of the least played songs.  So for that I am going to use it to match with a bit of a different wine.  How about some Sherry.  There are many good Sherries being made at many different price points.  Only recently have I begun to sample some higher ends VORS (very old and rare sherries) in a dry style.  These can get pricey, but they are so good.  And, they can be drunk over a week or two (recork and store in the fridge).  NV Bodegas Tradición Jerez-Xérès-Sherry Oloroso 30 Years Old VORS is one that I loved but there are many others.  It should cost around $70 but it is well worth it.  And it goes well with the album as the wine offers introspection and soul while riveting your attention.  

1.  Bob Seeger - Live Bullet
Can we please Rock and Roll you one more time?  Yes sir.  This album rocks.  It has some mellower moments as in "Turn the Page" or "Beautiful Loser" but this album just rocks.  The album that turned the "Ramblin, Gamblin Man" into a radio staple and paved the way for his future stardom.  "I've Been Working" is the perfect phrase to describe a Bob Seeger concert in 1976.  This iconic recording was done in Cobo Hall in Detroit back when that was a good thing.  
"Let it Rock"!  Cayuse Vineyards Syrah, Cailloux Vineyard is from an area of Washington State called The Rocks.  What could be better.  This is a top quality and expensive Syrah.  It is available although the better bet would be to sign up for their mailing list.  Made by "Travelin' Man" Christophe Baron who came to Washington from France, this is a Syrah that is not as big as you might think.  It is deep and intense though.  Those are hardworking vines digging deep into rock covered soil.  Just a beautiful wine to spend an evening with.  "Kathmandu", good night everybody. 
Well that's my list.  I would love to hear what albums I left off.  It should be obvious from this list that I am an old fart.  Are there still great live albums being released?  What should I be listening too.  And what should I be drinking while listening.  What are you listening and drinking too?