A Month of Merlot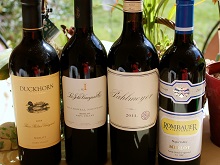 Like the talented child who has been overshadowed by his elder bother, Merlot is finally beginning to regain its birthright. The self-proclaimed Merlot Month of October is as good a time as any to celebrate this grape. IntoWine hand selected four Merlots to help you rediscover why Merlot is so good. Merlot itself has been around a long time, since the First Century it is believed, but wasn't actually written about until 1784 by early wine industry Bordelais. However it was truly incorporated among France's top grapes in 1854. Around that same time, Merlot cuttings arrived in California due to the influx of immigrants racing to beat the Gold Rush. It wasn't until the late 1980s when plantings were increased in California and Merlot became more significant and consumer friendly. Now, it is the second most widely consumed red wine in the U.S., after Cabernet.
Duckhorn 2014 Three Palms Merlot
Considered the flagship Merlot from California, Duckhorn has always championed the grape and the Three Palms Vineyard has always been the acme for their Merlot. It was the 1978 vintage that signaled their first Three Palms Merlot. This iteration is comprised of 86% Merlot, 8% Cabernet Sauvignon, 4% Malbec, and 2% Petit Verdot. The wine spent 18 months in oak, 100% French Oak, 75% of that being new barrels. The wine presents rich blackberry, blue berry, boysenberry compote with back notes of thyme, anise, sage, leather and vanilla. Decanting helps drawn down the initial wine into a smoother, softer one with hints of toffee and mocha. The acidity remains strong even after a day of being opened. This is that Merlot that causes you to realize how good Merlot can be. ($98)
Pahlmeyer 2014 Merlot
Pahlmeyer is known as a powerhouse red wine producer and Merlot has always been part of that portfolio. Comprised of 93% Merlot, 4% Petit Verdot, 2% Malbec and just 1% Cabernet Sauvignon, the fruit underwent cold maceration and two to six weeks of primary fermentation before being basket pressed. The first think you notice about drinking the Pahlmeyer Merlot is its viscosity: it is velvety, silky and smooth. You also notice the cassis, black cherry, blueberry and boysenberry, the sweet vanilla and charred oak along with back notes of sage, mint, and wild herbs. The tannins and acidity are fairly moderate, making this very drinkable right now. It was aged in 85% new Seguin Moreau Icone, and Taransaud French oak barrels for 20 months. ($85)
Rombauer 2014 Napa Valley Merlot
Rombauer is best known for Chardonnay but in 1983 they produced their first Merlot. This version, made of Merlot and 21% Cabernet and 2% Petit Verdot, continues their commitment to this grape. In year's past they sourced their Merlot from Carneros, but with this vintage they have moved to Napa for the fruit. The 2014 offers dark ripe fruit that seems to erupt from the underworld - this is a darker expression of Merlot, one that surprises you. There is black cherry and blackberry, boysenberry and pomegranate, mild oak and back notes of sage, thyme and cracked pepper. Holding this together is a bright acidity that undercuts the tannins enough so this is drinkable now, but age will help this as well. The wine spent 17 months in new French oak. ($45)
For more than 25 years, The California Wine Club founders Bruce and Pam Boring have explored all corners of California's wine country to find award-winning, handcrafted wine to share with the world. Each month, the club features a different small family winery and hand selects two of their best wines for members.
La Jota Vineyards 2014 Merlot Napa Valley
Dating back well over 100 years La Jota has long been active in Napa. Their vineyard sites are on Howell Mountain and in fact they farm more Merlot here than Cabernet. Their 2014 iteration of Merlot, made of Merlot with 20% Petite Verdot and fermented with native yeasts, presents rich and ripe blackberry, blueberry and boysenberry with back notes of cedar, vanilla, anise, sage and a slight menthol. There's a bright acidity that streams throughout the palate, along with an earthiness with this wine. Aged for 19 months in primarily new French Oak, this Merlot showcases supple mountain fruit from volcanic soils. ($85)