We're sorry, this video is not available rnow. Please check back later.
In this episode of IntoWineTV, host Lisa Kolenda and wine experts Bartholomew Broadbent, Michael Broadbent, and Chris Tavelli convene at Yield Wine Bar, San Francisco's only "green" wine bar, to taste and discuss 24 different organic wines under $30 from across the globe.
Theme: Organic and "Green" Wines under $30
Wine: 2006 Amity Vineyards ECO•WINE® Willamette Valley Pinot Noir ($23).
- Upcoming IntoWineTV Video Themes
- Wine producers and distributors: Find out how to get your wines included in our next session. More info...
Producer Notes - Our Eco-Wine is organically certified by Oregon Tilth and can be sold as Organic Wine. Amity Vineyards, internationally known for the quality of its Pinot Noir, released Oregon's first organically grown, sulfite free Pinot Noir in 1991. "Our first goal was to make a good Pinot Noir, so we chose a vineyard with a proven track record for quality fruit that also happened to be organic," said Winemaker Myron Redford. Redford continues, "I also think that people who are sensitive to sulfites or just prefer sulfite free wine should have the benefit of wine produced by a winery well known for quality. The challenge was to make a wine about which people say, 'This is good Pinot Noir', not 'This is good, for a sulfite free Pinot Noir.' I was convinced that with good grapes and careful cellar practices we could get a good Pinot Noir in the bottle without sulfites and we did!" This wine is also SALMON SAFE, a certification that automatically accompanies organic status. SALMON SAFE provides vineyards and wineries with official recognition of their efforts to protect salmon habitat from both chemicals and erosion. In 2006, the T.T.B., the federal agency regulating wine labels, made us change "Sulfite free" to "No Detectable Sulfites". The wine is still "Sulfite Free" as it has been for the past 16 years. In 2006 we expanded our ECO-WINE ® family to include other wines. We also have an ECO-WINE® Gamay Noir, Marechal Foch & a Chardonnay/Pinot blanc blend.
Our 2006 Eco-Wine® Pinot Noir has a nose of plum & ripe red fruit. In mouth it is smooth, full bodied with an after taste of black cherries. It is ideal for pastas, black beans, fish, chicken and picnic fare.
Experts:
Bartholomew Broadbent, CEO of Broadbent Selections. Bartholomew was named as one of the "fifty most influential people in the wine world" by Decanter Magazine. He is also widely considered to be one of the world's foremost authorities on Port and Madeira. Learn more about Bartholomew Broadbent.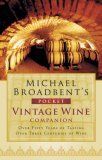 Michael Broadbent, Master of Wine, Author of numerous wine books including the recent release Michael Broadbent's Pocket Vintage Wine Companion. Michael is the founder and current Senior Consultant of the Wine Department at Christie's International Auction House. He is perhaps best known, internationally, as a wine auctioneer having pioneered wine auctions in Amsterdam, Geneva, Sydney, Hong Kong, Tokyo, and the United States.
Chris Tavelli, Owner and Wine Director at Yield, San Francisco's first and only "Green" Wine Bar. Chris is an organic and "green" wine expert.
Location:
Yield, San Francisco's first and only "Green" Wine Bar. Located in the heart of San Francisco's historic Dog Patch Neighborhood.
References:
Michael Broadbent's Pocket Vintage Wine Companion.