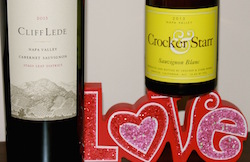 I cannot pretend to know what everyone prefers in terms of their wine choice. I can however use my own 18-year relationship with my wife to tell you what she prefers -  Sauvignon Blanc, and I prefer something red; Merlot, Cabernet Franc, Syrah, Zin, Dolcetto and the list goes on. It is customary, and nearly a legal requirement for wine writers to compile a list of Valentine's Day wines. So this year…I think not. This year I'm choosing a wine for my wife, and one for me, and I hope you'll consider both. 
Her: Sauvignon Blanc is my wife's go-to wine, at home, at restaurants, overseas, wherever and whenever. Of course she tries everything I pour her, but her fondness for Sauvignon Blanc is unmatched. Therefore, consider the 2015 Crocker & Starr Sauvignon Blanc ($34, www.crockerstarr.com - IntoWine.com Rating 90 Points) from St. Helena in the Napa Valley. The sheer beauty of this wine is that it's a Sauvignon Blanc I really like too, great acidity, clean and pure with notes of a summer melon bowl, guava, honeysuckle, peach and pear and even a whiff of butterscotch. It lacks the grassy elements that some Sauvignon Blancs possess and part of that is because this was fermented in barrel, stainless steel, and concrete egg, so there's a lot of cool viscosity here. Beyond that, it's just so pleasant and bright.
His: Er, rather, me. Red. That's the ticket. And the 2013 Cliff Lede Napa Valley Cabernet Sauvignon, Stags Leap District ($78, www.cliffledevineyards.com - IntoWine.com Rating 93 Points) is bold but restrained, offering a terrific balance between fruit and oak. What you want from Napa Cab is what Cliff Lede delivers: rich red and black fruit, mainly from Cabernet with small amounts of Petite Verdot, Cabernet Franc and Merlot. 21 months of oak aging results in deep blueberry, black berry, black cherry, with cinnamon and cardamom in the hinterlands. This is smooth with a lively acidity and robust enough to hold up to heavier foods. Structure – that's the word, this is a wine that was built carefully, with much thought and care. So this Valentine's Day, get a wine for both of you, and if that means two different wines, or maybe more bottles, have at it.