Have A Drink On Me - AC/DC Wine Comes to Market
by Brad Prescott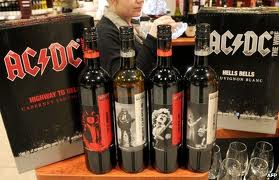 It goes without saying that AC/DC is not the first name you think of when it comes to wine. Like many artists before them - Madonna, Elvis, and KISS all come to mind - they have licensed their brand name to a series of cleverly named wines playing on the bands myriad hit songs and albums. Released to the public so far we have Back in Black Shiraz, Highway to Hell Cabernet Sauvignon, Thunderstruck Chardonnay, and Hells Bells Sauvignon Blanc. A fifth release, You Shook Me All Night Long Moscato is expected soon.
So are these wines any good? I had the chance to try the Highway to Hell Cabernet Sauvignon and Thunderstruck Chardonnay. Neither is a wine you will seek out just for the wine, but they are drinkable along the line of any mid-shelf variety, grocery store wine. But let's face it, nobody is buying AC/DC wine for the wine. Fans of the band will be pleased the wine is serviceable and not just pure plonk, which is more than you can say for many gimmick wines. If you are a fan of AC/DC or rock in general, buy one of each bottle and stick it in your wine cabinet as a conversation piece.
For more than 25 years, The California Wine Club founders Bruce and Pam Boring have explored all corners of California's wine country to find award-winning, handcrafted wine to share with the world. Each month, the club features a different small family winery and hand selects two of their best wines for members.