Born of the need to protect wines on long sea voyages, fortified wines were created. As trade expanded in the 16th and 17th Centuries to finally encompass the whole globe, many of the wines from Europe became spoiled on their long journeys across the oceans. To counteract this problem, wine makers took up the practice of adding measures of brandy to stabilize the wine.
This is done either before or during the fermentation process depending on the type of wine being made. These new fortified wines were then better able to withstand the rigors of a long journey in the hold of a ship and the wildly fluctuating temperatures they would encounter.
Once these wines reached their destination, they were often preferred to the regular wine normally served, because of their higher alcohol content, robust flavors and firm texture. As a result, a new wine was encouraged and was continued to be made long after the need for fortification was necessary.
Pour with Confidence! Since 1990 The California Wine Club has featured the best of California's small, artisan wineries.
Each month features a different winery and includes:
- Two bottles of limited production, award-winning wine
- Entertaining and informative 12 page club magazine, Uncorked
- A 100% satisfaction guarantee
- An opportunity to reorder your favorites at up to 50% off normal retail prices
$35.95 per month, plus s/h. No membership fees, no commitment.
Visit www.cawineclub.com to learn more.
These wines generally contain between 17 and 21 percent alcohol. As a result, they are more stable than ordinary table wines and less likely to spoil once they have been opened. The best-known examples are Port, Sherry, Madeira, Marsala, Málaga and Montilla-Moriles.
Málaga & Montilla-Moriles
From the province of Andalucia in the south of Spain along the Mediterranean coast, are Málaga & Montilla-Moriles. Though cousins to Sherry, they are distinctly different in style. Málaga is on the Costa del Sol and gives its name to wine that is made but not grown there. The growing areas are in the hills 30 miles (50km) north of the city – hence its eighteenth-century name, "Mountain," as it became known in America and Britain – and about the same distance west. The two principle grapes are Pedro Ximénez and Moscatel.
The regulations state that the grapes must be brought in to Málaga to age in its warehouses, to qualify for the DO. This rich, sweet, raisiny wine was traditionally made by leaving the grapes out in the sun on grass mats for 7 to 20 days to concentrate the natural sugars. Today, other methods – the addition of boiled-down must (Arrope) and arresting the fermentation with grape spirit – are also employed to achieve the same effect.
Málaga was exported all over the world in the 17th and 18th centuries. By the middle of the 19th century, it was in such demand that Málaga became Spain's second largest wine region. Today the wine has fallen on hard times.
Montilla is produced in the area just north of Málaga. In times past, much of its producton was sent to Jerez to be blended with sherry. However, since 1960, its wines may no longer be blended with those of Jerez. The main differences between Montilla and sherry are that Montilla is made from the Pedro Ximénez grape rather than the Palomino of sherry, and secondly, that Montilla has a high natural strength (14 to 16 percent alcohol) that allows it to be shipped without fortification, unlike sherry which is nearly always fortified.
The wines are fermented quickly in tall open clay jars called tinajas. The wines fall into the same classifications as sherry – Fino, Amontillado, or Oloroso – but outside of Spain must be sold as Pale Dry, Medium Dry, Pale Cream, and Cream. Montilla's cheif competiton is sherry and often has to contend with its image as the cheap alter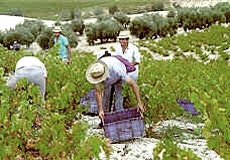 native to it.
Marsala

Marsala is the best known fortified wine of Italy. Like Málaga, it takes its name from the town that produces it. Marsala was created by John Woodhouse, an English merchant and connoisseur of fortified wines. Seizing upon a viticultural vacuum in 1770's Sicily, Woodhouse went to Málaga to learn how its fortified wines were made. He then organized his own version of it, vineyards and all, in western Sicily. In 1773, he made the first product by adding 8-and-a-half gallons of grape spirit to each of the 105 gallon (400L) barrels of wine which he immediately shipped to England. The wines were received enthusiastically. In 1796, he opened up a warehouse and cellars in the town of Marsala.
Woodhouse's greatest marketing coup was his through his contacts with Admiral Nelson's Mediterranean fleet.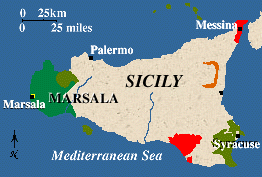 On Nelson's way to victory at the 1798 Battle of the Nile, they stocked up on Marsala – which was in the Admiral's words, "worthy of the table of any gentleman'' – in place of the standard rum. From that time after, the British military helped to spread the word about the wine as they themselves continued to bolster the production of it.
In 1812, Woodhouse was followed by another Englishman, Benjamin Ingham. He founded a firm in Marsala next to Woodhouse. He helped to improve the production of the areas vineyards and in 1834, published a manual dealing with the harvesting of the grapes that was aimed at correcting the problems of local growers.
In 1832, The largest Marsala house, Florio, was founded in 1832 by Calabrian Vincenzo Florio, known as the "father of the Sicilian wine trade.'' Owing no doubt to the importance of this wine, Florio's warehouse and cellars occupied a full kilometer of frontage along the sea. It was the first Italian Marsala house. The Marasala wine trade has always been dominated by large houses.
For at least a century it was the equal to Sherry and Madeira. In time though, it was relegated to the kitchen as mere cooking wine. But in 1986, the DOC laws for Marsala were rewritten with much stricter regulations and the wine has now climbed back into respectability.
Today, Marsala comes in three different colors — Oro (golden), Ambra (amber), Rubino (ruby) — and five types — Fine (aged a minimum of one year), Superiore (aged in wood two years), Superiore riserva (aged in wood four years), Vergine (always dry and aged in wood for five years), Vergine stravecchio (aged in wood for at least 10 years).