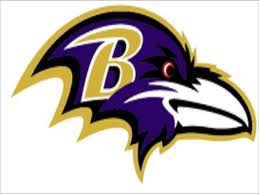 What's an appropriate wine to serve at a Baltimore Ravens themed party? What wine would be a good gift for a hard core Ravens fan?
 Proud to Wear Purple
 It's safe to say that most football fans in Baltimore will never forgive football owner Robert Irsay for moving his Baltimore Colts to Indianapolis under cover of darkness in 1984, leaving Charm City without a NFL team.  A city obsessed with football had to wait until 1996, when Cleveland Browns owner Art Modell brought his team to Baltimore, to break out the tailgating gear and cheer at a local professional football game.  The Baltimore Ravens, named in honor of native son Edgar Allan Poe, were instantly embraced by their new fans, who happily traded Colts blue for Ravens purple.
Given Baltimore's long love affair with professional football and the distinguished history of its former football team, it's no wonder the Ravens inspired immediate devotion.  The team's sparkling new stadium opened two years after the Ravens' first home game, pleasing fans even more.  During football season, you can see purple, black and white everywhere in Baltimore, especially on game days and "Purple Fridays," when fans are encouraged to wear the team's colors.  When the Ravens played in (and won) Super Bowl XXXV, downtown Baltimore was awash in purple; skyscrapers were bathed in purple lights and nearly every resident was at home or with friends, glued to a television as the team defeated the New York Giants to bring home the Vince Lombardi Trophy.
Although the Ravens have only existed as a team since 1996, the club has long been known for its strong defense.  Ray Lewis, who has played for the Ravens since the team's first season, has been selected for the Pro Bowl 13 times as of this writing and serves as the leader – some would describe him as the heart – of the team.  Lewis, along with Terrell Suggs, Ed Reed, Haloti Ngata, Lardarius Webb and the rest of the Ravens defense, is a formidable opponent.  The Ravens' offense, led by quarterback Joe Flacco and running back Ray Rice, carried the 2008 through 2011 teams to the playoffs, adding to previous playoff appearances in the 2000, 2001, 2003 and 2006 seasons.
Ravens Rivalries
Ask any Ravens fan what the team's objectives should be for the next season, and you'll hear, "Win the Super Bowl and sweep the Steelers."  Baltimore's rivalry with the Pittsburgh Steelers is legendary and leads to trash talk (and more) every time the two teams meet.  To a Baltimore fan, even if the Ravens finish a season with a losing record, defeating the Steelers makes any season worthwhile – and the feeling is, of course, mutual.  The Ravens also have an understandable rivalry with the Indianapolis Colts; although it is hard to blame the sports-crazed city of Indianapolis for building a stadium in order to entice a team to relocate there, beating the Colts brings a little extra satisfaction to Ravens fans all the same.
Best Wines for Ravens Fans
While most people associate Baltimore with beer, particularly National Bohemian ("Natty Boh"), there are plenty of wines that pair well with tailgate party offerings and add yet another touch of Ravens-mania to any football-related gathering.
Ravenswood Winery, founded in Sonoma, California in 1976 by the legendary Joel Peterson, specializes in zinfandel wines, but also produces chardonnay, merlot, petite sirah, cabernet sauvignon and red blends.  Peterson has long been committed to preserving California's historic vineyards and promoting zinfandels; he was inducted into the Vintners Hall of Fame in 2011.  Although he sold Ravenswood Vineyards to Constellation Wines U. S. in 2001, Peterson remains with the winery as head winemaker and senior vice president.  Ravens fans will especially appreciate Ravenswood's motto, "No Wimpy Wines," as Baltimore football lovers are decidedly non-wimpy.  Ravenswood's 2007 Teldeschi Vineyard Zinfandel won the Chairman's Award, signifying unanimous gold, at the 2010 Riverside International Wine Competition.  Expect to pay about $35 for a bottle.
You'll find the Ravens' name in Ohio, too, at Raven's Glenn Winery.  Owners Robert and Renee Guilliams and their son, Beau, Raven's Glenn's winemaker, offer tours and tastings throughout the year.  The winery's on-site restaurant features Italian fare.  Raven's Glenn produces a wide variety of wines, including fruit wines, ice wine, sangria, port, blends and single varietals.  Raven's Glenn Petite Sirah won double gold and "Best of Class" at the 2011 Indianapolis International Wine Competition, and Raven's Glenn White Raven won "Best of Class" at the same competition.  You'll pay about $22 for a bottle of the Petite Sirah and $11 for a bottle of White Raven.
If you're shopping for Ravens-related wine in the Baltimore area, you might discover Raven's Run Red , a wine from Paso Robles, California, bottled especially for the Maryland (read football fan) market.  Expect to pay $14 to $18 for a bottle of Ravens Run Red.
You may or may not know that the Ravens' mascot, a live raven, is named Poe.  Thus, a wine from Samantha Sheehan's Poe Wines might be a welcome addition to your football party or tailgate table.  Sheehan and winemaker Jonathan Keyes are committed to producing single-vineyard wines from California's Anderson Valley.  Poe Wines 2010 "Angel Camp" Vineyard Pinot Noir sells for $48 per bottle, while the 2010 "Ferrington" Vineyard Chardonnay is available for $42 per bottle.                 
Port lovers, too, have an opportunity to add a Ravens touch to their wine cabinets.  Quinta do Noval  offers "Raven" Port Special Reserve, a ruby port, for $13 to $20 per bottle.  The black bottle looks sleek, powerful and modern; if only Quinta do Noval had thought to use purple lettering instead of red, it would be perfect.