We're sorry, this video is not available rnow. Please check back later.
In this episode of IntoWineTV, host Lisa Kolenda and wine experts Bartholomew Broadbent, Cezar Kusik, and Rob Renteria convene at one of San Francisco's finest restaurants, Incanto, to taste and discuss wines made by celebrities.
Theme: Celebrity Wines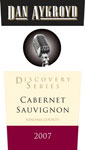 Wine: 2007 Dan Aykroyd Chardonnay & Cabernet Sauvignon (under $20)
Region: Sonoma County

Alcohol content: Cabernet Sauvignon 13.5%, Chardonnay 13.5%
Varietals: 100% Cabernet Sauvignon, 100% Chardonnay
Producer Notes:
- Upcoming IntoWineTV Video Themes
- Wine producers and distributors: Find out how to get your wines included in our next session. More info...
Wine Notes:
Cabernet Sauvignon - Produced in Sonoma in partnership with DeLoach Vineyards, this Cabernet is blended in the true Bordeaux tradition, giving the wine elegance and complexity. The structure and tannins of the Cabernet are enhanced with small amounts of other varietals including Merlot and Carmenere. The Merlot adds soft, fleshy berry and plum flavors while the Carmenere balances the tannins of the Cab and adds cherry and spice components. The grapes are sourced primarily from the Alexander Valley, which with its cool mornings and evenings and warmer inland climate allow the Cabernet Sauvignon grapes to fully ripen. It is then aged in 60-gallon French, American & Hungarian oak barrels for added complexity and increased concentration. The process also brings out softer tannins and a more fruit-forward palate in the wine. The wonderful, ripe aromas of blackberry and raspberry are completed by a touch of spice at the finish.
Chardonnay - Made in the Sonoma style with Burgundian flair and finesse, this wine is a blend of 7 vineyards from Sonoma County's finest terroirs, including the Russian River Valley. The region's morning fog slows ripening, allowing for the full development of aroma and flavor compounds so that the grapes ripen with higher acidity. The result is a perfect balance of fresh mouthfeel and soft, creamy texture. The round, full-bodied texture, sweet vanilla notes and increased depth are a result of aging in a mixture of new and neutral French oak barrels. The lovely fruit-forward flavor with essence of pear, Gravenstein apple, and pineapple contrasts with a very floral nose and slight hints of vanilla on the back palate. This chardonnay boasts a versatile and approachable nature that is complex enough to stand up to richer dishes, yet is perfectly refreshing on its own.
Experts:
Bartholomew Broadbent, CEO of Broadbent Selections. Bartholomew was named as one of the "fifty most influential people in the wine world" by Decanter Magazine. He is also widely considered to be one of the world's foremost authorities on Port and Madeira. Learn more about Bartholomew Broadbent.
Cezar Kusik, Fine Wine Specialist, Fourcade & Hecht Wine Selections.
Rob Renteria, Wine Director at Napa Valley's Martini House.
Location: Incanto Italian Restaurant & Wine Bar, Situated in the heart of one of San Francisco's most charming residential neighborhoods, Incanto's rustic Italian setting, with its handcrafted stone, antique brick and woodwork, 16th century Latin parchments, and private dining room dedicated to poet Dante Alighieri, provides a uniquely warm and inviting dining environment.
Incanto's daily-changing menu honors old-world traditions including house-cured meats, unusual regional pastas, fresh local seafood and a commitment to sustainably grown and harvested produce. Incanto's award-winning wine program features one of the most diverse Italian wine lists in the United States and an ever-changing lineup of more than twenty wines by the glass, half-glass, half-liter, and flight.