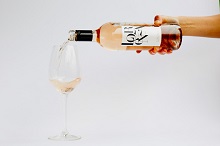 When mother/daughter duo Melinda Kearney and Michele Ouellet set out to craft a subtle yet sexy French-style Rosé using California grapes in 2008, they were nothing short of mavericks in an American wine landscape dominated by the big reds. Little did they realize how their go-to varietal would soon enjoy a renaissance this side of the Atlantic, in part fueled by the demand for light and dry wines that can easily be paired year-round.
The ladies' well-heeled appreciation for the good life fueled their passion for Rosé, and the California market has rewarded them for it. Today Kearney and Ouellets' Lorenza Wine Company, based in St. Helena, produces a single wine: a crowd pleasing, sommelier-approved Rosé that comes to life with grapes found in Lodi's loamy soil. As a veteran in the Napa Valley wine industry, Melinda partners her experience with Michele's illustrious international modelling career to ensure Lorenza's Rosé- and the lifestyle it promotes- is on par with the best from the Côtes de Provence.
What better way to kick off the Rosé harvest and upcoming Labor Day weekend than by toasting the slow and sultry end of summer with a little pink. We invite you to pour a glass of Lorenza Rosé, grab a spot on that adirondak chair in the setting sun, and enjoy our latest IntoWine Q&A with Melinda Kearney. Cheers!
Bonnie Boglioli-Randall, IntoWine:  Melinda, you have a long history in Napa Valley. Tell us a little about your journey in the wine industry.
Melinda Kearney: Before moving to Napa Valley, my husband and I owned a couple of restaurants in Boulder, Colorado, during the 1980s with extensive by-the-glass programs. As we tasted the wines we heard magical stories about the wineries, so when we moved to Napa it was like stepping into a food and wine fairytale. It wasn't long until I joined the wine business in 1990 working at a small winery where I helped in both the cellar and the vineyard. Selling the wines was easy because I could relay in detail how it was made. That led me to Frog's Leap where I spent 10 years as VP of Sales, travelling internationally and domestically and helping to grow the company.
BBR:  Fast forward to the origin of Lorenza Wine Company about a decade ago. What was the impetus for you and your daughter, Michele Ouellet, to start your own label and craft your own wine?
MK:  In 2002, I started my consulting business which specializes in launching luxury estate wines. I had two young kids at home and Michele was a fashion model working overseas. She had a great appreciation for food and wine, and she wrote me from Paris to say that she loved Rosé and that we should make our own. Lorenza was born!
BBR:  With Lorenza's first vintage in 2008, you intentionally set out to craft a dry European style Rosé. And you haven't stopped since. Why did you decide to tackle the (perhaps Herculean) task of reforming American's minds on the delights of a good Rosé?
MK:  Already fans of dry French Rosé, we intended to make a wine from California that we would love to drink ourselves. We gambled that there were enough people who would buy it so we could keep it going. It was a lonely enterprise at first but we had incredible support from a couple of top sommeliers early on which was very encouraging. We certainly didn't expect what is happening now and are so grateful. It has been a wonderful wave to ride! A lot of credit goes to Charles Bieler for driving around the country in a pink Cadillac in the early days to break down barriers around Rosé.
BBR: Was the French joie de vivre wine culture something that informed the way in which you decided to craft Lorenza wine?
MK:  Although I did not grow up with wine on the table, I always loved food and when I joined the restaurant business I connected the dots and never looked back. Michele's middle name is Lorenza- named after her grandfather on her father's side, Lorenzo. He was from Montreal where his family focused on food and everyone was on board with a split of good French champagne. There was always elevated conversation about food and wine with our kids as they were growing up... they practically lived in restaurants. So the pressure was on to make as beautiful an expression of Rosé as we could.
BBR:  Tell us about where your grapes are grown and what attracted you to the appellation.
MK:  Most of the vineyards we source from are in Lodi with just a couple outside of the appellation.  We use a California appellation on our label to stay flexible with our sources. Lodi is an amazing place to source fruit where growers have invested in a wide range of varietals- not just the more visible Zinfandel and Cabernet Sauvignon. With the sandy soil there are some very old vineyards that continue to thrive which were attractive to us in our goal of making a serious wine from significant vineyard sources.  Lodi is also a small town and we have been fortunate with our wonderful relationships that continue to expand in so many ways. 
BBR:  What did your growing partners think when they first discovered you were set on intentionally crafting a Rosé?
MK:  Well, the growers were surprised when we scheduled our first pick when the grapes were at 18 Brix! And there was that funny conversation about the pale salmon color and the low alcohol.  But we've worked all that out by now.  
BBR:  I can imagine! Lorenza Rosé includes Grenache, Carignan, Mourvedre, Cinsault. On their own, these are delightful varietals that speak to the rich abundance of California's grape growing regions. Collectively, they are a rare treat to find. How did you determine that these were the varietals you wanted to leverage?
MK:  We looked at some of our favorite French Rosés and made our plan. Surprisingly, we found vineyards with these varietals. The treat during harvest is the daily taste of the individual tanks over the slow cold fermentation. The varietals are all different shades of pink and have unique flavor profiles which play important roles in the blend.
BBR: Your output is roughly 4,000 cases annually. Is this where you see it stopping, or is your intent to produce more?
MK: There are still a lot of people who can't yet get Lorenza in their town so we will continue to expand our production as it makes sense. Our focus continues on Rosé; we renew that decision every year. We are still in our early days with a lot of possibilities and opportunities. Very exciting times.
BBR:  Any pointers on pairing Lorenza's Rosé?
MK:  Rosé can hold its own all year round and in a variety of pairings. We have been enjoying some of our older wines from magnum recently.  The savory notes are so beautiful with food and the acidity is holding well.  We had an incredible dinner built around Lorenza and a heritage goat recently in Denver. A bottle of Lorenza is open all the time around here and whatever we are nibbling on it seems to enhance.  Salame, fish tacos, spiced nuts, fried chicken, pork chops, and strawberries!
BBR:  Now for the million dollar question: when you aren't enjoying Lorenza Rosé, do you have any other go-to favorites?
MK:  My fave Rosé is Domaine Tempier- our inspiration. During summer, I enjoy aromatic whites and always love grower bubbles, Pinot Noir and interesting reds. I look for acidity in the wines I like to drink- wines with life, vibrancy and lift.
BBR:  Melinda, it's been our pleasure learning more about Lorenza Wine Company. Very much looking forward to enjoying a glass of Lorenza this very evening on the patio!
MK:  Thank you for the opportunity to share our story with you!
For additional information about Lorenza Wine Company, to find retailers, or to purchase, please visit the website http://www.lorenzawine.com and check out their Instagram @lorenzarose