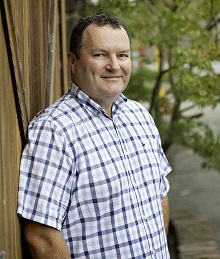 A New-Zealand native, Craig McAllister spent his first 20 years in Christchurch, New Zealand, then lived in London for six years. He has travelled extensively throughout the world. He found himself drawn not just to the wine industry, but to the wine lifestyle due to his love of cooking, traveling and being outdoors. This led him to Lincoln University in New Zealand, where he received his Bachelor of Science degree in viticulture and enology.
Craig's deep passion for winemaking has taken him all over the world, from New Zealand to Australia, Chile and Cyprus. Craig first joined the La Crema team in 2007 as the Harvest Enologist. After gaining additional experience abroad, he joined the La Crema team full-time in 2009. He has been a steward of La Crema's Monterey program and worked extensively on the Sonoma Coast Chardonnay. He also helped to further develop La Crema's esteemed collection of single vineyard Chardonnay and Pinot Noir wines. He was promoted to head winemaker in 2017.
IntoWine recently caught up with Craig McAllister to discuss wine and his thoughts on current trends in the wine industry.
Tell us about your wines at La Crema:
Here are La Crema, I like to say we're cool-climate specialists. We're pioneers in maritime-influenced growing regions in California and up into Oregon's Willamette Valley, and select vineyard sites that offer specific qualities and characteristics we want to showcase in our wines. There's a La Crema style that's characterized by its lushness and balance, but each of our wines has a reason to exist – a unique personality that's true to its origins. We want our wines to show where they're grown.
Our technique is rooted in the philosophy that gentle handling is best. Everything we do from the vineyard through to the bottle is with a mind to minimal intervention. For example, we aim for restraint in our oak and really let the fruit shine. And, we keep each lot separate until blending. Everything receives the same thoughtful, hand-crafted approach. 
What prompted you to pursue a career in wine? If not the wine business what path might you have chosen?
I can't imagine what else I would've done! Perhaps a race car driver? I think we each have that creative spark in us somewhere, and mine was triggered in the early 2000s when I discovered wine. Deciding to pursue this path was as much a lifestyle choice as a career decision. I love cooking, travelling and being outdoors -  being tucked away inside an office never held a lot of appeal. The fact that wineries and vineyards tend to be in beautiful places is a nice bonus, too. It was a wise choice – though not an easy one. 
Your early training in wine occurred in New Zealand. What differentiates the New Zealand approach to winemaking compared to that in California?
Regardless of where you're working, you aim to make the best possible wine. In that sense, there aren't a lot of big differences between New Zealand and California.
Of course, there are different challenges in growing grapes in these regions, but most of that is due to climate and out of our control. In the winery, we may make some different decisions to keep fruit, acid and tannins in balance. We might choose different cap management techniques, for example. Or, because the climate is warmer here in California, tannin ripeness isn't the challenge that it was in New Zealand. 
Briefly describe your winemaking philosophy.
I want the wines to speak to where they are grown, so I never try to force a style – there's no sense in making a Russian River Pinot Noir in Oregon, or vice versa. I believe we have to do the job in the vineyards, and then take an approach of minimal intervention to so we can let the fruit shine. In barrel, the oak source needs to be complementary, not overbearing.
At La Crema, we make wines from a variety of appellations, and each one needs to have its own unique character. If we do the job right in the vineyards and the winery, those wines are distinctive. 
What are you most proud of so far in your winemaking experience?
It's not possible to put down one single instance. I think back to putting a cork in the first bottle I ever made, and of all the wines from vintages since then. To be able to bring friends and family together to share meals and laughter over those wines is humbling.  
I'm also proud to represent Jackson Family Wines and La Crema for all those who work so hard behind the scenes to put these wines in the bottle. We have a reputation built on quality and consistency, and I'm honored to be a part of that. 
Are there any grape varieties that you would like to work with, and haven't yet, and why those varieties?
I've been fortunate to travel and work across the world, so I have experience with a lot of different varietals and regions. Two grapes that spark my interest now are Grüner Veltliner and Albariño. These are relatively new varietals for California producers. Being able to taste these wines from the classic European regions and the new California offerings has been exciting.  
When it comes to winemaking, what's one thing you know now that you wish you had known before you started?
I wish I would've known how much I enjoyed it – I would've started sooner! 
There is both criticism and praise for the 100 point rating scale. Some say it empowers consumers while others say it distorts wine prices and even changes the quality of wines as winemakers chase high scores. What are your thoughts on the 100 point rating system?
The 100-point scale is the most widely accepted rating for wine, but it is subjective. There are so many factors that influence one's enjoyment of a wine – your mood, your company, the setting, the occasion. My advice is always to drink what you like. I always focus on making the best possible wine that's true to its origins without trying to guess at a possible score. 
Rising wine alcohol levels in U.S. and foreign wines are a hot topic these days in wine circles. What are your thoughts on the subject?
The key is balance. I've had higher alcohol wines that don't have an impression of heat, and lower alcohol wines that don't feel as integrated. As long as the fruit, the acid, the tannins and alcohol are all in balance, there's nothing wrong with higher alcohol.  
Lastly, where can La Crema wines be purchased?
La Crema Rose, Pinot Gris, Chardonnay and Pinot Noir is available at nationwide at wine retailers and fine restaurants. You can also visit our website, www.LaCrema.com.