IntoWine.com asked our panel of wine experts their recommendation for one Châteauneuf du Pape wine worth seeking out (but which won't break the bank):
Chateauneuf du Pape is one of my absolute favorite appellations. Rich, warm crushed red fruits, along with subtle hints of roasted herbs, black olive, and savory notes are just several descriptors that I look forward to experiencing when I open a bottle of well aged CNP. Although there is no shortage of excellent producers in this famous appellation, one of my top picks year in and year out is Domaine de Marcoux.

Sisters Catherine Armenier and Sophie Estevenin produce both a regular cuvee of Chateauneuf du Pape as well as a cuvee Vieilles Vignes from biodynamically farmed vineyards. The focus here how these Grenache based reds can best reflect the specific place from where they came. Rich, deep, and intense but never at the expense of elegance. Good structure and acidity also ensure that these wines age well too. Just about any vintage of Chateauneuf du Pape from Domaine de Marcoux is worth seeking out. - Mulan Chan, Rhône and French Regional Buyer, K&L Wine Merchants
----------------------------------------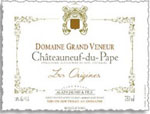 I am going to recommend Domaine Grand Veneur Les Origines. Many producers of Chateauneuf du Pape's now make a luxury cuvee out of some of their better barrels or vineyard sites in addition to their regular offerings. The resulting wines are phenomenal but the pricing is well north of $100 a bottle. This is the luxury cuvee of Domain Grand Veneur. The 2005 and the 2006 can be found for $50 or $60, which in today's market is an absolute steal for a wine of this quality. Lots of juicy cherry flavors with grilled meats, spice and floral notes make this a classic Chateauneuf du Pape wine. It would be great with stews or beef dishes. This wine can be drunk young but will age gracefully for 15 years.  It won't be long until the public catches on and the price starts to catch up with its peers. - Loren Sonkin is an IntoWine.com Featured Contributor and the Founder/Winemaker at Sonkin Cellars.
----------------------------------------
Learn more about Chateauneuf du Pape
----------------------------------------

The 2005 Domaine Singla La Pinede ($16.95) is a blend of grenache, syrah and carignan, respectively. This organically farmed low-yielding, wine produces less than one ton per acre. A black cherry and pepper nose gives way to an amazing concoction of layered tastes including blackcurrant, tobacco, brown spices and black cherry with mature tannins. The label was launched in 2001 and the winemaking process uses whole berries which are foot tread to crush them, and no temperature control with the wines. The result is a powerful wine at a deceptively reasonable price. A day two re-visit to the wine showed a deeper concentration on the nose and still firm tannins, but it gained in complexity and lost some of the upfront fruit, replaced with earthier versions of the original elements. Chateaunuef's are becoming increasingly expensive but the Singla stands out for a fantastic quality to price ratio. - Michael Cervin, Wine Judge, Restaurant Critic, and IntoWine Featured Writer
----------------------------------------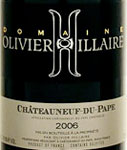 Domaine Olivier Hillaire, about $40-50 retail.  While no truly outstanding Chateauneuf is inexpensive, many of the top bottlings approach or exceed the $100 level (examples include Chateau de Beaucastel for around $90-100 for its "normal" cuvee, Domaine du Vieux-Telegraph "La Crau" for around $70, and Domaine de la Mordorée "La Reine des Bois" for around $100 or more).  The Olivier Hillaire Chateauneufs have plenty of red and black fruit flavors, mineral and spicy overtones, firm tannins and good acidity.  They have a protracted finish and display considerable elegance.  Other suggestions for a "reasonably" priced Chateauneuf include Roger Sabon for around $50-60 and Les Cailloux for around $50. - Suzanne Reifers & Alfred Judd, IntoWine Featured Writers
----------------------------------------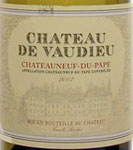 Too often consumers looking for a unique wine purchase limit their focus to single varieties from western France, when the real treasures of history and style reside in the Southern Rhone, in Chateauneuf-du-Pape. Inextricably linked to the Christian Church when in 1308 nearby Avignon became the papal headquarters, subsequent years and centuries of winemaking would prove the southern banks of the Rhone River to be one of the best places in the world to grow wine grapes. Though Grenache, Mourvedre and Syrah dominate the region's contemporary red wine portfolio, wine laws in Chateauneuf permit up to thirteen varieties to be blended in any one wine for any one vintage. Designated black grapes (other than those listed above) include Cinsault, Counoise, Muscardin, Terret Noir, and Vaccarèse. Permissable green grapes include Grenache Blanc, Picpoul, Bourboulenc, Clairette, Picardin, and Roussanne. Viognier is not permitted south of Montélimar.
In my experience, the best red wines from Chateauneuf are intricate and complex: developed tannins, voluptuous fruit, refined cocoa, a cameo of acid, and starring roles for balance, length, intensity, and focus … The white wines can be similarly impressive: flush with ripe citrus, quince and pear, minerals, acid, and glycerin. Tie these characters together in the right way and you have a winning wine which features not only an agricultural history of pilgrims but the convergence of centuries of winemaking with a terroir unlike anywhere else in the world – scrubland and dramatic swaths of pudding stones and centuries-old gnarled vines. Truly, one of the only producers who ties all thirteen grapes together, every year, is Chateau de Beaucastel. If you have an opportunity to enjoy this wine (About $100/btl), it is entirely worth whatever you had to do. If you'd like to taste a little of the intensity of the red wines from the area (without having to tell junior you spent his college tuition on a case of wine) try the 2006 Châteauneuf-du-Pape Chante Cigale (About $30). For a surprise white wine, try the 2007 Châteauneuf-du-Pape Blanc Château Vaudieu (About $40). - Ben Spencer, Cellar Master at Bernardus Winery and IntoWine Featured Writer