Top Ten Chateauneuf du Papes of 2016
I tend to taste and drink a lot of wine over the course of a year. I am in a few tasting groups, sometimes the wines are consumed at various local wine store tastings and a number drunk with friends and family. Early on, it was evident that the best way to pay attention and also to remember what wines were consumed was to write a tasting note. Over the years, I have written well over 10,000 tasting notes probably representing 70% of the wines I have tasted. I make no pretense about the quality of the notes, but sip by sip and bottle by bottle, the notes have gotten a bit better. It always interesting at the end of the year to go back and review what wines were consumed and which ones I liked the best – overall and in categories. In 2016 I wrote 1,334 tasting notes. Thanks to computers, I can sort and select them down into various lists. I give you these to use as you wish – suggestions, comments, and reasons to laugh or disagree.
Caveat - I have for the most part not repeated wines that were tasted multiple times or the same wine from a different but close vintage in an effort to list more wines for those looking for suggestions. I drink, for the most part, what my wife and I like, so did I miss out on categories or specific wines? You bet. There is a lot of great wine out there and one can't drink it all. Part of the fun is seeing, over the years, how tastes change, finding new discoveries, following the development of vintages but most of all, just enjoying this special beverage. Cheers! - Loren Sonkin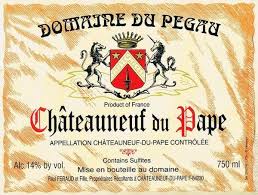 1. 2000 Domaine du Pégaü Châteauneuf-du-Pape Cuvée da Capo - France, Rhône, Southern Rhône, Châteauneuf-du-Pape
What a way to start. This was decanted at 4:00, served at 8:00. Still young and just kept getting better in the glass. Purple in color, ruby at the rim. Gorgeous nose. Plums, black raspberries, slight funk more like wet fur, saddle leather, slight violets, spice. More just kept coming out. Every bit as good or better on the palate. The fruit took some time to come out. Initially, its more about spice. Then it slowly emerges. Layers of complexity. And it keeps changing. Why not 100, there is a slight drying quality to the finish. That is nit picking as this wine was phenomenal. (99 pts.)
VINEBOX is a monthly wine-by-the-glass membership club. Members receive a curated box containing three glasses of wine from all around the world. Each shipment also contains tasting notes, pairing suggestions and some fun facts about where the wine came from. Explore new regions, learn about taste preferences, and get ready to find a few favorite wines with VINEBOX.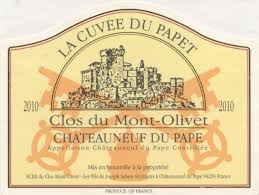 2. 2010 Clos du Mont-Olivet Châteauneuf-du-Pape La Cuvée du Papet - France, Rhône, Southern Rhône, Châteauneuf-du-Pape
Ruby/purple in color. The nose is dusty, with floral notes and cherries. Also some spice. Deep and gorgeous. On the palate, this is singing right from the get go. I resampled at the end of the afternoon and it was much tighter. Still great but not as good as opening. On the palate, great balance. Powerful wine, but also a bit of finesse. Long finish. Food friendly. Wonderful wine, but I would wait a few more years. (99 pts.)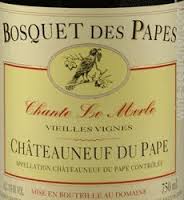 3. 2010 Bosquet des Papes Châteauneuf-du-Pape Chante Le Merle Vieilles Vignes - France, Rhône, Southern Rhône, Châteauneuf-du-Pape
Purple/ruby in color. Dark cherries, black raspberries, chocolate, roasted herbs, sandalwood and smoke. Great texture. Soft but with structure. Juicy acidity. layers of complexity that unwind in the glass. Long finish. Its best days are ahead, but the softness gives it both accessibility and food friendliness now. (98 pts.)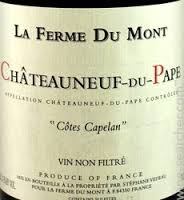 4. 2010 La Ferme du Mont Châteauneuf-du-Pape Côtes Capelan - France, Rhône, Southern Rhône, Châteauneuf-du-Pape
A new wine for me IIRC. There is a ton of brett here so some had "issues". For me, it was my WOTN. Classic CdP and great to boot. Purple/ruby in color. The nose is a warm barn on a early spring day. Maybe some fruit hiding in the background but that would take a lot to pick up. On the palate, wonderful texture. The brett carries thru ever so much to the palate. Also black raspberries, hay, black licorice. Complex. Nice acidity. Long finish. I always wonder about ageing, but if you have a very cool place, I guess so. Once the brett blooms, be careful who you open it for though. Takes me back to when most CdP smelled like this. (98 pts.)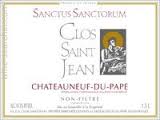 5. 2012 Clos Saint Jean Châteauneuf-du-Pape Sanctus Sanctorum - France, Rhône, Southern Rhône, Châteauneuf-du-Pape
A friend brought this over. He said it had been opened and Caravined since January. Hard to judge , but it was remarkable. From Magnum (I believe that is all they make it in). Ruby/purple in color. Very accessible. The nose has cherries, strawberries, some baking spices and floral tones. On the palate, great texture. Already showing a depth and complexity not often seen in younger wines. Delicious cherry and dark cherry fruit with spice and vanilla. Long finish with lots of fruit on it. Given everything, i.e. young age, coravin, it was a great showing. (96 pts.)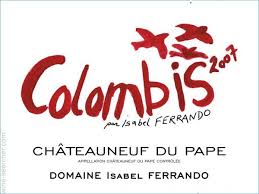 6. 2010 Domaine Isabel Ferrando Châteauneuf-du-Pape Colombis - France, Rhône, Southern Rhône, Châteauneuf-du-Pape
Inky purple in color. Some said the nose had brett but I don't think so, just left in the glass from the last flight. Lots of black raspberries, spice, violets and black licorice. Full bodied. Great acidity. Firm tannins. Lots of juicy black raspberry fruit on the palate. Deep but needs time ot unwind. Long finish. (96 pts.)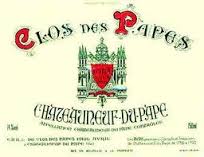 7. 2001 Clos des Papes Châteauneuf-du-Pape - France, Rhône, Southern Rhône, Châteauneuf-du-Pape
Opened and allowed to breathe for 10 hours. Seems to be about at peak with all that air. Very classic CdP back bought on release before this got really expensive. At the time, I doubt I considered it classic, but it drinks that way today. Deep ruby in color. The nose has some barnyard on it. I thought it light but the crowd was, of course, mixed. Also some Kirsch, black olives, garrique and bits of truffle. On the palate, this is soft and almost elegant in a rural sort of way (if that makes sense). Cherries, slight liqueur, spice and earthiness. Long finish. Absolutely superb with a mushroom and seitan over noodle casserole. The wine I went back to at the end of the evening as I wasn't sure it would hold over night (it may have) and didn't want to risk it. (96 pts.)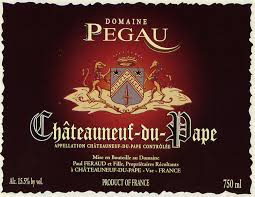 8. 2007 Domaine du Pégaü Châteauneuf-du-Pape Cuvée Réservée - France, Rhône, Southern Rhône, Châteauneuf-du-Pape
Great showing. Purple in color. The nose is great with black raspberries, black cherries, clean with violets and spice. On the palate, this is deep and juicy. Lots of fruit but not over ripe. Medium tannins. Long finish. This is so delicious you just want to keep sipping on it. (96 pts.)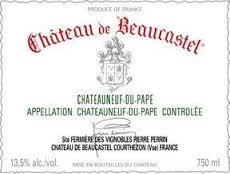 9. 2001 Château de Beaucastel Châteauneuf-du-Pape - France, Rhône, Southern Rhône, Châteauneuf-du-Pape
I actually opened this as our hostess/friend loves stink on her wines. I thought this a likely candidate. Actually, it was pretty clean. Just the slightest hint of earthiness. Ruby/purple in color. The nose has plums, black raspberries, slight spice and slight earthiness. Medium tannins. On the palate, plenty of fruit; black raspberries and plums. Deep and layered, there is a beautiful soft complexity to this wine. I rarely use this term, but it is quite sexy. Very food friendly as well. Great showing for this wine. Seems to be entering peak but a long life ahead. Glad to have a few more. (96 pts.)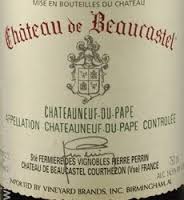 10. 2001 Château de Beaucastel Châteauneuf-du-Pape - France, Rhône, Southern Rhône, Châteauneuf-du-Pape
Great showing for this wine which certainly seems to be coming into its peak (it has a long life left though). Purple/ruby in color. Dark cherries, black raspberries, violets, leather, slight earthy funk but a clean wine and some cigar tobacco. On the palate, full bodied. Juicy black cherry fruit with some black raspberries, some earthiness. A lot of complexity here but fresh and vibrant fruit. Long finish. Just outstanding and the WOTN. (96 pts.)