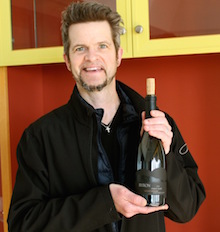 Before Jonathan Nagy, winemaker at Byron in Santa Maria, ever considered the wine business he was at a job fair at UC Davis dropping off resumes. His plan was to be a high school chemistry or math teacher. He happened to drop resumes with a few wineries. Days later, and quite unexpectedly, Robert Mondavi Winery called him for an interview. Clearly Nagy was not in his element when they walked him through the facility but he was, "dorking out over all the tech equipment," he told me. Towards the end of the interview they asked him what was his favorite wine? "I told them Columbia Crest Merlot because it was on sale for $5.99 at Vons." Jonathan was serious, but they laughed. In his face. But they were impressed with his honesty. Jonathan landed the job and though Robert Mondavi was in his 80s at the time, Nagy recounts: "Even if you were a seasonal employee, he shook your hand, looked you in the eye and thanked you for making his wine. That's pretty cool." 
Jonathan worked two harvests in Napa, then came to Santa Barbara, really to obtain his teaching credential, but instead he landed a tasting room job at Cambria Winery, but given his background, soon was moved to Lab Supervisor, and his love affair with wine started. Now on his 21st harvest (which seems unlikely given his boyish skater looks) he's terribly comfortable in his role as winemaker.
On this day Jonathan and I survey the Byron vineyards on a windy March afternoon – windy because this valley lies about 11 miles from the Pacific Ocean and the breeze is from there too, cooling the valley, making it more ideal for Pinot Noir and Chardonnay. A turkey vulture soars overhead catching the breezes. Byron Winery has been located on a bench above the Santa Maria River since the mid 1980s. Through a series of purchases it now is in the hands of Jackson Family Wines, though it started in 1964 as vineyard land, and then Santa Barbara wine pioneer Ken Brown founded Byron Winery on the old vineyard. The elevations are modest, between 400 and 600 feet, all full of limestone sandy soils. Though decades have passed, Byron now has returned to the original vision of the winery – single vineyard Pinot Noir and Chardonnay. I sat down with Jonathan at the winery on a quiet Sunday, just us two, our voices echoing through the cavernous facility. "I used to think I hated Chardonnay until I moved here, the stone fruit, acidity, citrus; it's a cool-climate expression," he tells me. Their Chardonnay is "classic Burgundian winemaking," as Nagy tells says, focused on mineral and fruit driven wines and not over oaked. He uses diverse clones to maximize flavor. "Clone 4 equals bright acidity, clone 95 equals stone fruit, honey notes," he says. 
Jonathan didn't grow up in a drinking culture or family. During junior college while living in Campbell California, south of San Jose, he lived with a Danish family and wine was at every meal, which opened him up to wine not only as a beverage, but as part of dinner and food. This casual approach always helps one to see wine, not as a way to get loaded, but a as a way to complement your meal, and your life. Balance. Which brings me to my next curiosity. As a man of faith, I'm curious if Nagy's spiritual beliefs caused him any angst about making booze. That might seem shortsighted on my part, however there are various sects of -pick any faith- that shuns alcohol in its totality. And then there is the confusing (to me) issues I encountered when in Idaho visiting a vodka distillery and the majority of their potatoes they bought from Mormon farmers…you know, Mormons, who don't drink. "Biblically it doesn't say don't drink, it says don't get drunk," Jonathan tells me. "I did think about winemaking philosophically, but even Jesus made wine, and wine is integral to the church." And that is the correct answer. Believer or not, wine is an addendum to our lives, not a master of it.
Nagy's Chardonnays and Pinot's reflect a maturity, not only of the winemaker, but of their other sites as well, allowing diverse expressions with fruit from the properties throughout Santa Barbara County. Their winery is not open to the public, but they have a tasting room in Los Olivos at 2367 Alamo Pintado in which to sample Byron wines, and their other label, Nielsen Wines. More info at www.byronwines.com.