IntoWine recently caught up with Brad Loos of Loos Family Winery: 
How did your foray into winemaking come about?
We come from a family of German and Dutch farmers that settled in Iowa.  We were first introduced to the sweet dandelion and rhubarb wines produced there. Later, we relocated to California where a true appreciation of world-class wine occurred during numerous family trips to nearby Napa and Sonoma beginning in 1970.  In 1983, Brad Loos met his wife, Dr. Kim Loos, who also enjoyed fine wine.  Soon it wasn't enough just to enjoy wine.  We longed to be intimately involved in the creative process. Thus, Loos Family Winery was born!
Today, Kim and her father, Dr. Girvin Harkins, oversee  vinification of our Napa Valley Sauvignon Blanc.  This is the only white wine currently produced by Loos Family. Girvin's backgound in chemistry and love of wine made it easy to work with winemaker Chris Nelson to create 25 cases of this attractive wine.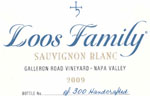 Describe your winemaking philosophy:
We specialize in making ridiculously small lots of handcrafted wine.  "Handcrafted" means each vineyard is carefully considered, the grapes are hand sorted, and each wine is fermented in very small amounts. Each bottle is individually labeled and hand-numbered. Our wines are crafted with care, talent and integrity. 
The Loos Sauvignon Blanc 2009 was recently reviewed on IntoWineTV, watch now
We believe that high quality grapes come from ecologically balanced vineyards.  We source grapes from sustainable and/or organic vineyards that employ the least intrusive practices.  We focus on traditional practices with minimal intervention.  We've found this is the best way to coax the unique expression from grape to wine.
We concentrate our efforts to express the elements of grape, vineyard appellation and winery practice to produce authentic wines.  Our goal is to highlight the truly unique characteristics of each grape varietal, vineyard-by-vineyard, to offer a wine that truly emphasizes those unique regional qualities.
What are your long-term goals for the brand?
We enjoy keeping things small, simple and real.  Our goal is to be respected as a family-owned winery that makes outstanding ultra-premium, vineyard designate wines at reasonable prices.
When it comes to winemaking, what's one thing you know now that you wish you had known before you started?
Wine is a living beverage. It requires the same care, patience and love as a newborn baby.  Tremendous skill is required to execute the correct decision at the right time to highlight each vineyard's unique sense of place. 
A hot topic in wine circles is the "Parkerization" of wines. Some people claim his 100 point scoring system has been an enabling factor for consumers as they navigate the endless array of brands from which they can choose. Others claim his influence has negatively impacted wine quality as producers are increasingly crafting their wines to earn a high score from Parker at the expense of making the best wine they can with the fruit and resources they have available. Given this, what are your thoughts on Parker and the 100 point scoring system?
We don't submit our wines to Robert Parker for review due, in part, to our dinky production.  Still, Parker's reviews and scores have a strong influence on the wine industry and consumers.  That's both good and bad.
There's no doubt that some producers make their wine to match Parker's palate in the hope of garnering high scores (and increased sales).  A strong argument can be made that this causes many wines to share the same profile of ripe fruit, copious amounts of oak, high alcohol, volatile acidity, and extract (i.e. Parkerization).  That's a shame!  People have different tastes.  Wine is inherently subjective.  We believe it's important to foster a variety of wine styles driven primarily by terroir.  We avoid over manipulating the wine making process.  All our wines are vineyard specific and crafted with minimal intervention.  We select vineyards and craft our wine in a style we enjoy and then hope others also enjoy it.  That works very well for us.
Of course, Parker's 100 point scoring system can be helpful if you happen to share the same palate as Robert Parker.  We've also noticed that people beginning to explore and appreciate wine often need a starting point or guide.  Robert Parker can fill that role for some people.  Parker also influences investment wine prices, particularly en primeur Bordeaux, so you may want to track his scores if you invest in fine wine and/or purchase wine at auction.
We advise people to try as many wines as possible and encourage them to remain confident in their own judgment.  The more you taste, the more you'll develop your personal favorites thus maximizing your enjoyment!  Continue tasting because it's common for palates to evolve over time.  Wine is all about enjoyment and discovery!
Lastly, where can your wines be purchased? 
Loos Family wines can be purchased on our website at www.loosfamilywinery.com and at carefully selected fine wine establishments including: K&L Wine Merchants (Redwood City, San Francisco, and Hollywood, CA), The Wine Bar (Half Moon Bay, CA); Cafe Gibraltar (Half Moon Bay, CA); Restaurant Sent Sovi (Saratoga, CA) and Vino Locale (Palo Alto, CA).