We're sorry, this video is not available rnow. Please check back later.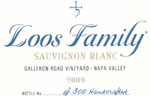 In this episode of IntoWineTV, host Lisa Kolenda and wine experts Bartholomew Broadbent and Loren Sonkin convene among the vines at Crushpad in Napa Valley to taste and discuss the cult wine brands of Crushpad.
Theme: Cult Wines of Crushpad
Wine: 2009 Loos Family Sauvignon Blanc ($24), Buy this wine 
Region: Napa Valley
Vineyard: Galleron Road Vineyard
Alcohol: 13.8%
Read the IntoWine interview with Brad Loos of Loos Family Winery
Background: The Loos Family traces their heritage back to Germany and Holland. Four generations grew up surrounded by farms in Maquoketa, Iowa.  The Loos' first introduction to wine was the sweet dandelion and rhubarb wines produced in Iowa. In the 1960s, the Loos family relocated to San Diego and later moved north to Greenbrae, California. A true appreciation of world-class wine occurred during numerous family trips from Greenbrae to nearby Napa and Sonoma beginning in the 1970's.  In 1983, Brad Loos met his future wife, Dr. Kim Loos, who also shared an interest in fine wine.  Today, Kim and her father, Dr. Girvin Harkins, oversee the Loos Family Sauvignon Blanc production (which is the only white wine produced by Loos Family).  Girvin owns land in the Hill Country of Texas and plans to plant a small vineyard near the banks of the Guadalupe River.  His graduate degree in chemistry and love of wine made it easy to work with winemaker Chris Nelson to produce a miniscule 25 cases of this distinctive handcrafted wine. 
Winemaking Philosophy: "Handcrafted" means each vineyard is carefully considered, the grapes are hand sorted, and each lot of wine is fermented in very small lots. Each bottle is individually labeled and hand-numbered. Our wines are crafted with care, talent and integrity.  We believe that high quality grapes come from ecologically balanced vineyards.  We source grapes from sustainable vineyards that employ the least intrusive practices.  We focus on traditional practices with minimal intervention.  We've found that this is the best way to coax the unique expression from grape to wine.
We concentrate our efforts to express the elements of grape, vineyard appellation and winery practice to produce authentic wines.  Our goal is to highlight the truly unique characteristics of each grape varietal, vineyard-by-vineyard, to offer a wine that emphasizes those unique regional qualities.
Experts:
Bartholomew Broadbent, CEO of Broadbent Selections. Bartholomew was named as one of the "fifty most influential people in the wine world" by Decanter Magazine. He is also widely considered to be one of the world's foremost authorities on Port and Madeira. Learn more about Bartholomew Broadbent.
Loren Sonkin is an IntoWine.com Featured Contributor and the Founder/Winemaker at Sonkin Cellars.
What is Crushpad? 
Crushpad is a facility that enables anyone with a serious interest in wine to participate in the magic of winemaking. With their team of wine industry veterans, modern winemaking technology, and access to some of the best grapes and vineyards around, Crushpad empowers their clients to make the type and style of wine they desire. Crushpad clients are as involved or uninvolved as they wish. Some take a "hands on" approach to every step of the process while others let the Crushpad professionals take care of the time consuming parts. In short, Crushpad is a pathway into the art, science, and business of winemaking for passionate wine lovers who don't own a vineyard or winery. Interested in learning more? Stop by the Crushpad tasting room in Napa Valley or visit Crushpad.com.