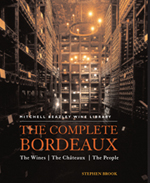 Bordeaux. The word alone conjures up thoughts of the finest wines the world over and the passionate oenophiles who clamor to get their hands on them. London author Stephen Brook, in his new book The Complete Bordeaux: The Wines, The Chateaux, The People, has produced what may be the definitive work on the wines of Bordeaux. In it Brook assesses over 1000 Bordeaux wine properties with detailed information on the grapes, wines, and production of each property. IntoWine caught up with Stephen recently to chat about the book and gather his thoughts on all things Bordeaux.
Why this book now?
Existing books on Bordeaux, such as Robert Parker's or Clive Coates's, were focused on tasting notes of individual wines, and paid little attention to lesser known areas of Bordeaux which offer good value to consumers. My book was intended to rectify that by including all regions of Bordeaux, as its title suggests. Many winelovers who might have bought Bordeaux routinely in the past may have become disillusioned by the soaring prices of the top growths, and it was part of my intention to discuss the vast number of excellent wines that remain eminently affordable.
The core of your book consists of individual assessments of over 1000 different wine producers in Bordeaux. What defining characteristics were you looking to capture in each?
I hoped to discuss both style and quality. Clearly, the very well known estates required detailed discussion as well as comments on individual vintages, but many entries are quite brief and are simply intended to bring to the attention of readers properties that offer typicity and, in some cases, good value.
In researching this book, what surprised you most about Bordeaux and its wine producers?
I'm not sure I was that surprised by anything. After all, Bordeaux has been a known quantity for centuries. At the risk of repetition, I was surprised by how many good value wines there still are from Bordeaux, such as the sturdy reds from Castillon or Bourg, or the zesty whites from Entre Deux Mers or the Graves. None of these will break the bank. I hope my book will help consumers identify where those values are to be found, since there are undoubtedly a large number of truly mediocre wines coming out of Bordeaux.
What, if anything, inhibits Bordeaux from enhancing -or even maintaining- its reputation going forward?
Nothing. At the highest levels, Bordeaux still produces wines as good as any from any other part of the world. Thanks to technical advances, good, if not outstanding wines, can be made just about every year, even in adverse climatic conditions. So the overall quality has never been higher. Bordeaux wines remain incomparable with food: rich in tannin and acidity as well as fruit and rarely too high in alcohol, making them digestible wines that can be drunk in moderate quantities with great satisfaction. As long as Bordeaux maintains this style and avoids 'blockbuster' wines that may be impressive on the tasting bench but are impossible to drink at the dinner table, its reputation will hold fast. These technical progressions, as well as higher standards of viticulture, also allow less well known regions to deliver wines of ever more consistent quality. So I see no reason why Bordeaux should not maintain, and improve on, its already very high standards.
Bordeaux critics argue that there are too many producers resting on their "Bordeaux" credentials when they should be improving and innovating. What is your perspective?
I disagree. I believe most good producers in Bordeaux are always trying to improve, especially in the vineyard. But innovation is not that important. Everyone knows what is required to produce good wines: good viticulture, moderate yields, constant vigilance during the growing season, harvest at full ripeness, careful extraction during fermentation, a judicious use of oak-ageing, an avoidance of unnecessary techniques such as filtration when clearly not required, and a willingness to employ them when they are required. The terroir of Bordeaux – its soils and microclimates – don't change much, and a good producer simply needs to allow that terroir to express itself through the wines. That's why a Mouton of the 1980s bears a family resemblance to a Mouton from the 2000s, and that resemblance is not something anyone should seek to change. Of course there are no grounds for complacency, but it's very clear that the leading estates work very hard indeed to maintain quality and thus their reputation.
With the vast and in-depth perspective you obtained researching and writing this book, what do the next 20 years look like for Bordeaux?
Quality will continue to improve – I have no doubt about that. Rustic wines with unripe tannins or astringency will diminish in number, as there is no market for them. I do worry that there will be an incrreasing polarization of Bordeaux wines. By this I mean that the top wines, the trophy wines, that consistently achieve high ratings from wine critics (and often for good reason) will continue to increase in price to a level at which winelovers without private fortunes will be unable to afford them. They are what I call the Sunday lunch wines. Twenty years ago a doctor in France or England could afford to buy a good bottle - a Leoville-LasCases or a Palmer or a Mission Haut Brion – and enjoy it once a week over a family meal. Today those wines have become too expensive to be bought and drunk on a regular basis, except by the rich. Thus a whole swathe of consumers has been lost to Bordeaux. Some may look within Bordeaux for good-value wines such as the best Crus Bourgeois from the Médoc; others will simply switch to good wines from Australia or Chile and will forget about Bordeaux. At the same time there are countless growers in Bordeaux – at least in outlying regions – who make uninspired wines that simply can't compete with wines of comparable price from, say, southern France or southern Italy, or Chile or South Africa. Those mediocre wines are likely to disappear. Few will mourn their passing, but it will be a rough ride for growers who had the misfortune to be persuaded some twenty years ago to plant vines on unsuitable land, which is what happened in Bordeaux. Finally, global warming could have a major impact on wine styles: beneficial in some respects and detrimental in others.
A stereotype, true or not, of French wine producers is that they believe the best wine has always come from Bordeaux and it always will. That it's the terroir that makes it great and terroir can't be manufactured or managed. How true to this stereotype are the French in reality? How does the attitude -whatever it may be- of French wine producers help/hurt the end product?
There is some truth in this. Some proprietors have let their success and growing wealth go to their heads. They continue to be patronizing about the best wines from other areas such as Napa or Margaret River or Tuscany. But the younger generation in Bordeaux, whether proprietors or winemakers, have traveled widely, and often worked in other regions, and are fully aware that however good Bordeaux wins may be, they cannot afford to rest on their laurels. They may be proud of their wines, just as Burgundians are proud of theirs, without necessarily believing they are the' best' in the world. There is no such thing as 'best', as you can't directly compare an Oregon Pinot Noir with a great Cabernet or an outstanding Chardonnay. There have been some idiotic advertising campaigns by French wine regions that have made fun of the New World, but I don't believe they are representative of the best producers, who know they face competition from all corners of the world. Bordeaux may still have something unique to offer, but that doesn't mean that all wine drinkers will therefore conclude that there is something effortlessly superior about Bordeaux wines. Their reputation for excellence is fully justified, but needs to be sustained by winemaking excellence and commercial savoir-faire.
Fill in the blank: The best part of writing this definitive book on Bordeaux was_____
.....the opportunity to meet the huge range of people who own the estates, grow the grapes, and make the wines. Whether noblemen or tycoons or unpretentious growers, they all share a common passion for good wine.