"Bordeaux" Author Stephen Brook Discusses Wine's Most Envied Region
by Brad Prescott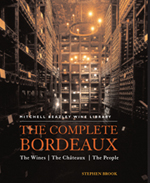 Bordeaux. The word alone conjures up thoughts of the finest wines the world over and the passionate oenophiles who clamor to get their hands on them. London author Stephen Brook, in his new book The Complete Bordeaux: The Wines, The Chateaux, The People, has produced what may be the definitive work on the wines of Bordeaux. In it Brook assesses over 1000 Bordeaux wine properties with detailed information on the grapes, wines, and production of each property. IntoWine caught up with Stephen recently to chat about the book and gather his thoughts on all things Bordeaux.

Why this book now?
Existing books on Bordeaux, such as Robert Parker's or Clive Coates's, were focused on tasting notes of individual wines, and paid little attention to lesser known areas of Bordeaux which offer good value to consumers. My book was intended to rectify that by including all regions of Bordeaux, as its title suggests. Many winelovers who might have bought Bordeaux routinely in the past may have become disillusioned by the soaring prices of the top growths, and it was part of my intention to discuss the vast number of excellent wines that remain eminently affordable.

The core of your book consists of individual assessments of over 1000 different wine producers in Bordeaux. What defining characteristics were you looking to capture in each?
I hoped to discuss both style and quality. Clearly, the very well known estates required detailed discussion as well as comments on individual vintages, but many entries are quite brief and are simply intended to bring to the attention of readers properties that offer typicity and, in some cases, good value.

In researching this book, what surprised you most about Bordeaux and its wine producers?
I'm not sure I was that surprised by anything. After all, Bordeaux has been a known quantity for centuries. At the risk of repetition, I was surprised by how many good value wines there still are from Bordeaux, such as the sturdy reds from Castillon or Bourg, or the zesty whites from Entre Deux Mers or the Graves. None of these will break the bank. I hope my book will help consumers identify where those values are to be found, since there are undoubtedly a large number of truly mediocre wines coming out of Bordeaux.


For more than 25 years, The California Wine Club founders Bruce and Pam Boring have explored all corners of California's wine country to find award-winning, handcrafted wine to share with the world. Each month, the club features a different small family winery and hand selects two of their best wines for members.