Bordeaux is arguably the greatest wine region in the world.  Great cellars around the world are filled with wines from the different chateaus of the region.  America's first wine connoisseur, Thomas Jefferson, not only drank wines from here, but made it a point to visit the region and see for himself what made these wines so great.
Bordeaux lies in the southwest corner of France where it follows the Gironde River inland from the Atlantic Ocean.  The region takes its name from the largest city in the area (also named Bordeaux) which is a thriving port metropolis on the Gironde.  It is a very large wine region with around 250,000 acres under vine.  Although there are perhaps one hundred producers who have achieved worldwide fame, there are approximately 20,000 producers making wine in Bordeaux.  Approximately 850 million bottles are produced each year.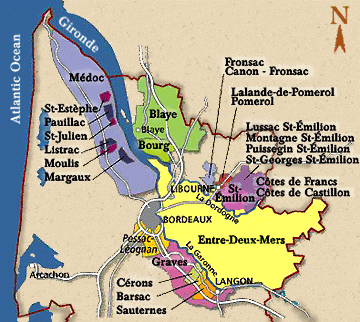 Wine has been grown in Bordeaux for a couple of thousand years predating even the Romans arrival in 56 BC.  Unlike most areas of France, where the Church developed and controlled the wine, the merchant class traditionally was at the center of the Bordeaux wine trade.  Perhaps this is due to its location near a port which made for easier commerce.  The area was under English rule for a long time.  Wineries would sell their barrels to merchants in England.  Boats filled with barrels of Claret, the English word for the red wine produced here, made their way from the port of Bordeaux to England on a regular basis.  In the 1400's half of all production was sold to England. 
It was the Bordelaise who realized early on the advantage of selling wines under the name of the Chateau and not the city where it was grown, a concept known today as branding.  In 1855, at the direction of the Emperor Napoleon, the merchants of Bordeaux drew up a classification of the best Chateaus.  This was not a classification of the best vineyards like other areas of France; rather it was a listing of the sixty-one best estates.  The merchants divided up these estates into 5 classes based on the prices they were able to charge for their wines at that time.
All of these estates were in an area called Medoc with the exception of Haut Brion which is in an area called Graves.  Haut Brion was already well established by 1855.  There are references to it being one of the great wines of the area as far back as 1663.  Four Chateaus were classified as first class:  Haut Brion, Lafite, Latour and Margaux.  A complete listing of the 1855 classification can be found at the end of this article.  Although some of the Chateaus listed have fallen from grace and other wines have escalated to preeminence, the 1855 classification is still used and revered.
The sweet dessert wines from Sauternes and Barsac were also classified in 1855.  Chateau d'Yquem was the only property (including the red wines) to be classified as a Great First Growth (Grand Premier Cru). 
In the 1900s Baron Phillipe de Rothschild was an innovator at Mouton Rothschild where he bottled wines at the chateau instead of selling barrels to merchants to bottle.  This gave him more control over the finished product.  In addition, he made an economical wine putting his chateau's name on the bottle.  Mouton Cadet, despite being an inexpensive wine of average quality, became a huge seller.  Perhaps, however, he will be most famous for his continual lobbying of the French AOC system to upgrade his property to first class.  Eventually his hard work paid off.  In 1973 Chateau Mouton Rothschild was upgraded to first class in the only significant change to the 1855 classification. 
Bordeaux makes red, white and sweet dessert wines.  The red wines come from five different grapes.  They are Merlot, Cabernet Sauvignon, Cabernet Franc, Petit Verdot and Malbec.  The first two make up the bulk of the wines with the last two being used in very small quantities.  The wineries tend to get divided based on which side of the Gironde they are on.  While not required by law, the left bank wines tend to have more Cabernet Sauvignon than other grapes and the right bank wines tend to be Merlot dominated.  In either case, all of the wines are blends of grapes.  The white wines are for the most part Sauvignon Blanc and Semillon grape blends as are the dessert wines.  Some also have some Sauvignon Gris.  The better white wines seem to come from the commune of Graves although many properties make both red and white wines.  Most, however, have one they regard as their best. 
The proximity to the ocean protects the grapes from too hot or too cold temperatures.  The winters tend to be short.  Due to the humidity from the ocean, rot in the vineyard is a concern.  It is also the source of a mold that, under the right circumstances, allows the grapes to make wonder wonderful dessert wines.  The climate is not consistent from year to year and in a given decade there may be two or three outstanding vintages and two or three subpar vintages.  Vintages do matter here.  The vignerons, however, are learning to make good wine even in off vintages. 
As a general matter Bordeaux vintage charts for red wines are more accurate if you understand that Merlot and Cabernet Sauvignon ripen at different rates.  Hence, some vintages may be better for one grape than the other which usually transfers to the left bank versus the right bank.  In addition, even on the same side of the river, some communes fare better in a particular vintage than others.  All that said, vintage charts are often useful when choosing a wine that is unknown at a restaurant or wine store.
Here are vintage charts which you may find helpful:  Bordeaux Left Bank Vintage Chart and Bordeaux Right Bank Vintage Chart.  There is also a Sauternes Vintage Chart.  There is no vintage chart presently for whites.  In the past few vintages, 2001, 2004 and 2007 are very good for whites while 2005 and 2006 are also good.
The best Cabernet dominated wines come from an area of the left bank called the Medoc.  The Dutch drained the swamps in this area at the end of the 17th century making the area suitable for farming.  The Medoc is made up of the communes of Margaux, Pauillac, St. Estephe, St. Julien, and also the Haut-Medoc, Listrac, and Moulis.  The first four of these are the most important and home to almost all of the classified growths.  The Medoc is on the south side of the Gironde River which is referred to as the left bank.  Staying on the left bank and heading inland, is the commune of Graves, so named for its gravelly soil.  In 1987, an area of Graves which contained many of the best sites was carved out and is called Pessac-Leognan.  Graves and Pessac-Leognan are also where most of the better white wines are from.  The red wines from the left bank sites tend to be blends with the highest proportion of grapes coming from Cabernet Sauvignon.  As you might expect, these wines can be immense and often need years to really demonstrate how good they can be.  This is especially true in a good vintage.  
Just south and east of Graves are the communes of Sauternes and Barsac, home to some of the greatest dessert wines in the world.  These vineyards are often affected by Botrytis, a mold or fungus which can assail grapes.  When it attacks Semillon and Sauvignon Blanc grapes, however, the grapes tend to shrivel, concentrating their sugars, but without off flavors.  Although the grapes look unpleasant the resultant wine from them is honeyed with concentrated sugars.  These wines are among some of the longest lasting in the world. 
North of Graves and across the river, on the right bank, is the Cotes de Blaye, Cotes de Bourg, and Fronsac.  These are the home to many of the up and coming (and reasonably priced) wines.  The land is good and the price per acre makes it affordable to purchase.  Heading east, one comes to St. Emilion and Pomerol, the stars of the right bank.  St. Emilion is a huge area with great and less great producers.  One of the top is Chateau Ausone named for the poet, Ausonius who was from Bordeaux and wrote about the wines back in Roman times.  Pomerol is very small and the home to Chateau Petrus perhaps the most expensive of all Bordeaux wines.  The Right Bank wines are dominated by merlot.  Though capable of ageing well for decades, the softness from the Merlot makes them more accessible in their youth. 
Bordeaux wines are made to age and that includes the whites and sweet wines as well.  In a good vintage, a top white Bordeaux can last thirty years and indeed, some might push it twice as far.  When young, the whites have a crisp quality with grapefruits and peaches.  As they age, they get more honeyed and minerals driven.  The reds are some of the best ageing wines anywhere.  Even an inexpensive red in a good vintage may continue to improve in the bottle for five or ten years.  A wine from a top chateau in a good year, such as Chateau Latour 2005, will not start to reach its peak for twenty or thirty years and will probably be great drinking in 75 years.  That is not to say they cannot be drunk young.  For that, look to lesser wines or weaker vintages.  But well stored, mature Bordeaux is one of the real treats in the wine world.  Finally, sauternes can also last for a very long time.  The sugar in them seems to act as a preservative.  Perhaps the greatest wine I have ever had is the 2001 Chateau d'Yquem.  Yet, as delicious as this wine was on release, it will be even better in one hundred years. 
Bordeaux whites make a nice aperitif with light hors d'oeuvres.  They also go nicely at the beginning of a meal with a salad especially with goat cheese.  They are a nice match to lighter fish dishes.  Bordeaux red wines are naturals with meat dishes such as beef lamb and veal.  They have plenty of tannins (unless quite old) that match nicely with hearty foods such as stews.  At the end of a meal, they can be served with a nice cheese to make a great savory finish (or before dessert).  I prefer Camembert or Brie.
Sauternes are noted for matching wonderfully with foie gras early in a meal and of course, for dessert.  Many are fine all by themselves for dessert.  You can also serve them with a blue veined cheese such as Roquefort.  Just be careful not to serve them with something too sugary as the combined sweetness may be overkill.  I do not think that they match well with chocolate.
This article is just a primer on the topic.  In future articles I hope to cover some of the better communes, the whites, the sauternes and other issues in more detail.  In the meantime, 2005 reds are on the market shelves and are one of the great vintages we will see.  I would encourage you to ask your local wine merchant for recommendations, or just try some yourself.  If you have a cellar, you should certainly be laying a few bottles down for the future.  And if you want your great great grandchildren to thank you, put some Yquem in there for them and mark is do not touch until the millennium.  Please let me know you comments and or questions, I love hearing your feedback. 
The 1855 Bordeaux Classifications

First Growths/Premiers Crus
Chateau Haut Brion, Chateau Lafite Rothschild, Chateau Latour, Chateau Margaux
Second Growths/Deuxiemes Crus
Chateau Brane Cantenac, Chateau Cos d'Estournel, Chateau Ducru-Beaucaillou, Chateau Durfort Vivens, Chateau Gruaud Larose, Chateau Lascombes, Leoville Barton, Chateau Leoville Las Cases, Chateau Leoville Poyferre, Chateau Montrose, Chateau Mouton-Rothschild (became a first growth in 1973), Chateau Pichon Longueville-Baron, Chateau Pichon Longueville Comtesse de Lalande, Chateau Rauzan-Gassies, Chateau Rausan-Segla
Third Growths/Troisiemes Crus
Chateau Boyd, Chateau Calon Segur, Chateau Cantenac Brown, Chateau Desmirail, Chateau Ferriere, Chateau Giscours Labarde, Chateau d'Issan, Chateau Kirwan, Chateau La Lagune Ludon, Chateau Lagrange, Chateau Langoa Barton, Chateau Malescot St. Exupery, , Chateau Marquis d'Alesme Becker, Chateau Palmer
Fourth Growths/Quatriemes Crus
Chateau Beychevelle, Chateau Branaire Ducru, Chateau Duhart Milon-Rothschild, Chateau Lafon Rochet, Chateau Marquis de Terme Chateau Prieure Lichine, Chateau St. Pierre, Chateau Talbot, Chateau Pouget, Chateau La Tour Carnet,
Fifth Growths/Cinquiemes Crus
Chateau Belgrave St. Laurent,Chateau Batailley, Chateau Camensac, Chateau Cantemerle Macau, Chateau Clerc Milon, Chateau Croizet Bages, Chateau Cos Labory, Chateau Dauzac Labarde, Chateau Grand Puy Ducasse, Chateau Grand Puy Lacoste, Chateau Haut Bages Liberal, Chateau Haut Batailley, Chateau Lynch Bages, Chateau Lynch Moussas, Chateau Mouton Baronne Philippe (Chateau d'Armailhac after 1989), Chateau Pedesclaux Pauillac, Chateau Pontet Canet, Chateau du Tertre Arsac
Loren Sonkin is an IntoWine.com Featured Contributor and the Founder/Winemaker at Sonkin Cellars.