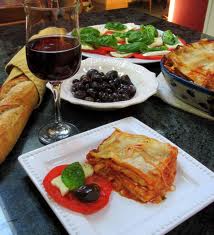 I'm usually a good speller, but was concerned when I saw a couple of my contributors recording a favorite comfort food as "lasagna". I've been spelling the dish as "lasagne" for years. Then I was relieved to find that lasagne indicates more than one piece of the pasta ribbon. I promise to get a life.
However the dish is spelled, this beloved casserole really does hail from Italy, unlike some of the other so-called "foreign" favorites that have become completely Americanized. The early Italian version was typically layered with cheese, sauce and other ingredients. But the term originated in ancient Greece as "lasagnum", referring to a dish or bowl. When eventually the region was acquired by the Romans, they used the same kind of dish, then developed the layered pasta meal to be baked and served in that dish. The early Italians ultimately changed the name of the container from "lasagnum" to "lasagna", and later, the word began to represent the entrée baked in that dish.
Like most wildly popular foods, numerous variations have evolved, including seafood, spinach, heirloom fruit, roasted vegetable and even a Mexican "Grande" version. Several years ago, I discovered my favorite: a crab angel hair version found at the Dead Fish Restaurant in the Bay Area (Crockett, California). Served as a compact, crispy rectangle, the combination of textures and cheesy, crabby richness is culinary cloud nine. The restaurant's clever chefs have devised a way to achieve a grilled, crunchy effect unexpected by most lasagna consumers. 
IntoWine turned to our panel of experts to share their recommendations for the best wines to pair with lasagna. The team includes two master chefs, a wine buyer and a wine writer.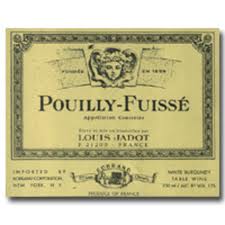 1. I tend to enjoy a good eggplant lasagna with eggplant, onions, mushrooms mozzarella, ricotta and Parmesan cheese and a light béchamel sauce. The dish is fast, simple and not overly filling. I find a chardonnay with a little malolactic fermentation (ML) is the way to go. I want some creaminess from the ML process, yet I know I will need the acid from the chardonnay to cut through the richness of the various cheeses in this dish. My choice is one from the Frances Burgundy region, of the Macon district in the appellation of Pouilly Fuissé. The chardonnay tends to be semi-ripe, showing its natural acids, medium in body and vibrant with the chardonnay fruit flavors of melon and minerals that have been gently touched with oak. A 2010 Louis Jadot Pouilly Fuissé is the wine for me. – Chef Julie Tan, Certified Master Chef, Sommelier and Taster; Chef Instructor, LeCordon Bleu, San Francisco, CA; www.chefs.edu/san-francisco.

2. Recently, a client asked my fellow master chef, sommelier and wife, Julie Tan and I, how our minds work with regards to matching fluids and solids. We said we start with the solids and then find a fluid that will create balance with the solid and can also add complexity to the final outcome.
For this example, lasagna means lasagna or ribbon noodles (semolina from duram wheat and water in southern Italy, or flour and eggs), little taste and hopefully, soft, rich, silky texture. With ground beef that is 80% solid and 20% fat, some sweetness will result after carmelization. The texture should be silky from the 20% fat content in the Bolognese sauce which will include butter, onion, celery, carrot, whole milk, a little wine, canned plum tomatoes with juice and the cooked ground beef. The taste will be rich, earthy, savory and complex. More salty than sweet, the texture will be quite silky and put a film of fatty appeal all over the mouth. The béchamel sauce will comprise milk, flour and butter with the dominating flavor being rich butter. Parmesan and butter toppings will be complex, cheesy and earthy: again, with an especially rich and silky texture. So given what we have, the main flavors will be earthy, more on the savory end than sweet with any sweetness emanating from the tomatoes and caramelized ground beef.
Now, how can we create balance? Let's introduce some sweetness to the equation to balance out the saltiness. Some fluid black pepper and herbs will add more complexity. Some fluid lemon (acid) will cut through the rich, silky texture.
Finally, a grenache-based wine from the AOC of Vacqueyras in the Rhone Valley of France will be the perfect wine partner. My choice would be a 2009 Domaine La Bouissiere Vacqueyras as it has the acid needed to cut the richness of the dish, and will add the slight sweetness of black fruits, black pepper and the herbs desired to add more complexity to the entire package. – Chef Sir Roy J. Salazar, Certified Master Chef, Sommelier and Taster; Chef Instructor, San Francisco, CA.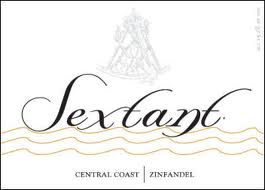 3. Lasagne, one of the Holy Trinity of most widely-known and beloved Italian meals: pizza, spaghetti & meatballs, and lasagne. 
I was the daughter of an enlisted navy man. Mom was a medical secretary, but stricken with cancer when I was only 6, was typically too sick to work. Translation: there wasn't much money to spend on frivolous food. Luckily, Mom was not only a tenacious, vivacious Italian, but a resourceful one, too, and knew how to stretch a dollar, making a frugal meal into a feast. Every Sunday, there'd be THE Italian meal, either manicotti, stuffed shells, baked ziti or, on rarest of occasions, lasagne. All of those dishes are inherently the same, with the sole exception that lasagne, TRUE lasagne, is essentially a lovingly made, labor-intensive, layered MEAT pie. (Sorry, vegans, but "vegetable lasagne" is anathema to true Italians!) I'd personally use sirloin as my ground meat base, as it is naturally lean but tender and flavorful, and leaves very little to no fat after browning!
The base is a hearty tomato sauce. As tomatoes are naturally acidic, you need a wine that can prove it can stand up to tomato's caustic nature, as well as convince it that it can stick around for a while and play nice. For that, I will typically grab a Zinfandel. To keep my mother from rolling over in her grave, I'll admit to Sangiovese as a perfectly fine backup. Additionally, choose a wine that you're willing to spare a bit to throw INTO the sauce, so no need to break out the Turley or $150 Super Tuscan! WHICH Zin or Sangiovese to choose depends very much on how zesty your sauce is, and your meat base. If, like me, you tend to ramp up the spice and heat factor, choose a more fruit-forward Zinfandel to temper the heat, like the 2010 Sextant Central Coast ($12.99). For Sangiovese, try the One Wine Sangiovese made exclusively for Whole Foods in southern California by the Clendenen Family in nearby Santa Barbara, $14.99.
 Whatever wine you choose, just try to think like an Italian: the star of the show is the happiness of sharing your table with loved ones. The lasagne, and the wine, are merely the supporting cast. – Gina Cook (former chef), Wine Buyer, Whole Foods, Tustin, CA; http://www.facebook.com/#!/pages/Beer-Wine-and-Cheese-Whole-Foods-Jamboree/271169709592933.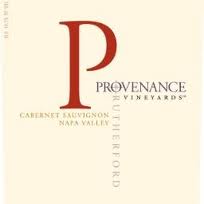 4. I compose a basic ground beef lasagna layered with a luscious spaghetti sauce my mother learned from our neighborhood Austrian chef's German wife. Oh, by the way, the chef was Master Chef, Ken Wolfe, who eventually wrote several cookbooks. (But at the time we knew him, he was just our nice next door neighbor who brought over the most delicious pastry I'd ever tasted, cremeschnitten. Our parents begged us not to attempt to pronounce the dessert in front of other people, for some reason.) Pardon the tangent. The trick to Janet Wolfe's outstanding sauce is browning the meat with just the tomato paste until it turns an odd rusty color, builds a slight crust and emits an unusual smell. The process requires patience, but once over that hump, add remaining liquids and herbs. I have continued this method all my life and receive shining reviews on both my spaghetti and lasagna, but I don't deserve the credit – I'm only the technician. A nice match for the finished casserole is a cabernet sauvignon robust enough to muscle its way through all that meat and cheese. I like the 2009 Provenance Rutherford Cabernet Sauvignon. A darker, deep bordeaux with vigorous tannins, this example, with its cocoa powder nuances and "Rutherford dust", boasts the earthiness to complement the meal and the acidity to challenge it. – Paula Barker, Wine Writer, IntoWine.com, Santa Ana, CA; www.intowine.com/user/paula-barker.