IntoWine asked our panel of experts to share their recommendations for the best wine to pair with grouper:

Grouper is a member of the sea bass family. It is a lean and firm fish that can be prepared in a host of ways –  baked, poached, broiled, grilled, pan fried, steamed, etc. Grouper's claim to fame really is its ability to absorb its environment – typically lightly spiced sauces. When served with wine, the best thing to do is to find something that will not try to compete with your preparation. Arneis is the perfect wine for just such a catch. Arneis is a Northern Italian white wine grape,  characterized by a low acidity, subtle
hints of citrus, herbs, and oils. The wine typically has a broad, appealing mid palate and is best enjoyed when young. Arneis is most popular in Piemonte. The City of Roero is home to Arneis, which is also called Barolo Bianco, or simply Roero. Because there are only a handful of Arneis producers in America, it can be tough to find – it usually sells out very quickly. That being said, a few really good examples of Arneis exist inside and outside U.S. borders. Some of the better producers are Ponzi, from Oregnon's Willamette Valley and Ceretto, from Italy. (About $15 – $25)  – Ben Spencer is a diploma student with the Wine & Spirit Education Trust and an IntoWine Featured Writer.
----------------------------------------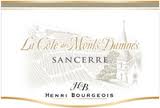 I think a Loire Valley (France) Sauvignon Blanc is the play here.  I would be looking for a wine with some depth to it, but one that would play off the grouper and not over power it.  The wines of Pouilly Fume and Sancerre are great choices.  For a producer, I would look to Henri Bourgeous which should be available for around $20.  This is a clean, non-grassy version of Sauvignon Blanc with great minerality.  It has excellent acidity and goes great with sea food. - Loren Sonkin, IntoWine.com Featured Contributor and the Founder/Winemaker at Sonkin Cellars.