IntoWine asked our panel of experts to share their recommendations for the best wine to pair with baked chicken:
Baked chicken is a dish that can be both versatile and elusive. Honing in on just the right flavors, temperatures, glazes, marinades, and pairings can be a real task. To make things easy, I suggest any white wine that has a 'New World' style. Ripe melon, spices, and citrus fruit should be the hallmark flavors. A wine that has undergone malolactic fermentation (MLF) and was aged in new French oak would be ideal. Generally, Chardonnay would be my one go-to wine because 'New World' Chardonnay is typically fruity, buttery, and 'toasty'. But more and more white wines are being made in a Chardonnay-like style. It is the flavor profile of well made Chardonnay that pairs so easily with chicken. If you are feeling adventurous, strike up a conversation with the wine buyer at your favorite local shop. Ask them which white wines that have that characteristic buttery style. If you have a specific recipe in mind, think of complementary flavors. Almost every wine label will have a description of the contents on back. You can get a pretty good wine (or two) within the $10 to $20 range.  – Ben Spencer is a diploma student with the Wine & Spirit Education Trust and an IntoWine Featured Writer.
----------------------------------------

Baked chicken: I love Grenache based wines and when paired with a baked chicken dish with some roasted root vegetables they wonderfully complement the food. Most of Chateauneuf du Pape wines are predominantly Grenache blended with other Rhone varietals. One domaine though specializes in 100% Grenache CDP and that is Chateau Rayas. These are one of the favorite wines I've ever drunk. Sexily aromatic, superbly concentrated, and masterfully balanced. White pepper, kirsch, raspberries, violets, and rose petals. High acidity and firm tannins add to the wines' backbone. The winery makes four different cuvees at different price ranges. Chateau Rayas is at the top of the rank and is expensive. But you can try Pignan, Fonselette or La Pielade at declining prices and you won't be disappointed with either. - Cezar Kusik, IntoWine Featured Contributor 
----------------------------------------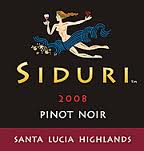 I think Pinot Noir and Baked Chicken is a great match.  There are so many good ones being made around the world, but for baked chicken I like the robustness of California Pinots.  These can get pricey.  Siduri is a producer that makes a great many Pinot Noir's in many different styles.  I am recommending the Siduri Pinot Noir Hirsch Vineyard.  It is expensive at $45 a bottle.  This is a bold wine with just enough elegance to go great at the dinner table.  It has excellent depth and good cherry flavors. The 2007 is available now and that was an exceptional vintage in California. - Loren Sonkin, IntoWine.com Featured Contributor and the Founder/Winemaker at Sonkin Cellars.