IntoWine.com asked a panel of wine experts for their recommendation for the best Bordeaux Red (for the money):
As Bordeaux classified growths have all hit stratospheric price levels in recent vintages, this becomes more and more of an impossible quest for those of us who still follow the Bordeaux scene—albeit with a lot less of our own money than we used to. The average price of the nearly 10 dozen Bordeaux poured at this year's Union des Grands Cru Bordeaux event was north of $75—more than most Americans would ever pay for a bottle of wine. I've tasted through a great many of the highly touted 2009 and 2010 Bordeaux, and can only really recommend a handful of very relative bargains.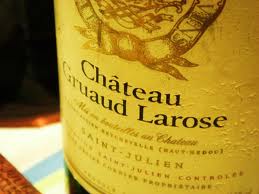 The best price-to-quality performer among the classed growths in 2010 is second growth Château Gruaud Larose, whose delicious offering I rated 94.5 points. Its average U.S. price currently is "only" $97. My very top value pick from the vintage, and one that I grabbed a case of, is Graves-based Château de Chantegrive ($23). Other solid choices for QPR in 2010 are Pomerol's Château La Pointe ($55); St. Émilion's Château Grand Mayne ($53) and Château Berliquet ($43). - Richard Jennings, IntoWine.com Featured Contributor and the Founder RJonWine.com

------------------------------------------------------
There are a lot of great wines being made in Bordeaux.  Some can cost over $1,000 for a bottle.  That bottle, in addition to the cost, should be cellared for ten to thirty years to justify the cost of the wine.  There are, however, hundreds, if not thousands of other Bordeaux wines available at every price point and in a multitude of styles.  It is pretty easy to name the famous wines, be it the classified growths or some of the right bank stars.  I am going to go another direction, however, and name a wine that has been on a roll in the last ten years producing very good wine at reasonable pricing.  That wine is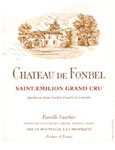 Chateau de Fonbel.  This is a mostly Merlot blend from St. Emillion.  The owners are the same owners as Chateau Ausone whose wines can cost $1,000 a bottle.  Fonbel's wines cost between $20 and $40 depending on vintage.  They are soft and supple and drink well on release, but improve in the cellar for ten years.  In better vintages such as 2005, this wine should last fifteen years or more. - Loren Sonkin is an IntoWine.com Featured Contributor and the Founder/Winemaker at Sonkin Cellars
------------------------------------------------------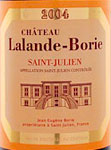 Bordeaux has its reputation for a reason. It is a powerhouse of big brands and wealthy chateau owners who have vaults of money with which they are able to make some of the world's greatest wines – and you too pay for it. Right, so, how do 'we' get our hands on some real good Red Bordeaux without having to dip into the kids' college fund? Look no further than the 2005 Lalande-Borie from St-Julien. This is an intense, full-bodied, deeply structured wine featuring bushels of blackberry, currant, baking spices and cedar – much like the best Bordeaux red wines – for under $30. This chateau is owned and operated by the Borie family, who also happen to own Ducru-Beaucaillou and Grand-Puy-Lacoste, and the care that goes into this wine shows. Though this wine typically ages a little faster than some of its neighbors and cousins, the 2005 is quite delicious now and can be enjoyed over the next couple of years. – Ben Spencer is a diploma student with the Wine & Spirit Education Trust and an IntoWine Featured Writer.
------------------------------------------------------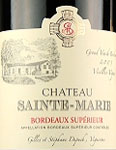 No wines receive more hype than those grown in Bordeaux.  Year after year wealthy folks from all over the world purchase wines before they are even released; often paying huge sums of money that has turned good old fermented grape juice into a major commodity. The fact of the matter is that Bordeaux produces a staggering 800-900 million bottles of wine each year that don't get 95 point scores from Parker or the Wine Spectator, but are often incredibly priced and are meant to be consumed on a day to day basis. The Chateau Sainte-Marie Bordeaux Supérieur is one of those wines; a joy to drink and moderately priced.  This small family-owned estate is located in the Entre Deux Mers region in Bordeaux and makes this blend with Merlot, Cabernet Sauvignon, and Cabernet Franc.  Classic flavors of dark fruit and Cassis are accompanied with just a touch of spice and soft, supple tannins; an everyday wine without pretense. - Joel Bleskacek, Proprietor, Ruby Wine, a boutique wine shop in San Francisco's Potrero Hill district
------------------------------------------------------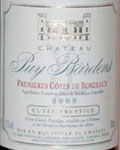 Chateau Puy Bardens 2005 Premieres Cotes de Bordeaux represents a classic old school type of Bordeaux wine from a spectacular vintage. For under $20 a bottle retail it is a great find. Don't expect a juicy wine. Flavors of earth, tobacco, dust, and cedar dominate. Firm, gripping tannins add the backbone making it a great food wine. Merlot, Cabernet Sauvignon, and Cabernet Franc blend harmoniously combining the aromatic profiles of all the three grapes. Try it with simply grilled meats; lamb chops with rosemary, porterhouse with pepper brandy sauce. - Cezar Kusik, Fine Wine Specialist, Fourcade & Hecht Wine Selections
------------------------------------------------------

One to certainly look for is Chateau Petrus-Gaia.  Yes, I know the name itself sounds expensive but every vintage I've had of this has always been a perfect expression of the Right Bank and the year it came from.  The wine is neither Petrus nor Gaja (of Italian Barbaresco fame), rather a small producer who makes fabulous wine.  Typically a blend very close to 65% Merlot and 35% Cab Franc, the wine pleases you with gentle pipe tobacco, violet, and cherry aromas.  The palate offers fleshy black cherry fruit, forest floor nuances, and a refined, focused finish.  Of recent years I'd personally seek out the '04 and '06 but every year seems to be something special.  Another wine to seek out would be Stephane Derenoncourt's Domaine de l'A in Cotes de Castillon which is just east of St. Emilion.  His own personal property, Stephane simply gets more out of his vines than anyone else in the region.  (By the way, Stephane also consults for the aforementioned Petrus-Gaia.)  You should look for his '07, just to see what he is capable of in what's considered a poor vintage. - Tony Connell, Personal Wine Consultant for Montesquieu Wines