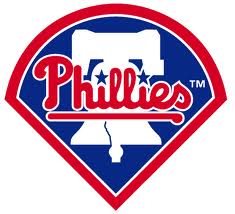 What's an appropriate wine to serve at a Philadelphia Phillies themed party? What wine would be a good gift for a hard core Phillies fan? 
When it comes to professional baseball – or any professional sport, for that matter – no team has been in one city and maintained the same team name longer than the Philadelphia Phillies.  Founded in 1883, the Phillies have won two World Series and fostered the careers of numerous players, including the famous Whiz Kids of the 1950s.
Of course, when your team has accumulated over 125 years of statistics, there are bound to be some less-than-wonderful moments as well as high points.  For the Phillies, this means that they have the dubious honor of being the first U. S. professional sports team to lose 10,000 games.
The Phillies are also known for their rivalries over the years, first with the cross-town Philadelphia Athletics (now in Oakland), next with the Pittsburgh Pirates and later with the New York Mets.  Phillies fans have a reputation for outspokenness and fanaticism (often spelled "phanaticism" in the City of Brotherly Love, in accordance with Phillies tradition).  Just as Philadelphia natives will passionately defend cheesesteaks and hoagies, so, too, will they stick up for their Phillies, even as they explain why the team needs to make changes.
Which wine, then, would you serve to a Phillies Phan?  Certainly a devoted fan would appreciate a wine closely associated with the city that has been home to the Phillies for over a century, a relationship that has lasted through five different stadiums, 51 managers to date and thousands and thousands of games.
Fortunately, Pennsylvania's wine industry is very well established, with over 100 wineries in operation as of this writing.  Two of the state's eleven wine trails pass near Philadelphia, giving Phillies fans many opportunities to taste wines made close to home.
Brandywine Valley
The Brandywine Valley Wine Trail includes seven wineries, with an eighth scheduled to open in the second half of 2011.  Wineries along the trail offer two passport events per year, where visitors can purchase a wine passport in advance and visit all the wineries over a specified period of time or for a particular special celebration.
Chaddsford Winery, owned by Eric and Lee Miller, is housed in a colonial-era barn near historic Chadds Ford.  Eric Miller, who comes from a winemaking family, has created an array of award-winning wines, including the 2009 Niagara, which won Best of Show and double gold at the 2011 Pennsylvania Wine Competition, and the 2009 Chambourcin, which won gold at the same competition.  You can taste Chaddsford wines either at the winery or at the Wine Shop and Tasting Room at Peddler's Village in Lahaska, near New Hope.  Stop by the winery on a summer weekend – assuming you're not at the ballpark, of course – to participate in a special food and tasting event or musical afternoon.  Expect to pay $13 for a bottle of the 2009 Niagara and $23 to $27 for a bottle of Chambourcin.
Also in Chadds Ford, Penns Woods Winery brings the Old and New Worlds together.  Winemaker Gino Razzi came to Pennsylvania from Italy's Abruzzo region, working first as a wine importer and later as a winemaker in both Italy and Chadds Ford.  Razzi's wines have won critical acclaim as well as awards; his 2008 Traminette, for example, won gold at the 2010 Finger Lakes International Wine Competition.   You can try Penns Woods wines at the winery's tasting room in Chadds Ford, near the vineyard.  The winery itself is open by appointment only.  Of course, you can also enjoy special events featuring Penns Woods wines at the tasting room and in the local area.
Paradocx Vineyard, in Landenburg, takes its name from the "pair of docs" in each of the owners' families.  The Harris and Hoffman families co-own the winery, and Dave Hoffman serves as head winemaker.  Paradocx Vineyard's co-owners have chosen to follow the Community Supported Agriculture (CSA) model, in which members of the community purchase shares at the beginning of the growing season and are rewarded with periodic shipments of a farm's (or vineyard's) products.  For Paradocx Vineyard, wine is the product that is shipped.  Paradocx offers "traditional" (higher cost, but with more products shipped) and "farm" CSA options.  You don't have to buy a CSA share to enjoy tasting wines from Paradocx Vineyard; tastings are offered at the winery and at the Wine Shop and Café in Kennett Square, Pennsylvania.  You can also sample Paradocx wines at the Pinot Boutique in downtown Philadelphia.  Interestingly, Paradocx sells some of its wines in 3.5 liter paint cans; the cans sell for about $35 each and come with a spigot similar to those found in box wines.  Paradocx also produces traditionally-bottled red, white, rosé and dessert wines.
Bucks County
If you prefer to journey north of Phillies territory, consider a visit to one or more of the nine Bucks County Wine Trail wineries.  When you visit a Bucks County winery, you connect past and present, either through the history of the land itself or through the lives and experiences of the winemakers and winery owners.  For example, Rose Bank Winery stands on land in Newtown once owned by William Penn, founder of the Pennsylvania Colony.  Rose Bank Winery's stone manor house dates to 1719.  Rose Bank Winery produces fruit, red, white, blush and dessert wines.  At the 2011 Florida State Fair International Wine and Grape Juice Competition, Rose Bank Winery's Raspberry Secret dessert wine and Red Raspberry fruit wine brought home double gold.  Expect to pay $16 for a .375 milliliter bottle of Raspberry Secret and $12 for a bottle of Red Raspberry fruit wine.
Crossing Vineyards and Winery, owned and operated by the Carroll family, is located near the famous spot where General George Washington and his troops crossed the Delaware River on Christmas Day, 1776. Crossing Vineyards and Winery's 2008 Cabernet Franc won double gold at the 2011 Finger Lakes International Wine Competition, while the 2008 Viognier won platinum at the 2011 Consumer Wine Awards Competition in Lodi, California.  You'll pay about $17 for a bottle of Viognier and $22 for a bottle of the Cabernet Franc.
New Hope Winery, in the township of the same name, has its headquarters in an 18th century barn.  New Hope Winery often plays host to Pennsylvania musicians; you can buy tickets to New Hope Winery's concerts online or on the day of the event.  New Hope produces a wide variety of wines, made from grapes grown in the Erie, Pennsylvania area.  New Hope's wines include Cabernet Sauvignon, Catawba, Cayuga, Chambourcin, Chancellor, Chardonnay, Pinot Gris, Riesling, Seyval Blanc, Steuben and Vidal Blanc, as well as an array of fruit and dessert wines.  Expect to pay about $13 for a bottle of New Hope Riesling.