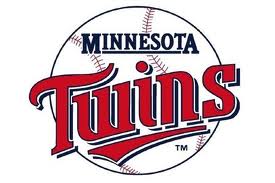 What's an appropriate wine to serve at a Minnesota Twins themed party? What wine would be a good gift for a hard core Twins fan?
Baseball fans tend to think of the Minnesota Twins as a relatively new team – the Twins moved to Minnesota from Washington, D. C. in 1961 – but the team has logged 50 years of play in Minneapolis/St. Paul and boasts a franchise history that dates back to 1894.  When the Western League disbanded in 1900, the Kansas City Blues moved to Washington, D. C., to become the Washington Senators.  In 1960, Senators' owner Calvin Griffith moved his team to the Twin Cities after the season ended, renaming it the Minnesota Twins, making way for a new Washington Senators expansion team.  Griffith, a canny businessman, wanted to attract fans from both Minneapolis and St. Paul, so he gave his team the name of its new home state rather than its home city.  Griffiths was the first owner to adopt this approach, but several Major League Baseball teams later followed the Twins' example and proudly wear the names of their home states.
After the Twins' inaugural year in Minneapolis/St. Paul, they played well for several years, finishing second in 1962, third in 1963, winning the American League pennant in 1965 and winning American League division championships in 1969 and 1970.  The team then experienced several disappointing years, but made it to the 1987 World Series and won.  Four years later, the Twins did it again, winning the 1991 World Series in a cliffhanger seventh game that went into extra innings.  As often happens in baseball, the Twins did not make the playoffs in 1992 and went through another long period of disappointing seasons following the 1991 World Series victory.
By 2001, the Twins were back in winning form, and they went to the American League Championship Series in 2002 and the American League Division Championships in 2003, 2004, 2006, 2009 and 2010.  In 2011, the Twins were plagued by injuries to several key players, struggled both at the plate and in the bullpen and finished in fifth place.  The team has worked to rebuild in preparation for the 2012 season by signing some new players and giving injured players Justin Morneau, who is coming back from concussion-related injuries, Francisco Liriano and Joe Mauer time to heal.
In spite of the team's recent struggles, Twins fans have remained loyal, particularly since the team's new stadium, Target Field, opened in 2010.  The ballpark has a reputation for great views and good food, which would make any baseball fan happy, but what Twins fans want most is healthy players, particularly Morneau, better hitting and pitching and a winning record.  The Twins are known for bouncing back from bad seasons, and their fans will be ready to cheer for every single win.
What wine would you pour for a Minnesota Twins fan?
Target Field's management, unlike that of some other Major League Baseball parks, has worked hard to include wine, particularly Minnesota wine, in its beverage lineup.  The park's "Wine, Women and Baseball" events, which include wine tasting, food, spa treatments and, of course, Twins tickets, routinely sell out.
Warehouse Winery, an urban winery located in Minneapolis, makes wine specifically for Target Field as well as a nice assortment of wines for the general public.  At the ballpark, you'll find Grand Slam 2009 No. 5 Red, Pinstripe 2009 No. 6 White and Triple Play 2009 No. 7 Pale Red.  Warehouse Winery's 2009 Blend No. 3, a red blend, was named Best Minnesota Red Wine in the 2011 Minnesota Monthly Food and Wine Experience, and 2009 Blend No. 9 and 2009 Blend No. 6 won Best Minnesota Red Wine and White Wine, respectively, in the 2012 Minnesota Monthly Food and Wine Experience.  Warehouse Winery specializes in cold-climate wines; winemaker Billy Smith uses Marquette and Frontenac grapes in many of his wines.  The University of Minnesota developed the Marquette and Frontenac grape varieties for use in cold climates, along with Frontenac Gris and La Crescent.  Smith is one of many Minnesota winemakers who have happily experimented with Marquette and Frontenac grapes, with great success in Smith's case.  Expect to pay about $20 for a bottle of 2009 Blend No. 3 or 2009 Blend #6; you can purchase wines from the 2009 Ball Park Series at the winery or online for $20 per bottle.
Hey Joe Wine Co., a Minneapolis-based wine broker, has teamed up with Flagship Cellars in California to produce Doubleday wines, which are sold exclusively at Target Field.  Current offerings include Doubleday Chardonnay and Doubleday Cabernet Sauvignon.
Parley Lake Winery is a family-owned winery in Waconia, Minnesota, that got its start as an orchard.  You'll find an apple orchard and apple barn on the property as well as Parley Lake's award-winning wines.  Parley Lake Winery's Marquette won gold at the 2011 Mid America Wine Competition, and Brianna Breeze and Frontenac Rosso won gold at the 2010 International Cold Climate Wine Competition.  Parley Lake Winery's Apples and Vines won gold at the 2011 Finger Lakes International Wine Competition.  Expect to pay $15 for a bottle of Apples and Vines or Brianna Breeze and $20 for a bottle of 2010 Frontenac Rosso.
Saint Croix Vineyards has made an impact on the Minnesota wine scene for over two decades.  Using Marquette, La Crescent, Frontenac, Riesling, Seyval and other cool-climate grapes, Saint Croix Vineyards produces a wide array of award-winning wines.  Saint Croix' La Crescent Dessert Wine won the Minnesota Governor's Cup in the 2010 International Cold Climate Competition and was named Dessert Wine of the Year at the Indy International Wine Competition in 2011, and Saint Croix Vineyards 2009 Seyval Blanc was named "Best of Class" and won double gold at the 2009 Indy International Wine Competition.  While these wines have sold out at the winery, you can purchase a bottle of 2010 Seyval Blanc for $15 or a bottle of 2010 Marquette for $25.
Woodland Hill Winery, owned by Mike and Katie Dickerman, is open weekends  year-round for tours, tastings and special events, including carriage and sleigh rides, car shows and picnics.  In 2011, Woodland Hill was named "Best Minnesota Winery" for the previous year by Minnesota Meetings and Events.  Woodland Hill Vinny's Red, named for Mike and Katie's beloved dog, won gold at the 2010 International Cold Climate Wine Competition, one of eight medals awarded to Woodland Hill at that event.  Expect to pay $25 for a bottle of Vinny's Red, which is made from Marquette grapes, and $17 for a bottle of 2010 La Crescent.