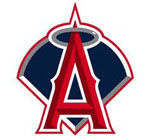 What's an appropriate wine to serve at a Los Angeles of Anaheim themed party? What wine would be a good gift for a hard core Angels fan? 
Although their baseball stadium is in Anaheim rather than Los Angeles, the Los Angeles Angels of Anaheim display their own brand of L. A. glamor.  The team was created in 1961 as a Major League Baseball expansion team, with Gene Autry, the "Singing Cowboy" and media mogul, as its first owner.  The Angels' name dates back to Los Angeles' first professional baseball team, the 1892 California League Los Angeles Angels.
Los Angeles Angels of Anaheim History
Gene Autry's Angels first played at Wrigley Field in Los Angeles, then at Chavez Ravine (also known as Dodger Stadium to supporters of the cross-town rival team) while Anaheim Stadium was under construction.  The team moved to Anaheim in 1966 and has played at Anaheim Stadium, now called Angel Stadium of Anaheim, ever since. 
Like the stadium, the baseball team has changed its name more than once; the Los Angeles Angels became first the California Angels (1965 – 1996), then the Anaheim Angels (1997 – 2004) under the ownership of The Walt Disney Company, and finally, under current owner Arturo Moreno, the Los Angeles Angels of Anaheim.  Through all the name changes and stadium renovations, the team's fans have continued to flock to games to support their "Halos," a nickname derived from the team's logo, an upper-case letter A topped by an angel's halo.
Many of baseball's most famous players have worn the red, white and blue Angel uniform.  Strikeout king Nolan Ryan, sluggers Eddie Murray, Bobby Grich, Reggie Jackson and Frank Robinson, and pitchers Hoyt Wilhelm, Don Sutton and Bert Blyleven all played for the Angels.
Angels fans have developed many traditions over the decades, from songs played during the game to lighting up the halo on Angel Stadium's signature logo "A" – it looms over the parking lot – whenever the team wins a game.  While the "Freeway Series" rivalry with the L. A. Dodgers is, perhaps, the Angel's longest-standing tradition, the Rally Monkey is one of the most popular.  Created in June 2000 on a whim by team video board specialists, the Rally Monkey makes appearances on the Angel Stadium scoreboard when the team is down by three runs or fewer during the seventh inning or later.  The Rally Monkey jumps up and down in a series of video clips, encouraging Angels fans to cheer, which, in turn, rallies the team.  Fans even bring stuffed Rally Monkeys to games, keeping them out of sight until the seventh inning as the Rally Monkey "rules" dictate.
Which wines would you pour for Angels fans so dedicated that they will carry stuffed simians to the ballpark?
Wine at Angel Stadium of Anaheim
If you are attending an Angels game, you'll be sipping a Fetzer Vineyards wine.  Fetzer, which was sold to Chilean wine producer Viña Concha y Toro S. A. in April 2011, specializes in affordable wines made from sustainably-grown grapes.  Fetzer, which has won several awards for waste reduction, environmental leadership and power conservation, produces a wide array of red and white varietals.  Expect to pay $5 to $10 for a bottle of Fetzer wine.
Orange County Wineries
Outside the ballpark, why not choose a wine from Orange County, the Angels' home for over 45 years?  While much of Orange County consists of cities, suburbs and amusement parks – Disneyland is just a few miles from Angels Stadium of Anaheim – there are also several wineries in the county.
Hamilton Oaks Vineyard, which began as a small vineyard in 1989, was the first commercial winery to open in Orange County since 1886.  Owner and winemaker Ron Tamez grows several varietals in his Trabuco Canyon vineyard and bottles both single varietal and blended wines.  He recently partnered with Graves Family Vineyard to produce Jumping Vines; the 2008 Jumping Vines Cabernet Sauvignon won gold at the 2011 San Francisco Chronicle Wine Competition.  This wine sells for $46 per bottle, while a bottle of Hamilton Oaks Vineyard 2005 Mélange du Sud retails for $25 to $27.
Family-owned Orange Coast Winery, located in Newport Beach, makes wines from grapes sourced in Lodi, Napa County, Sonoma County, Amador County, Santa Barbara County and Mendocino County.  In addition to single-varietal wines, Orange Coast Winery produces red and white blends.  Owner and winemaker Gus DeFalco makes about 1,200 cases of wine per year.  A bottle of 2007 California Beach Blend White sells for about $17, while a bottle of 2007 Napa Zinfandel Reserve retails for $28.
Newport Beach Vineyards and Winery, also in Newport Beach, is owned and operated by Richard Moriarty.  Moriarty grows grapes in his own Newport Beach vineyard, in an area better known for well-heeled residents and upscale shopping.  While waiting for his vineyard to mature, Moriarty made wines from grapes grown in Napa Valley and other California vineyards; today, his meritage-style wines are made from Newport Beach grapes from Moriarty's own grapevines.  Moriarty currently grows Cabernet Franc, Cabernet Sauvignon, Malbec, Merlot, and Petit Verdot.  Expect to pay $35 for a bottle of 2008 Back Bay Cuvée.
Laguna Canyon Winery, owned by winemaker Marlowe Huber and his brother Darren, partnered in 2005 with famed marine artist Wyland to create a new label, Wyland Cellars.  Part of the profits from sales of Wyland Cellars wines goes to support the Wyland Foundation, which was created to support the marine life, waterways and oceans of the world.  Both Laguna Canyon Winery and Wayland Cellars wines have won medals at the Orange County Fair.  Expect to pay $45 for a bottle of Wyland Cellars 2006 Los Carneros Syrah and $25 for a bottle of Wyland Cellars 2008 Napa Valley Chardonnay.
Husband and wife team Jeff Dobkin and Julie Thompson-Dobkin opened Thompkin Cellars in 2001.  Their goal is to produce carefully-crafted California wines in very small lots.  Thompkin Cellars' Couchant and 3ie Degré blends have received high ratings.  Thompkin Cellars wines are made from Santa Barbara County grapes.  Dobkin and Thompson-Dobkin are committed to producing top-quality wines that are truly affordable; they are so committed to this vision that they will not accept credit cards for wine purchases through their website.  (You can, however, pay by PayPal, which can be linked to your credit card, or purchase Thompkin Cellars wines at a southern California wine shop.)  Expect to pay $36 for a bottle of 2007 3ie Degré and $37 to $39 for a bottle of 2006 Syrah.