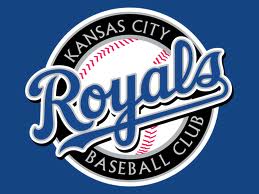 What's an appropriate wine to serve at a Kansas City Royals themed party? What wine would be a good gift for a hard core Royals fan?
The Kansas City Royals' fortunes, if graphed and smoothed, would look something like a classic bell curve – a slow start, a triumphant swell and a continuing negative trend.  Kansas City is a small baseball market, as markets are measured, but Royals fans know full well that their team has achieved great things in the past and should be able to do so again.  The team's fortunes peaked in 1985, in the glory days of George Brett and Bret Saberhagen, when the Royals won the World Series.  Things haven't been quite the same since.
The Royals are an expansion team, formed in 1969 after the Kansas City Athletics moved west to Oakland.  Royals owner Ewing Kauffman loved his city and loved baseball, and took steps to make sure Kansas City fans would always have a team to cheer for.  His newly-minted Royals played reasonably well in those early years, earning division titles in 1976, 1977 and 1978, making it to the World Series in 1980 and winning two more division titles in 1981 and 1984.  The Royals' 1985 World Series victory seemed to be the culmination of Kauffman's dreams – and the fans'.
Sadly, the Royals' fortunes have never returned to 1985 levels.  As key players retired and beloved members of the Royals' organization died, such as manager Dick Howser and owner Ewing Kauffman, the team seemed to be in limbo, sometimes finishing with a winning record but often ending the season in 4th or 5th place.  Amazingly, the Royals' fans have demonstrated their loyalty in the most important of ways, stubbornly attending game after game.  Attendance records have remained relatively steady in spite of the team's misfortunes.
The 2012 season started well, but injuries and an at-home batting slump disappointed fans who were hopeful that the young Royals team could really begin to build itself into a cohesive unit.  The team posted its first winning month of May since the 2000 season, however, so there are plenty of reasons for Royals fans to keep a positive outlook and continue cheering for their team.
Which wines would you pour for a Kansas City Royals fan?
Missouri boasts over 100 wineries, and the area around Kansas City is home to quite a few.  Missouri's wine history dates back to the 1830s, when German settlers planted vineyards in the area around Hermann.  Missouri's wine industry grew at an astonishing pace; by the dawn of the 20th century, there were nearly 100 wineries in the state.  Prohibition dealt a near-fatal blow to Missouri's wine industry.  After four decades, wineries finally began to reopen in the state during the 1960s, and the industry really began to rebound when the Augusta AVA was established as the first AVA in the United States in June of 1980.
The closest wine trail to Kansas City is the Great Northwest Missouri Wine Trail, which includes eight wineries as of this writing (a ninth is planning to join soon).  In the northwestern part of the state, you'll find 19 wineries, some near Kansas City and others a bit farther away.  They all share a commitment to showcasing Missouri's wines and creating wines that reflect the state's proud winemaking history.
Amigoni Urban Winery, formerly Inland Sea Winery, recently moved into Kansas City's renovated Telegram Building in the West Bottoms.  The Amigoni family owns a vineyard near Centerview, but makes their wines in downtown Kansas City.  The new tasting room features locally-made bread and cheeses. The 2009 Amigoni Estate Cabernet Franc won a Medal of Excellence at the 2011 Jefferson Cup competition.  Expect to pay about $25 for a bottle of the Estate Cabernet Franc or 2010 Amigoni Estate Urban Red and $16 for a bottle of Urban Bianco.
Several wineries near Kansas City are located in historic buildings.  Belvoir Winery, in Liberty, Missouri, probably wins the award for Most Unusual Winery Building History.  Belvoir Winery is housed in the former Reed Springs Hotel, which, for many years, was used as an Odd Fellows Home.  Apparently the retired Odd Fellows who lived at the Home were odd indeed, because Belvoir Winery is known for its high levels of paranormal activity.  You can join a paranormal investigation at the winery; investigations take place one night each month.  Of course, you can also enjoy the winery's more conventional offerings, including six types of wine, ice cream, winery tours and music events.  Belvoir Winery's popular Sorelle Dolci, a sweet white dessert wine, sells for $12 per bottle, as does Lucky Pierre, Belvoir Winery's red dessert wine.  You'll pay $18 for a bottle of Belvoir Winery Norton, made from Missouri's official wine grape.
Jowler Creek Vineyard and Winery is not haunted, at least as far as anyone knows.  The vineyards are sustainably farmed, using sheep for weed control and encouraging birds of prey to nest nearby and control pests.  Jowler Creek Vineyard and Winery offers tours, tastings, a picnic area and music and cigars events.  Jowler Creek Butterfly Blush won Best of Class at the 2011 Mid-American Wine Competition and sells for just $13 per bottle.  Jowler Creek 2009 Vignoles won Gold at the 2010 Missouri Wine Competition.  While the 2009 vintage is sold out, you can still purchase the 2011 Vignoles.
Riverwood Winery, is housed in a renovated school building in Rushville, Missouri, and lies in the flight paths of snow geese and bald eagles.  The winery offers international wine tastings, music events and gourmet treats.  Riverwood Winery's 2011 Chardonel sells for $16 per bottle, while the Reserve 2010 Chambourcin sells for about $15.  You can buy a bottle of Riverwood's popular dessert wine, Red Eminence, for $19.50.