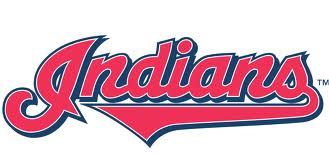 What's an appropriate wine to serve at a Cleveland Indians themed party? What wine would be a good gift for a hard core Indians fan?
The Cleveland Indians were one of the first eight teams to join the American League when it formed in 1901.  Baseball had long been popular in Cleveland; several minor league teams called the city home during the second half of the 19th century.  When the American League's first eight teams began play, the Cleveland club was called the Bluebirds ("Blues" for short).  The name was unpopular with the players, and in 1905 they were happy to rename the team the Naps after Cleveland's popular second baseman, Napoleon Lajoie.  Of course, naming a team after a player only works while the player remains on your team; in 1915 the Naps were looking for a new second baseman – and a new name.
A newspaper contest produced the team's enduring name: Cleveland Indians.  The team was sold in 1916 and the new owners set about rebuilding the team.  Under the leadership of player/manager Tris Speaker, a future Hall of Famer, the Indians won the 1920 World Series.  Unfortunately, the team's fortunes took a turn for the worse and the team went through an extremely long slump, finishing no higher than 2nd in its division for 26 years.  In 1946, Bill Veeck and his investors acquired the Indians and began building up the team.  Two years later, in 1948, Veeck signed Larry Doby, the first African American to play in the American League, as well as pitching superstar Satchel Paige.  The Indians won their second World Championship that year.
In spite of some truly outstanding seasons (1954, with its 111-43 record, and the five straight first place finishes in 1995 through 1999 come to mind), the Indians have endured decades of dismal slumps, interspersed with seasons of hope.  Cleveland fans are always willing to look at the bright side of things; their loyalty has achieved legendary status over the years.  The Indians sold out 455 straight home games between June 1995 and April 2001, setting a major league record.  In gratitude, the Indians retired number 455 and dedicated it to the Indians' fans.
Even though the Indians have signed their fair share of star players, including Addie Joss, Stan Coveleski, Bob Lemon, Bob Feller, Lou Boudreau, Manny Ramirez, Eddie Murray, Albert Belle and many more, the Tribe rarely seems to live up to its potential.  Still, the Indians have achieved some great things, and over the years the team's owners have been willing to sign the best people in order to build a winning team.  In 1975, for example, the Indians hired Frank Robinson as manager, making him the first African American manager in Major League Baseball and launching his legendary management career.  The current team includes Asdrubal Cabrera, Chris Perez, Shin-Soo Choo, Jason Kipnis and Justin Masterson, as well as a host of other solid players.  The Indians' 2011 second place finish was just the starting point for future seasons in the hearts of players and fans alike; expectations have run high since the 2012 season opener.
Which wine would you pour for a loyal Cleveland Indians fan?
Cleveland sports fans are well known for their tenacity and outspoken support of their local teams, particularly when talking with people from Cincinnati or Pittsburgh.  With the Grand River Valley and Lake Erie AVAs nearby, it's easy to find a local wine from Cleveland and the surrounding counties to share with an Indians fan.
Paper Moon Vineyards in Vermilion, Ohio, produces a wide array of wines, including Niagara, Chardonnay, White Cabernet Sauvignon, Chambourcin, Fredonia and Romance Red Raspberry.  Paper Moon Vineyards Niagara won gold at the 2010 Finger Lakes International Wine Competition.  Tastings are offered throughout the year (closed Sundays, Mondays and major holidays.  Light snacks, panini sandwiches, pizza and other treats are available for purchase at the winery, except on Tuesdays and Wednesdays from Christmas through April.  Special events include barbecues, live music and lawn concerts.  Expect to pay $9 for a bottle of Paper Moon Vineyards Niagara and about $17 for a bottle of Romance Red Raspberry.
Ferrante Winery & Ristorante is part of Cleveland's wine history.  The original owners, Nicholas and Anna Ferrante, opened their Cleveland winery in 1937.  Their sons moved the winemaking operation to Harpersfield Township, where the family vineyards were located.  A restaurant was added in the 1980s and rebuilt after a fire destroyed it in 1994.  Grandson Nicholas Ferrante is now the winemaker at this well-regarded winery.  At the 2011 Ohio Wine Competition, Ferrante Golden Bunches Dry Riesling Grand River Valley, Pink Catawba and 2008 Vidal Blanc Ice Wine Grand River Valley all won gold medals, and Ferrante American Riesling won "Best of Show" White Wine at the same competition.  You'll pay about $15 for a bottle of Golden Bunches Dry Riesling, $8 for a bottle of Pink Catawba and $29 for a bottle of Vidal Blanc Ice Wine.  Save room for a meal when you stop by the winery; the on-site restaurant serves Italian and American dishes at lunch and dinner.  Tours are available on weekend afternoons Memorial Day through Labor Day.
Debonné Vineyards has been part of Ohio's grape growing and winemaking traditions since 1916.  The Debevc family purchased their Madison, Ohio vineyard in that year and expanded it over several decades.  Tony Debevc, Sr. and his son, also named Tony, opened their family winery in the early 1970s.  Today, Tony Debevc, Jr. is the winemaker at Debonné Vineyards.  Over the years, Debonné Vineyards has become a place to enjoy wine and take part in special events, including classic car shows, tethered hot air balloon rides, kite days, model airplane demonstrations, live music and much more.  Debonné Vineyards 2010 Pinot Gris Grand River Valley, 2011 Riesling Reserve Grand River Valley and 2009 Chambourcin Grand River Valley all won gold at the 2012 Ohio Wine Competition, with the Pinot Gris and Chambourcin winning concordance gold.  Expect to pay $11 to $14 per bottle for the Pinot Gris, Riesling Reserve and Chambourcin when they are released.