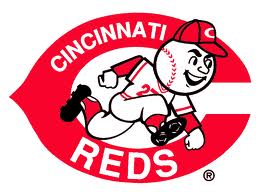 What's an appropriate wine to serve at a Cincinnati Reds themed party? What wine would be a good gift for a hard core Reds fan?
The Cincinnati Reds joined the National League in 1890, but the ball club itself dates back to 1881, when it formed to play in the American Association.  The Reds, originally named the Cincinnati Red Stockings, were named for an earlier National League baseball team that folded after it was punished for selling beer at baseball games and playing on Sundays.  The Red Stockings kept their name until 1890, when they became the Cincinnati Reds.  1950s McCarthyism caused the team to change its name to the Cincinnati Redlegs in 1954, but the team reverted to its old, more popular name, Reds, in 1960.
The Reds have won five World Championships and nine National League Championships.  The team won its first World Series in 1919 against the Chicago White Sox; this series became known as the infamous "Black Sox" scandal after several White Sox players were found to have fixed the World Series games.  The Reds went bankrupt in 1931 and were purchased by Powel Crosley, who embarked on a rebuilding and marketing program that turned the team's fortunes around.  The Reds won their second World Championship in 1940.  After a slump of several years, the Reds again began to post winning records in the late 1950s and the 1960s, thanks to the efforts of Frank Robinson, Bob Purkey and many other talented players, but the team failed to win any championships until Sparky Anderson became the Reds' manager.   Under Anderson's leadership, the Reds transformed themselves into the "Big Red Machine," using the talents of Pete Rose, Johnny Bench, Dave Concepción, Joe Morgan, Tony Perez, Ken Griffey, George Foster and the rest of the roster.  The Reds won back-to-back World Series in 1975 and 1976.  A series of trades broke up the Big Red Machine, and the team found itself unable to reach the playoffs for several seasons.  It was not until 1990, under Lou Piniella's leadership and with the "Nasty Boys" pitchers defending the mound, that the Reds won their division and went all the way to the World Series, winning their fifth World Championship in four games.
The final years of the 20th century and the first decade of the 21st have been frustrating for Reds fans, as the team has finished in first place only three times, most lately in 2010.  Injuries plagued the team in 2011, but the 2012 season got off to a strong start, reviving Reds fans' hopes for a winning year.
Which wines would you pour for a Cincinnati Reds fan?  It's tempting to take the easy path and go with, well, a red wine.  The Reds are so deeply tied to Ohio sports history, however, that offering your favorite Reds fan an Ohio wine from the Cincinnati area could be a better option, since Ohio's association with wine dates back to pre-Red Stockings days.  Nicholas Longworth planted Catawba grapes in the Ohio River Valley in 1820, and his vines prospered.  By the beginning of the Civil War, Ohio was producing more wine than any other state in the U. S.   The Civil War and a variety of agricultural diseases nearly killed off Ohio's wine industry, and Prohibition further hampered grape farmers.  In the 1960s, some French-American hybrids were planted in the Lake Erie Island and Ohio River Valley regions, and the state's wine industry began to recover.  Ohio now boasts over 45 wineries, an active Wine Producers Association, five AVAs and several wine trails.
Henke Winery is a Cincinnati urban winery with something for everyone.  At Henke Winery, you'll find a wine shop, restaurant, art gallery, music performances and annual events to enjoy, including annual home vintner and cork sculpture competitions.  Henke Winery's 2011 Cellar Blush won Best of Show Blush/Rosé in the 2012 Ohio Wine Competition, and their Vendange A Trois 2010, Vin de Rouge 2011 and Chardonnay 2010 each won gold in the same competition.  You'll pay about $12 for a bottle of Cellar Blush, $16.50 for a bottle of Chardonnay or Vin de Rouge and $22.50 for a bottle of Vendange A Trois.
Meier's Wine Cellars got its start in the 1890s, first as a purveyor of grape juice, later as a producer of sparkling and still wines.  The grape juice business kept Meier's afloat during Prohibition, and today Meier's Wine Cellars continues to produce a wide array of still, sparkling, fortified and dessert wines as well as several types of sparkling grape juice.   Meier's 44 Cream Sherry won gold at the 2011 Ohio Wine Competition.  Expect to pay about $36 for a bottle of 44 Cream Sherry and $20 for a bottle of Ruby Red Port.
Vinoklet Winery and Restaurant is located in Cincinnati, just minutes away from both I-74 and I-75.  Vinoklet offers tours, tastings, bocce ball, "Cigars and Guitars" music events and, of course, plenty of dining choices in their restaurant.  Weekend Grill meals are especially popular; you grill your choice of meat and add side dishes from the buffet.  (Reservations are recommended.)  Vinoklet Winery's Brother Joe, made from cabernet sauvignon grapes, won gold at the 2011 Ohio Wine Competition and the 2011 Ohio State University Wine Competition.  Vinoklet's La Dolce Vita, a sweet red, won gold at the 2011 Finger Lakes International Wine Competition.  Vinoklet's award-winning Traminette Master Reserve sells for $20 per bottle, as does Brother Joe, while a bottle of La Dolce Vita will cost about $15.
Burnet Ridge Winery's history began when owner and winemaker Chip Emmerich decided to make artisan wine in his North College Hill garage for himself and a few other people.  Emmerich eventually created a business partnership with a friend and opened Burnet Ridge as a commercial winery.  Burnet Ridge 2010 Lake Erie Pinot Gris won Overall Best of Show at the 2011 Ohio Wine Competition.  You can purchase a bottle of 2011 Lake Erie Pinot Gris (the 2010 is no longer available from the winery) for about $26.  Burnet Ridge 2009 Purple Trillium, a Bordeaux-style blend, and 2009 Lake Erie Cabernet Franc are available at the same price.
Valley Vineyards Winery, located off of I-71 in Morrow, Ohio, offers tours, tastings, live music, special events, grill-your-own weekend cookouts and, of course, award-winning wines.  The Schuchter family, owners of Valley Vineyards Winery since 1970, grows 28 varieties of grapes and produces still, dessert and ice wines, honey mead and nonalcoholic grape juice.  Valley Vineyards 2009 Red Reflections, 2010 Cabernet Franc Rosé and 2010 Cabernet Franc all won gold at the 2011 Ohio Wine Competition; Red Reflections won concordance gold, which means that every judge awarded gold to this wine.  At the 2012 Ohio Wine Competition, Valley Vineyards 2011 Vidal Blanc, 2011 White Reflections and 2011 Pink Catawba all won concordance gold, and the 2010 Cabernet Sauvignon and 2010 Cabernet Sauvignon Reserve won gold.  Expect to pay $25 for a bottle of the 2010 Cabernet Sauvignon and $11 for a bottle of Red Reflections, White Reflections or Vidal Blanc.