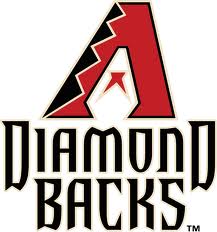 What's an appropriate wine to serve at an Arizona Diamondbacks themed party? What wine would be a good gift for a hard core Diamondbacks fan?
The Arizona Diamondbacks are one of the two youngest teams in Major League Baseball.  The Diamondbacks and the Tampa Bay Rays (originally the Devil Rays) played their first seasons in 1998, the Diamondbacks in the National League West and the Rays in the American League East.  The Diamondbacks played that year in Phoenix's Bank One Ballpark, as they do today; the stadium was renamed Chase Field in 2005.  Chase Field features a retractable roof and an air conditioning system; used in tandem, these two features protect Diamondbacks spectators from the extreme heat of Arizona's desert climate.  Interestingly, Chase Field also has a swimming pool, which can be rented, although it doesn't come cheap.  Occasionally, a home run ball will splash into the pool.
The Arizona Diamondbacks have cultivated a statewide fan base ever since the franchise was created.  Although the team plays its home games in Phoenix, baseball lovers from around the state proudly claim the D-Backs as their own.  The Diamondbacks won their first division title in 1999, in only their second season.  Two years later, they did it again and went on to win the 2001 World Series, relying on the pitching of superstars Curt Schilling and Randy Johnson and the bat of outfielder Luis Gonzalez.
Unfortunately, after their World Series victory, the Diamondbacks went through a period of management issues and losing seasons.  The team endured a rebuilding process, which included a uniform redesign, player trades and management changes.  These efforts paid off in 2007, when the Diamondbacks won the National League West and Division titles, only to lose in the National League Championship Series.  2008 was a disappointing year, and that season was eclipsed in the most negative way possible by the 2009 and 2010 seasons, during which the Diamondbacks posted losing records and ended up in last place in their division.
Fans did not expect things to change in 2011, but, under the leadership of manager Kirk Gibson, the Diamondbacks surprised a nation of baseball fans.  The team posted an impressive 94 – 68 record, winning the National League West.  The Diamondbacks did not fare well in the playoffs, losing in the first round, but the team had clearly turned its fortunes around.  Diamondbacks fans waited impatiently for Opening Day 2012, hoping for another winning season.
Which wine would you pour for an Arizona Diamondback fan, a supporter who might live in Scottsdale, Tempe, Tucson, Phoenix or Flagstaff? 
For such a fan, an Arizona wine might be the very best choice.  Arizona's wine industry is growing and maturing; as of this writing, the state boasts 48 wineries.  While some people might find this fact surprising, the reality is that Arizona has attracted both a talented group of winemakers and a large population of people who enjoy wine.  Although the state has only one AVA, Sonoita, there are three wine trails in Arizona: Sonoita, Willcox and Verde Valley, each featuring winery tours, tasting rooms, concerts and special events. 
Arizona's wine history dates back to the days of Spanish settlement; growers several centuries ago must have faced the same issues today's wine grape growers struggle with, including extreme heat and cold, dry conditions and disease.  Modern irrigation and planting techniques have helped Arizona vineyard owners overcome some of these problems, and today's Arizona wines are attracting a fair amount of positive attention.
Eric Glomski and Maynard James Keenan are bound to come up in any serious conversation about Arizona wine.  Keenan, whose "other" career as lead singer for the band Tool has brought him fame, owns a vineyard and Caduceus Cellars winery in Arizona; he and Glomski, owner and Director of Winegrowing at Page Springs Vineyards & Cellars, also co-own Arizona Stronghold Vineyards.  Arizona Stronghold, named for the rocky area that sheltered the warrior Cochise and his band, is known for its award-winning wines.  Winemaker Tim White brought four gold medals home to Arizona Stronghold from the 2011 Jefferson Cup Invitational Wine Competition; Arizona Stronghold's 2010 Tazi, a white blend that sells for about $18 per bottle, and 2010 Mourvedre were two of the winning wines.  Visitors to Arizona Stronghold Vineyards' tasting room in Cottonwood can enjoy wine education lectures, tastings and concerts.
Page Springs Vineyards & Cellars, Eric Glomski's winery in Cornville, is also known for its top-notch wines.  At the 2011 Jefferson Cup Invitational Wine Competition, two Page Springs Cellars wines brought home the coveted top award, the Jefferson Cup itself.  These two wines were the Page Springs Cellars Mourvedre Colibri Vineyards 2010 and Page Springs Cellars El Serrano 2010.  While you might have difficulty finding the Mourvedre for sale, you can purchase the El Serrano for about $30 per bottle.  Page Springs Cellars offers tours, tastings and massages – the on-site massage therapist has a tent in the heart of a vineyard.
Sam Pillsbury, another well-known Arizona winemaker, produces affordable, award-winning wines.  His Pillsbury Wine Company represents a second career; Pillsbury discovered Arizona through his work as a film director.  Pillsbury Wine Company's One Night Stand Rosé won two gold medals and one silver medal in the 2011 Arizona Republic Wine Competition, and its Roan Red and Diva (another red) have attracted critical acclaim.  Expect to pay about $19 for a bottle of One Night Stand Rosé, $24 for a bottle of Roan Red and $29 for a bottle of Diva.
Kent Callaghan's Callaghan Vineyards, located in Elgin, offers weekend tastings of its award-winning wines.  Callaghan currently focuses on varietals, primarily Spanish reds, that do well in his vineyard's hot summers and cold winters.  You'll pay about $25 for a bottle of Callaghan Vineyards Mourvedre 2009 and $35 for a bottle of Claire's 2009, a mourvedre/grenache blend.