We're sorry, this video is not available rnow. Please check back later.
Is California the only American region producing great wine? In this episode of IntoWineTV, host Lisa Kolenda and wine experts Bartholomew Broadbent and Pamela Busch convene at San Francisco's CAV Wine Bar & Kitchen for the tasting and discussion of 25 different American wines NOT from California. On what was one of the hottest San Francisco days in recent memory (for those of you unfamiliar with the city, few places have air conditioning in San Francisco), Lisa, Bartholomew, and Pamela weathered the elements and tasted a variety of wines -sparklers, whites, reds, unique varietals, and sweet dessert wines- from Ohio, New York, Pennsylvania, Maryland, Virginia, New Mexico, Texas, Washington, and Oregon.
Theme: Underdog Wines. In this tasting IntoWine is featuring wines from American producers found outside the state of California.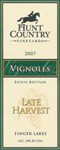 Wine: 2007 Hunt Country Vineyards Late Harvest Vignoles ($20)
Find Hunt Country Wines

Region: New York, Finger Lakes region

Alcohol content: 10%
Producer Notes:
- Upcoming IntoWineTV Video Themes
- Wine producers and distributors: Find out how to get your wines included in our next session. More info...
Seductively sweet with citrus and exotic fruit aromas, and complexity from Botrytis. A superb example of this noble class of wines, our Late Harvest Vignoles have won FOURTEEN Gold and Double Gold medals since 2004. Perfect with apple or cherry pies, cheesecake, chocolate desserts or blue-veined cheeses.
The Late Harvest Vignoles wines have been Hunt's most decorated over the years.  This is a Sauternes or Trockenbeerenauslese style wine made from botrytized grapes harvested in late October.  Hunt made their name producing fine Ice Wines, which have been served at the United Nations, ordered by the White House and featured on NBC's Today Show.  If anything, though, their Late Harvest Vignoles has received even higher critical acclaim:  15 Gold and Double-Gold medals for the last 3 vintages and featured in Food & Wine magazine.
 
In New York State and New York City, their wines are broadly available in restaurants and wine stores.  Outside this area, they market and sell directly from the winery to consumers.
Grape. In the late nineteenth century, J. F. Ravat, a French wine grape breeder, created numerous successful hybrids by combining vitis vinifera vines with native American vines. The best known of these is Vignoles (or Ravat 51), a white wine grape, a cross of Pinot Noir and Siebel 6905. The Vignoles grape grows especially well in the soil and cool climate of New York's Finger Lakes region. A fungus, botrytis cinerea, dubbed by the French the "noble rot", often forms on the highly acidic Vignoles grapes, adding complexity to the flavor profile of the wine, including sensations of honey. Combined with a semi-sweet, fruit-driven finish, the natural acidity helps produce an aromatic wine with character, depth and backbone.
Growing Season. Our vineyard on Italy Hill benefits from the climate-tempering influence of Keuka Lake, but is high enough into the cooler, dryer air that our grapes achieve "clean" botrytis infection, with less risk of vinegar or gray rot formation than grapes in lower-lying fields. This terroir (combination of soil composition, slope and microclimate) also works to our advantage for producing Ice Wine grapes and is a
key reason why Hunt Country Vineyards is one of the premier dessert wine producers in the country.

Experts:
Bartholomew Broadbent, CEO of Broadbent Selections. Bartholomew was named as one of the "fifty most influential people in the wine world" by Decanter Magazine. He is also widely considered to be one of the world's foremost authorities on Port and Madeira. Learn more about Bartholomew Broadbent.
Pamela Busch, Co-Owner and Wine Director at CAV Wine Bar & Kitchen in San Francisco. Learn more about Pamela Busch.