We're sorry, this video is not available rnow. Please check back later.
Subscribe to the IntoWineTV Podcast on iTunes  
In this episode of IntoWineTV, host Lisa Kolenda and wine experts Bartholomew Broadbent, Laely Heron, and Mulan Chan convene at one of San Francisco's finest restaurants, Incanto, to taste and discuss wines from regions not typically associated with wine, including Slovenia, Croatia, Austria, Hungary, and Andalusia, Spain.
Theme: Wines from Strange Places
Wine: 2007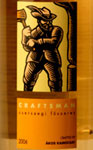 Craftsman Cserszegi Fueszeres ($10.95)
Region: Neszmély Region, Hungary

Alcohol content: 11.5%
Varietal:  Cserszegi Füszeres (Cserszegi Fűszeres is the result of a Hungarian cross of Gewürztraminer with Irsai Oliver, itself a Hungarian white table/wine variety crossed between Pozsony and Pearl of Csaba.)
- Upcoming IntoWineTV Video Themes
- Wine producers and distributors: Find out how to get your wines included in our next session. More info...
Wine Notes: A light, refreshing wine, with pleasant aromas of spring. A native Hungarian variety, Cserszegi Füszeres exhibits a fragrance similar to that of the Muscat grape and the gentle spiciness of a Gewürztraminer. This unpronounceable grape has a lovely grapey, floral/aromatic nose and a dry palate that shows a slightly spicy edge. Fresh, crisp, acidic, and very tasty. Pairs well with salads, light seafood, and spicy Asian cuisine.
Wine notes courtesy of the Blue Danube Wine Company
Experts:
Bartholomew Broadbent, CEO of Broadbent Selections. Bartholomew was named as one of the "fifty most influential people in the wine world" by Decanter Magazine. He is also widely considered to be one of the world's foremost authorities on Port and Madeira. Learn more about Bartholomew Broadbent.
Laely Heron, Owner and Winemaker at Heron Wines. Laely's unconventional upbringing in Africa, Asia Europe and the US may explain the wanderlust which has led her passion for international wine studies and winemaking.  She began at the Institute of Enology in Bordeaux, and worked in the US, Australia and Scandinavia before starting Heron Wine 13 years ago.  Today she makes wine in France, Spain and the US. Learn More about Laely Heron.
Mulan Chan, Rhône and French Regional Buyer, K&L Wine Merchants, San Francisco. Learn more about Mulan Chan.
Location: Incanto Italian Restaurant & Wine Bar, Situated in the heart of one of San Francisco's most charming residential neighborhoods, Incanto's rustic Italian setting, with its handcrafted stone, antique brick and woodwork, 16th century Latin parchments, and private dining room dedicated to poet Dante Alighieri, provides a uniquely warm and inviting dining environment.
Incanto's daily-changing menu honors old-world traditions including house-cured meats, unusual regional pastas, fresh local seafood and a commitment to sustainably grown and harvested produce. Incanto's award-winning wine program features one of the most diverse Italian wine lists in the United States and an ever-changing lineup of more than twenty wines by the glass, half-glass, half-liter, and flight.