We're sorry, this video is not available rnow. Please check back later.
In this episode of IntoWineTV, host Lisa Kolenda and wine experts Bartholomew Broadbent, Laely Heron, and Loren Sonkin convene at one of San Francisco's finest restaurants, Incanto, to taste and discuss Merlots that rock.
Theme: @#$% Sideways! Merlots that Rock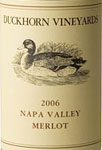 Wine: 2006 Duckhorn Merlot ($52)
Region: Napa Valley, California

Alcohol content: 14.5%
Varietals: 96% Merlot, 2% Cabernet Sauvignon, 2% Petit Verdot
Producer Notes:
- Upcoming IntoWineTV Video Themes
- Wine producers and distributors: Find out how to get your wines included in our next session. More info...
Background: Co-founded by Dan and Margaret Duckhorn in 1976, Duckhorn Vineyards has spent a quarter century establishing itself as one of North America's premier producers of Bordeaux varietal wines. From its modest inaugural vintage of 800 cases of Cabernet Sauvignon and 800 cases of Merlot in 1978, to its addition of Sauvignon Blanc in 1982, Duckhorn Vineyards has crafted a tradition of quality and excellence that continues today.
Merlot Focus - Fundamental to that tradition was the early decision by Duckhorn Vineyards to focus on the production of Merlot. Though many Napa Valley wineries were using Merlot as a blending grape in the late seventies, few were exploring the potential of this varietal as a stand-alone wine. A great fan of Merlot since traveling to St. Emilion and Pomerol, Dan Duckhorn felt that this elegant varietal was under appreciated in North America. "I liked the softness, the seductiveness, the color," says Dan, "the fact that it went with a lot of different foods; it wasn't so bold, didn't need to age so long, and it had this velvety texture to it. It seemed to me to be a wonderful wine to just enjoy. I became enchanted with Merlot." Dan also believed that the American palate was undergoing a gradual but dramatic shift, moving away from jug producers toward quality varietal wine. This conviction made the timing perfect for the introduction of Napa Valley Merlot.
Wine Notes: Duckhorn Napa Valley Merlot is a complex blend of several individual vineyard lots, incorporating fruit from our Estate Vineyards and from top independent growers throughout the Napa Valley. The final wine is a rich and cohesive expression of the entire Napa Valley, reflecting the varied microclimates and soils of this unique appellation. 
 
Comments from the Winemaker:
Our Napa Valley Merlot captures the balanced character of a young wine, while embodying the diversity of the entire Napa Valley appellation. The product of a standout Merlot vintage, the Merlot in 2006 offered an excellent expression of the varietal and required very little blending with other grapes—with only small amounts of Cabernet Sauvignon and Petit Verdot used to add subtle complexity. This Merlot offers a rich texture, ripe tannins and seamlessly integrated French oak. The bouquet displays lush layers of ripe plum and bright raspberry underscored by notes of sandalwood, walnut and spice. On the palate, polished flavors of red cherry and raspberry are accented by an enticing layer of graham cracker pie crust.
Experts:
Bartholomew Broadbent, CEO of Broadbent Selections. Bartholomew was named as one of the "fifty most influential people in the wine world" by Decanter Magazine. He is also widely considered to be one of the world's foremost authorities on Port and Madeira. Learn more about Bartholomew Broadbent.
Laely Heron, Owner and Winemaker at Heron Wines. Laely's unconventional upbringing in Africa, Asia Europe and the US may explain the wanderlust which has led her passion for international wine studies and winemaking.  She began at the Institute of Enology in Bordeaux, and worked in the US, Australia and Scandinavia before starting Heron Wine 13 years ago.  Today she makes wine in France, Spain and the US. Learn More about Laely Heron.
Loren Sonkin is an IntoWine.com Featured Contributor and the Founder/Winemaker at Sonkin Cellars.
Location: Incanto Italian Restaurant & Wine Bar, Situated in the heart of one of San Francisco's most charming residential neighborhoods, Incanto's rustic Italian setting, with its handcrafted stone, antique brick and woodwork, 16th century Latin parchments, and private dining room dedicated to poet Dante Alighieri, provides a uniquely warm and inviting dining environment.
Incanto's daily-changing menu honors old-world traditions including house-cured meats, unusual regional pastas, fresh local seafood and a commitment to sustainably grown and harvested produce. Incanto's award-winning wine program features one of the most diverse Italian wine lists in the United States and an ever-changing lineup of more than twenty wines by the glass, half-glass, half-liter, and flight.